Memorial Day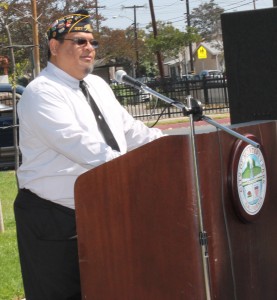 American Legion Post Commander Gabriel Suarez welcomed everyone to this Memorial Day event held on May 26 in front of the Monterey Park City Hall sponsored by the city and the legion.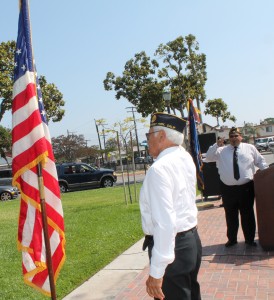 Members of Post 397 presented the colors and Commander Suarez led the Pledge of Allegiance. The crowd clapped loudly after hearing our National Anthem.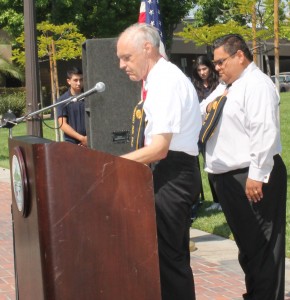 Post Chaplain Tom McCrady led the invocation. He asked God for an afterlife of peace and that all their pain and heartache is ceased for all of the military members who have died for us. He asked God to heal the brokenhearted of all those who have lost someone to war. He asked God to shelter them in His arms.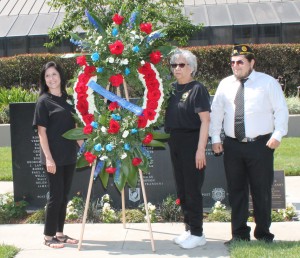 Members of the Ladies Auxiliary and Post laid a wreath in front of the War Memorial at City Hall. The names of the city's war dead are carved on the front and back of the stone. They will not be forgotten by the freedom loving people of Monterey Park.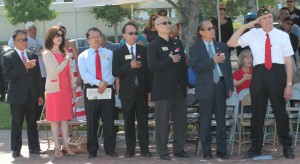 Commander Suarez introduced Mayor Anthony Wong, Mayor Pro Tem Hans Liang, Councilmembers Peter Chan, Mitch Ing and Teresa Real Sebastian and City Clerk Vince Chang to the audience. He also introduced Chamber members Dora Leung, Jack Ng, Deana Sewell and Damien Orozco.
Mayor Wong reminded everyone we are here today to honor those who fought for our freedoms for all of the world and us. Men and women in uniform are protecting us and the world. They protect freedoms and democracy for all. He thanked the police, firefighters and the military members for protecting all of us. He asked God to bless Monterey Park and America.
Mayor Pro Tem Liang thanked the residents for coming to this memorial. He thanked the staff and legion for their support. Today is the largest turnout in Monterey Park. Today we remember those who sacrificed for all in America. Freedom is not free. Family members who have lost someone know freedom is not free. He thanked the military members and everyone today. Remember those who made the greatest sacrifice of all.
Councilmember Chan stated it is an honor to talk to the military members. Today we remember the fallen who sacrificed themselves for us. We should always remember them in our heart. The military is disciplined and we are in good hands. America will always be strong. He thanked everyone.
Councilmember Ing welcomed everyone to City Hall for this Memorial Day. His grandfather served in World War II in Europe. His wife's two grandfathers also served during the war. He said he should have kept his grandfather's Army duffel bag for his son. He recorded moments of history from all three grandfathers for their grandchildren. His grandfather told him his motto was God, Family and Country. He wished everyone a nice Memorial Day.
Councilmember Real Sebastian read a poem "Do Not Stand At My Grave" by Mary Frye. She said this poem reminds her of Memorial Day. They do not die. We should remind the next generation of the true meaning of Memorial Day. Lets remember today and educate the next generation not to take our freedoms for granted.
City Clerk Chang stated today we memorialize all of those who sacrificed for our vote and our right to choose. Our service members gave us a precious gift. He thanked the families for sharing their loved ones with the rest of us.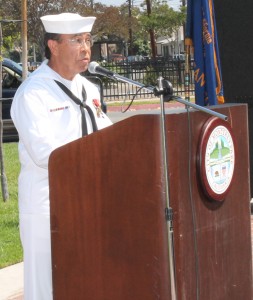 Veteran Eddie Garcia served in the Navy in the Vietnam War. Today is Memorial Day when we honor those who went into combat. They sacrificed and paid the ultimate price for our freedoms. We need to remember all those who died for all freedoms. We celebrate those folks who are not here with us today. Remember all those who sacrificed their lives for us. He thanked the audience for joining us today.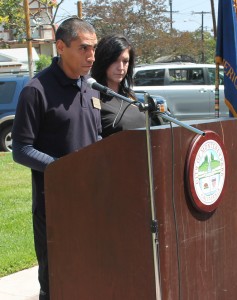 Chamber members Deana Sewell and Damien Orozco thanked all of those who sacrificed for us. This is a sacred day. They presented the history of Memorial Day that honors the nation's war dead.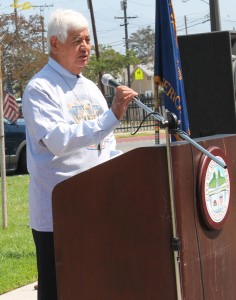 Veteran Herman Medina served in the Korean War. He held up a local newspaper with the headline "Thank You!" He is proud to be an American. He remembered living in El Paso as a young boy.  He saw the Christmas Star. His family received the sad news that his older brother was killed in Korea on October 2,1952. His family then moved to Los Angeles and he joined the ROTC at Garfield High School. He tried to become a Marine but with his poor health, failed. He then joined the Army. After taking electronics classes he was assigned to Korea. He served his country in a land that killed his brother. He soon learned to love the Korean people. He was sent back home on May 25, 1964 just as war was declared in Vietnam. He was stationed at Fort Riley in Kansas ready to be sent to Vietnam. He joined Post 323 because they supported his ROTC classes. He thanks his brother by living his life in Monterey Park. He thinks of his brother all of the time. He thanked everyone and asked God to bless America.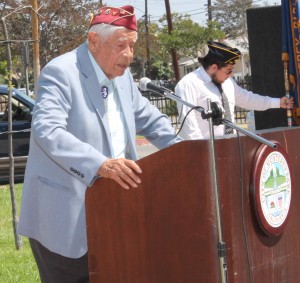 Veteran Bill Sanchez served in World War II. He thanked everyone for their participation. Memorial Day is set aside to thank those who made the extreme sacrifice. He spoke about all of those service members who died in World War II in the South Pacific and European theaters. He remembers several of his friends including Dr. Harry Levine who wrote a "Crime of Shame" that documents the Japanese treatment of their enemies. He wished that today's students could see this film. Young Chinese heritage students should know about their country's history. He thanked his fellow World War II veterans from our local area. He is pleased to see some many people here today. Have a great day! He hopes that we don't have to lose so many people in another war.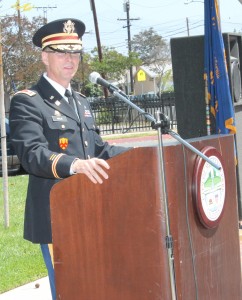 Col. Malin thanked the post and city for inviting him and his family to be here today. Memorial Day is a solemn time as we honor our war dead. In the last 239 years we have lost 1.2 million military members to war. Monterey Park's celebration continues to honor our war dead. He gave a brief history of Memorial Day (a National Day of Mourning) that began on May 30, 1868 honoring our war dead with flowers.  Memorial Day is a day to honor our war dead. President Abe Lincoln said the war dead should not have died in vain.
Commander Suarez read a poem in honor of the war dead. He said the post members placed 3,200 flags at Resurrection Cemetery in honor of our military. The number of flags did not make a dent in the number of military members buried at that cemetery. He asked for donations of flags and funds to purchase more flags for this sacred duty. He said every name that he read at the cemetery captured his heart as they died without asking to for it to be done. Each name is like losing a piece of his heart and our country. Remember all those who have died. Remember the troop now serving our country. He thanked the World War II veterans, their sons and grandsons for following their actions. He thanked the Korean War veterans, Vietnam veterans and all of the veterans for their service. He invited everyone to join them at Post 397 for lunch.
Post Chaplain McCardy closed the ceremony with a prayer asking God to protect our men and women as we are at war. Let their losses not be in vain. Amen.
Commander Suarez thanked the audience for their participation in this event.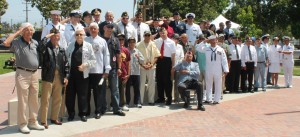 All for the veterans participated in a receiving line as the residents thanked them for their service.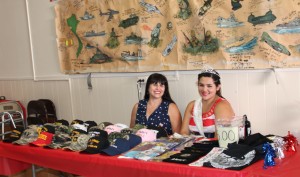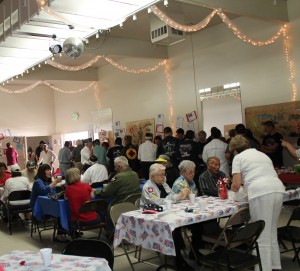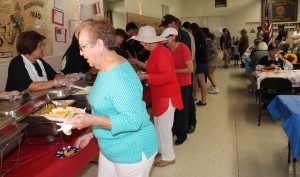 Terry Valenzuela and Jessica Ramos helped the post by selling memorabilia. Approximately 250 post members and their guests enjoyed a delicious lunch.

A memorial to our war dead stands at Post 397 so we will never forget them.
Leave a Response