San Gabriel's 15th Annual National Night Out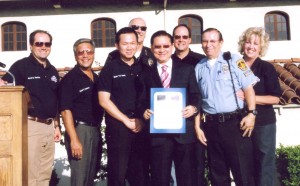 Assemblymember Mike Eng presented a proclamation to Police Chief Dave Lawton, Crime Prevention Officer Alex Acosta, Mayor Juli Costanzo, Vice Mayor Albert Huang, Councilmembers Dave Gutierrez, Kevin Sawkins and Mario De La Torre in honor of San Gabriel's participation in "America's National Night Out Against Crime".
Officer Acosta welcomed everyone to the city's 15th Annual Night Out.  This year there are 44 block parties for the elected officials, city officials, firefighters, police officers and city employees to visit.
Police Chief Lawton stated their first Neighborhood Watch Night Out began with two block parties.  Now the city has 91 Neighborhood Watch groups.  He credited Alex Acosta with their successful Neighborhood Watch Program. Tonight we will visit residents at 44 block parties throughout the city.
He introduced the elected officials Mayor Juli Costanzo, Vice Mayor Albert Huang, Councilmembers Dave Gutierrez, Kevin Sawkins and Mario De La Torre, Assemblymember Mike Eng, staff members from Governor Arnold Schwarzenegger's office, staff members from Congressman Adam Schiff's office, staff members from State Senator Carol Liu's office, staff members from KIIS-FM Radio, members of the U S Army, U S Marines and California National Guard, City Manager Mike Paules, Fire Chief Joe Nestor, Deputy City Manager Steven Preston, Parks and Recreation Director Rebecca Perez, San Gabriel Mission Playhouse Director Anna Cross, Deputy City Clerk Nina Castruita, City Administrative Services Manager Cindy Smith,  Public Works Superintendent Bob Bustos and his staff, Public Information Officer Johanna Ambicki, Captain Richard Arnold and Chamber of Commerce representatives Dondi Atkins and Cookie Cici.
Chief Lawton thanked everyone of their participation in this event. Have a great night!
Assemblymember Eng said he was happy to be back here and not in Sacramento. This is one of the very few cities where we visit all the homes. It is time to take back our neighborhoods. He thanked the firefighters, police officers, public officials, military and City Council for their participation in our "National Night Out Against Crime".
The city officials also received proclamations and praise from Congressman Schiff and Senator Liu.
National Night Out is designed to heighten crime and drug prevention awareness; generate support and participation in local anti-crime efforts; strengthen neighborhood spirit and police-community relations and send a message to criminals letting them know neighborhoods are organized and fighting back.
Officer Acosta thanked everyone for their participation. Have a good time!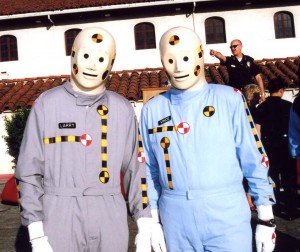 Safety dummies Larry and Vince were ready to visit the block parties.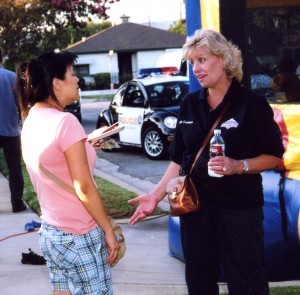 Mayor Costanzo visited with residents at the block parties.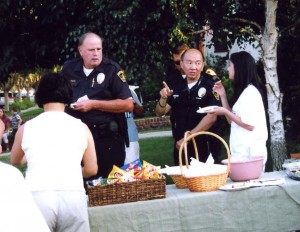 Each party featured delicious foods to the delight of the guests and the neighbors.
Children enjoyed receiving badges from the police officers and firefighters.  They also received glow stick bracelets and picture cards from the police officers.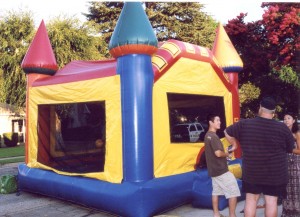 One block party had a moon bounce castle that kept the little ones very busy.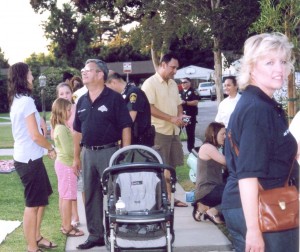 Councilmember Gutierrez greeted residents during the block parties.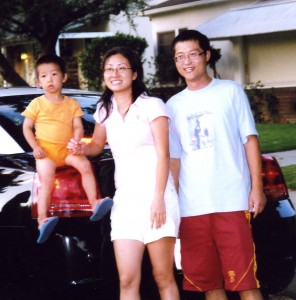 Residents checked out their police cars and fire trucks.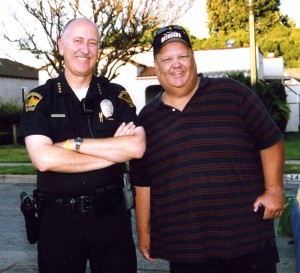 Police Chief Lawton spoke with residents during the block parties.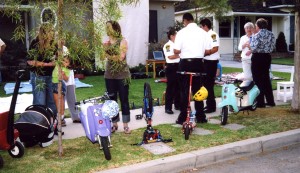 Children parked their vehicles with their helmets in front of one of the many parties.
San Gabriel resident Jim Makino shared his memories with us. He was seven years old during the 1933 Long Beach Earthquake. He recalled how the earth shook and he saw all the buildings swaying.  He spoke about the Wynn's Ranch House Market on San Gabriel at Huntington that his dad started. He remembered delivering groceries to the Patton Estate.  Howies Ranch Market in now at that location.
National Night Out gives residents a chance to meet their neighbors, their elected officials, their police officers and firefighters while enjoying a nice evening under the stars.
Leave a Response