Protest Against SCA 5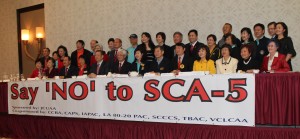 Community members from The Joint Chinese University Alumni Association; Chinese Consolidated Benevolent Association; Chinese American Professional Society; I-Chinese American Political Action Committee; LA 80-20 PAC; Southern California Council of Chinese Schools; Taiwan Benevolent Association California; Vietnam Cambodia and Laos Chinese Association of America were joined by many elected officials and residents at a press conference held at the San Gabriel Hilton Hotel on March 7.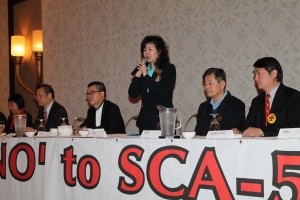 Olivia Liao from JCUAA welcomed everyone to this meeting to advise them that California Senate Constitutional Amendment No. 5 (SCA 5) would allow UC and Cal State universities to admit students based on their race and sex. This would unfairly roll back the clock in allowing university officials to discriminate based on a student's race and gender. It is unfair because it will have a negative impact on high-achieving students, diminishing their chances to attend UC and Cal State Universities.
The State Assembly would have to approve this amendment before it can be presented to voters for their decision.
If passed, SCA 5 will reverse Proposition 209, enacted by California Voters in 1996.  Proposition 209 prohibits state institutions from considering race, ethnicity or sex in public education, public employment and contracting.
Ms. Liao asked the audience to contact their assemblymembers and friends to say no to SCA 5.
Mr. Se-Yau Hsu from JCUAA stated that this is a racist action. All of our children have a right to attend our colleges.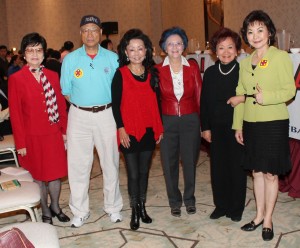 Julia Wu, Sophie Wong, Betty Tom Chu, Lily Lee Chen, Paul Hsu and Frances Wang joined with elected and retired officials attending this event that included Councilmember Chin Ho Liao from San Gabriel and Councilmembers Anthony Wong and Peter Chan from Monterey Park to voice their concerns about this divisive issue.
Councilmember Chan said this is wrong to be a political issue. Education should be based on achievements.
Wayne Ng from the CCBA asked the audience to stand up and say no to SCA 5. It is about dividing people.
Several speakers reminded everyone that is about academic freedom. It is important to all students. This should not be political. This school system should be based on merit not race.
They asked the Chinese community to say no to SCA 5. This is against the Federal policy to ask about a student's race. We want to protect the rights of the students.
Bee Hsu from TBAC asked the residents to contact their assemblymembers to stop this issue before April when they could vote to approve this amendment and place it on the ballot for a November election. This bill may affect the children of other races in the future.
Ms. Wu stated she worked with student who strived to learn at school so they can advance into the colleges. She spoke about one of her immigrant students who worked so hard to achieve his college education. She believes that is amendment is against students' race and skin color.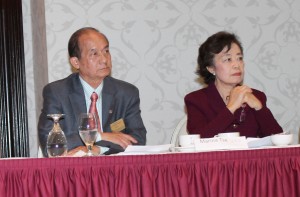 Councilmember Anthony Wong and Marina Tse were additional panel members.
Ms. Tse is a former state boardmember who spoke out against SCA 5. She did an analysis of this amendment and stated that is only addresses race in the UC education system. We already addressed this issue in 1996. The UC school system has made changes to their administration standards. We can solve the economy issues with more scholarship programs. We have diversity now in college. We should establish programs in high school to prevent dropouts.  SCA 5 will set a quota on all students. It would allow the administration to select students based on race not merit. To treat people differently will cause a racial division.
Councilmember Wong asked people to speak to the assembly.  He is against SCA 5. It would affect Chinese American students now. This issue is important to all Americans.  He stated Rosemead Councilmember Polly Low is also against SCA 5. She could not make this press conference because of a business meeting.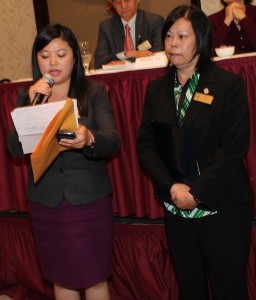 Becky Cheng from Congressmember Judy Chu's office and Daisy Ma from Assemblymember Ed Chau's office both addressed the issue for their bosses.
Congressmember Chu urges a no vote on SCA 5 in its current form.  Every group should have the opportunity to succeed in higher education. It is the American Dream. But we should not pit minority group against minority group. I believe that the State Legislators should work on expanding the number of students admitted to our universities so that there are greater educational opportunities for young people of all backgrounds.
Assemblymember Chau said in the past few weeks I have heard from hundreds of people throughout California expressing concern about SCA 5. My position on the measure is that I continue to oppose SCA 5 in its current form. I will continue to work with all stakeholders on legislation that will create more opportunities for all young people and fully prepare then for the 21st century challenge as well as making California more competitive in this global economy. As the father of a 6-year-old child, along with countless parents who care deeply about the future of their children, I will do all I can to provide resources to our next generations to pursue higher education and their dreams.
Lily Lee Chen said Chinese American have a strong interest in America. She is against SCA 5. We need to change this dangerous choice into an opportunity. We are not against any other people. We want to help everyone and work with them. The 1965 Civil Rights Movement has benefited Asian Americans. We are not forgetting.  All people should be equal to share in the American Dream. The current language of SCA 5 is not acceptable.
Betty Tom Chu stated SCA 5 is a form of discrimination against Asian Americans. After the Affirmative Action Act some Asians were tokens but they did not receive the management positions. The government passed the Dream Act but the government has not followed it. She asked people to write your assemblymember and ask them not to put SCA 5 on the ballot.
Julia Wu said we need to fight for the American Dream. SCA 5 would lower the standards for the administration policy. We need higher standards to prepare students for the global world. They should not support lowering our education standards.
Albert Chang stated we need to provide education for all students. We need more funds to promote all of our children.
Sophie Wong said as a former member of the Alhambra School Board she promotes education. Her family has been blessed in America. She wants all of the students to have equal opportunities. She is against SCA 5. We need all of the voters to work together to defeat it. This issue is about all of the students.
A representative from a school in Thousand Oaks stated SCA 5 would affect all of the students in America. All men are created equal. America is a great melting pot. So all people from all races are equal with a chance for success in America. SCA 5 will violate the U S constitution.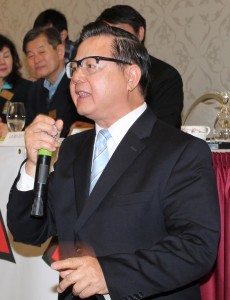 Councilmember Chin Ho Liao asked residents to vote no on SCA 5. Affirmative Action should stay in the courts. Several court cases have shown the courts support the students.
A Councilmember from Claremont said his city has 10 colleges who accept students based on their qualifications.
Olivia Liao thanked everyone for coming to this press conference to support no on SCA 5.
Leave a Response