Thank You Veterans

Veterans jointed in a receiving line during the Veterans Day celebration in front of the Monterey Park City Hall in November 11 at 11 AM. The city and the American Legion Post 397 sponsored this event.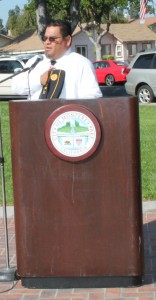 Post Commander Gabriel Suarez welcomed everyone to this event to honor all of our veterans.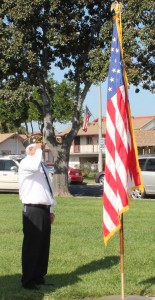 Members of Post 397 presented the colors and Commander Suarez led the Flag Salute.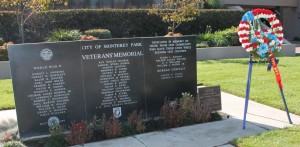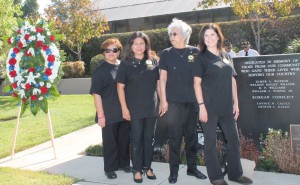 Wreaths from the Monterey Park Opti-Mrs. and the Legion Auxiliary surrounded the War Memorial.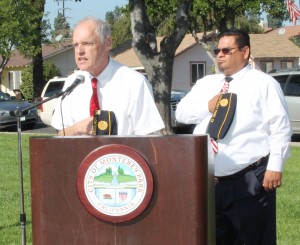 Post Chaplain Tom McCrady led the Invocation. He asked God to bless the men and women who are fighting to protect our freedoms. He asked God to bless and protect them.
Commander Gabriel Suarez thanked all of the veterans and introduced Mayor Teresa Real Sebastian.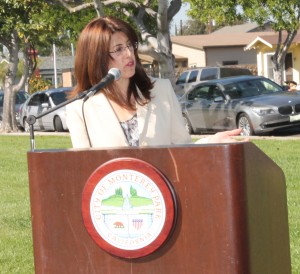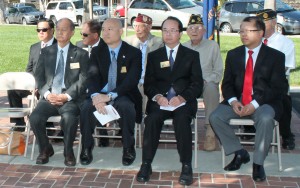 Mayor Real Sebastian welcomed everyone to our Veterans Day ceremony hosted by American Legion Post 397 and the city. She introduced Mayor Pro Tem Anthony Wong, Councilmembers Hans Liang, Peter Chan and Mitch Ing, City Clerk Vince Chang, City Treasurer Joseph Leon, World War II veterans William Sanchez and Roger Visek, City Manager Paul Talbot, Police Chief Jim Smith, former Mayor Frank Venti, Hymie Rodriguez from Senator Calderon's office, Assemblymember Ed Chau, Suzie Hsu from Supervisor Gloria Molina's office and Henry Lo from the Garvey School Board.
Mayor Real Sebastian read a poem titled "Veterans Day" which honored their dedication and service to our country. She spoke about 14 veterans who were acknowledged at East Los Angeles College.  One veteran said he did not do enough. The veterans are our heroes. They are the reason that we have freedoms in our country.  We respect the veterans. They dedicated the lives to our country. She thanked the veterans for all they have done for us.
Mayor Pro Tem Wong said we are here to pay tribute to all of our veterans who protect our freedoms and our rights around the world.  The country must do more for the veterans. You deserve it. He asked God to bless America and all of the audience.
Councilmember Liang thanked the residents and the staff for today's event. He read a story about a veteran from Viet Nam Master Sergeant Roy P. Benavidez who was a member of the Studies and Observations Group of the United States Army. He received the Medal of Honor for his actions in combat near Lộc Ninh, South Vietnam on May 2, 1968. Today we honor all of the veterans for their service to our country. He thanked them and asked God to bless them.
Councilmember Chan said it was an honor to pay tribute to the veterans. In June he visited Gettysburg and said that was a very brutal war.  Many of them fought and died. He thanked the veterans for fighting for all of us to preserve our freedoms.
Councilmember Ing welcomed all to the Veterans Day celebration in Monterey Park. He spoke about his high school project about World War II. He asked his grandparents from Southeast China who lived through the Japanese invasion of China. His grandfather was a veteran of World War II who advised him to remember all of the opportunities in this new country. He thanked the men and women who served for the USA. You are a beacon of hope for many people. He thanked all of the veterans.
City Clerk Chang thanked the veterans and residents. He thanked the veterans for their service so we can enjoy our freedoms. He reminded everyone of the tragedy in the Philippines during World War II and the current tragedy. He thanked all of the troops for their service. He thanked all of the people in the Philippines who supported our American troops.
City Treasurer Leon asked the veterans and residents to please share your history with your children. He thanked the veterans. Have a great day.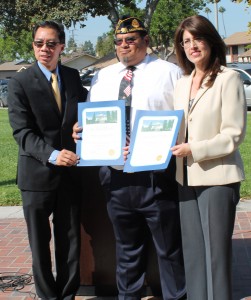 Assemblymember Ed Chau said it is an honor to be here to celebrate Veterans Day remembering all of the men and women who are fighting for us today. We have safety and freedom because of all of the veterans. He thanked them for their service. A new law AB639 will offer affordable housing for service members. They are other laws to protect military members. He presented proclamations to Commander Suarez and Mayor Real Sebastian.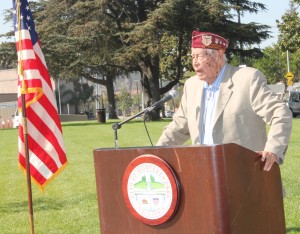 William Sanchez said he visited West Point to see a preserved section of the American flag that he helped to destroy before the Americans surrendered to the Japanese at Corregidor during World War II. He and his son took a tour of West Point and enjoyed the museum that housed many articles from all of the wars. He will never forget his trip to West Point and the honors he received. He thanked the audience for listing to him.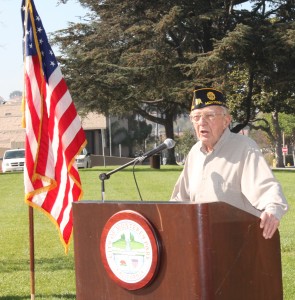 Roger Visek spoke about his childhood in Racine, Wisconsin in the roaring 1930s. He saw veterans from World War I marching in the parades. He said that one out of every 11 men in America were in the war. He spoke about all of the losses in World War II, Korea and Viet Nam. Many of those who were killed in action were buried in foreign soil.  During the wars in Desert Storm, Iraq and Afghanistan the dead are brought home to their families. He stated many of the veterans become ill with disabilities after the war. Please think about them and their medical issues. The American Legion, Veterans of Foreign Wars and the government are helping the veterans to enjoy the basics of life (food, shelter and clothing). Please support the veterans especially the wounded. He thanked everyone for their attention. He asked God to bless America.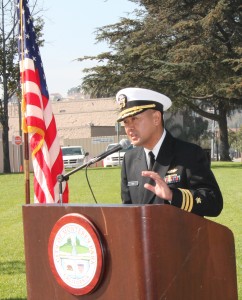 Reserve Navy Commander Arthur Fong thanked the city and American Legion for this event. The police and firefighters also protect us. He was being sent to Afghanistan now his orders have been changed and he will be sent elsewhere. He thanked all of the veterans and asked God to bless America.
Commander Suarez invited everyone to attend the luncheon at the post.
Mayor Real Sebastian thanked everyone for attending.  She asked the veterans to form a receiving line so the residents could thank each and every one of them for their service.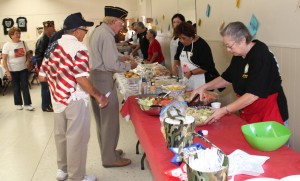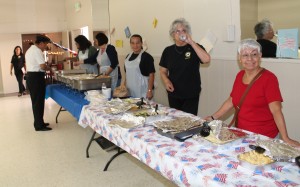 Members of the Ladies Auxiliary served a delicious lunch to all of the guests.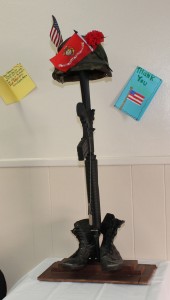 A memorial to all veterans was on display at the post. The POW/MIA empty chair was set next to this memorial so they will never be forgotten.
American Legion Post 397 is seeking financial support to put a new roof on their building.  Any size donations are welcomed and can be sent to the post at 338 Ramona Avenue in Monterey Park, CA 91754.
Your donation is another way to thank the veter
Leave a Response