4th of July

Congressmember Adam Schiff, Monterey Park Mayor Mitch Ing, Mayor Pro Tem Anthony Wong, Councilmembers Betty Tom Chu and Frank Venti, City Clerk Dave Barron, City Treasurer Joseph Leon and City Manager June Yotsuya congratulated new United States citizens: Katie (Siv Muy) Tang, Hing Chi Yue, Wen Zhi Wang, Lan Thi Nguyen, Li Zhu, Fucha Hsuan Lee, Hong Jhen Qin, Jennifer Sun, Maria Avila, Zhao Hui Chen, Xue Jun Yu, Kun Li Chen, Zhao Hui Chen, Lai Ping Tse, Shun Yi Siu, Kim Ngoc Hua, Trong Nu, Ming Jian Liau, Cherg Yuh Cheng, Pak Hong Lee, Hong Ping Lin, Chia Hsuan Lee-Fu, Jonny Tsui and Xiau Ping Bao at the city's 4th of July celebration held at Barnes Park.
The new citizens shook hands with all the officials and received personal congratulations. They also received a flag and proclamations in honor of this special occasion. The audience cheered for our new citizens.
Mayor Ing welcomed everyone to our 4th of July celebration at Barnes Park. America is a melting pot of people from all over the world. You and your ancestors decided to stay in this country. We are here to celebrate our country's birthday.
He stated that Councilmember David Lau could not attend this event and sent his best wishes to all. He introduced our Congressmember Adam Schiff.
Congressmember Schiff wished everyone a Happy Birthday! Happy 4th of July! He asked everyone to think about all the young men and women who are serving our country. He said he has visited the troops in the Middle East.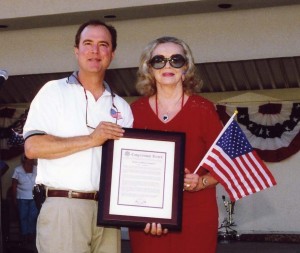 Mr. Schiff presented Kathy Wills, a long time resident of the city with a page from the Congressional Record honoring her for being his Woman of the Year. He thanked Mrs. Wills for her service to the city. He also reminded everyone that Kathy Wills has a role in the epic movie "The Ten Commandments" filmed when she lived in Egypt. He suggested people rent the movie and see if they could spot her.
Mrs. Wills thanked Mr. Schiff for the award. She said it is such a blessing to live in Monterey Park. She expressed her gratitude to all. She recalled attending a 4th of July celebration at the American Embassy when she lived in Cairo.
Mr. Wong greeted all with a Happy 4th of July! It is a country for the people. We are recognizing the new citizens today. We all come from a different part of the world to enjoy all the freedoms. We must be loyal to our country and love each other to have a peaceful and happy future. He asked God's blessing on all.
Mrs. Chu reminded everyone that freedom is not really free. It is borne on the backs of our military. She read a poem that gives credit to the soldiers who give us our freedoms. Happy 4th of July!
Mr. Venti said this is his 10th year on the Council and celebrating the 4th of July at the park. He asked the residents to stand up and think about the all the men and women who lost their lives for this country and all the members of our armed services. He asked everyone to wave his or her flags. He asked God's blessing on American and all.
Mr. Barron thanked the audience for being here. He just received some good news that a student that he coached just received a four-year scholarship to Notre Dame. LAMP Optimists' mission is to install patriotism in the youth. Enjoy the fireworks!
Mr. Leon thanked the committee and the staff for their hard work. Have a great day!
Ms. Yotsuya called it a beautiful day to celebrate the 4th of July with family and friends. She gave a special thanks to those serving overseas. She thanked the staff. Have a safe holiday!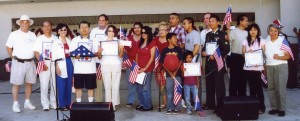 Congressmember Adam Schiff, Mayor Mitch Ing, Mayor Pro Tem Anthony Wong, Councilmembers Betty Tom Chu and Frank Venti, City Clerk Dave Barron, City Treasurer Joseph Leon and City Manager June Yotsuya honor the military members and their families: Lam Family, Ortiz Family, Robert Ruiz, Simon Chan, Yu Peng Situ, Hartono Family, Robert Ray Gonzales and Sabado Family for their service to our country. They received proclamations of appreciation and applause from all.
Mrs. Chu made a personal donation of $1,000 to help aid the returning veterans. She presented a flag of the United States to Mayor Ing to be flown over City Hall.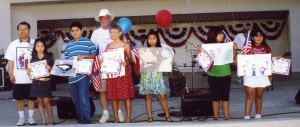 Councilmember Frank Venti sponsored the poster contest for students. The theme was "My American Dream". Mayor Ing helped present each winner: April Cortez, Alisabeth Avila, Angela Wang, Jenny Chau, Crystal Tay, Michael Ramos and Jamie Fung with a gift card and a proclamation from the City Council.
Members of the Monterey Park Concert Band played patriotic music and popular show tunes to begin the entertainment.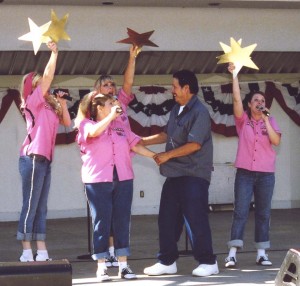 Wonderells, a group reminiscent of the 1950s and 1960s sang several tunes. They picked Juan from the audience to perform "Then He Kissed Me". The four young ladies dressed in jeans, pink shirts and saddle shoes. They had all the moves down when they rocked the park with the glorious tunes of yesteryear.

Rudy Macias Band played several oldies to the delight of the audience. "Rock and Roll" filled the evening air.
Residents and their guests enjoyed the food court that served up traditional American and Chinese foods.
Children and their parents visited the craft booth to design their own paper firecrackers created in Red, White and Blue.
Face painting was very popular as children of all ages sported flags, stars, hearts and more.
Children joined the staff on stage to participate in games for prizes.
The swings and slides in the sand box section of the park held the most interest for the little ones.
Members of the Golden Stars Sky Diving had a demonstration. They landed in the center of the ball diamond.
The event was topped of by a colorful fireworks show. The sky was lit up with bursts of reds, greens, blues, white and yellows in honor of our nation's 233rd birthday.
Happy Birthday to US!
Leave a Response