Swearing In For Mike Eng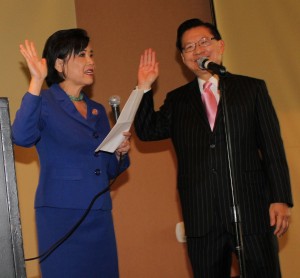 Congressmember Judy Chu administered the Oath of Office to Mike Eng as Trustee of the Los Angeles Community College District – Seat 2 on July 14 before 500 elected officials, community leaders and residents at the Almansor Court in Alhambra.
Alhambra School Boardmember Adele Andrade-Stadler was the Mistress of Ceremony. She welcomed everyone to this special event. We have a lovely turnout.
It was old home week as the ballroom was filled with many residents who have worked together to improve the quality of life in the San Gabriel Valley, Los Angeles and the state.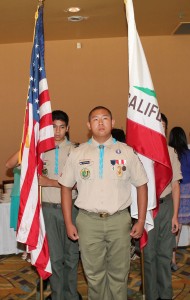 Scoutmaster Jorge Banuelos and members of Boy Scout Troop 301 were the honor guard who presented the colors. Tabitha Bowles led the Pledge of Allegiance.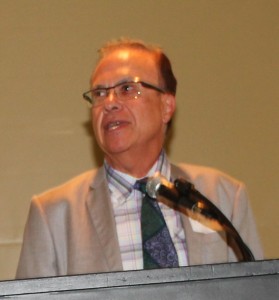 Reverend Dan Romero led the Invocation. He thanked God for joining us today and for all of the elected officials. He asked God to bless Mike Eng and guide his actions. He prayed for everyone.
Garvey School Boardmember Henry Lo introduced all of the special guests to the audience.  The list included elected officials and special guests who were here to celebrate Mike Eng's third elected office. He was a Monterey Park Mayor and Councilmember as well as an honored member of the State Assembly.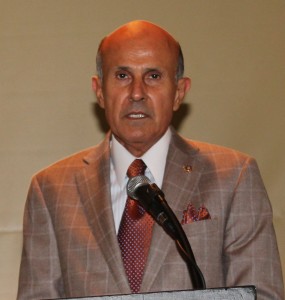 Los Angeles County Sheriff Lee Baca stated Mike Eng and Judy Chu have worked for justice in the San Gabriel Valley. Mike Eng is always asking am I doing enough. Los Angeles County has the most diverse population in the world with many languages. He said Mike Eng worked to help the Chinese-American society. This makes America great. Mike Eng and his wife, Judy Chu helped Los Angeles County. He thanked Mike Eng for stepping up to serve on the Community College District.  Lee Baca said he attended East Los Angeles College. He congratulated Mike Eng and Judy Chu.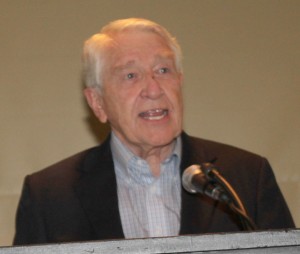 Retired California Community College Chancellor Jack Scott said the community college is unique in America. It is the highest education in America. The community college includes all. Many older students are enrolled. He called Mike Eng and Judy Chu outstanding public servants.  Mike Eng has a passion for education and public life. He will make an outstanding commitment to the community college education. It increases knowledge and culture for all. He thanked Mike Eng for his great service to the community.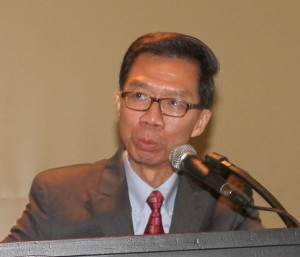 State Assemblymember Ed Chau recalled that Mike Eng was is the Assembly for six years and served on three important committees. He said the Mike Eng is a legend in Sacramento who worked very hard and has a passion for everything that he does. Mike Eng has served the people since he was a student. He fought hate crimes in California and the country. He congratulated Mike Eng.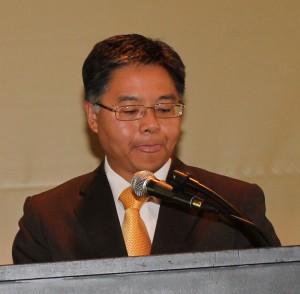 State Senator Ted Lieu called Mike Eng an outstanding legislature with a big heart. He and Judy Chu help people without a voice. It was a joy to work with Mike Eng in the Assembly. He looks forward to working with him as an educator.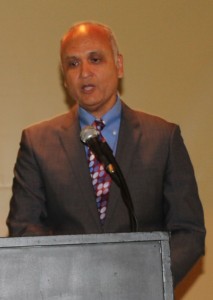 State Senator Ed Hernandez thanked Mike Eng and Judy Chu. He called them the dynamic duo in Monterey Park, California and the USA. He worked with Mike Eng in the Assembly. He learned that Mike Eng has a wonderful wit and personality. It is joy to hear his jokes. Mike Eng is dedicated to public service. Mike Eng and Judy Chu serve the public. He will fight for public education. He congratulated Mike Eng.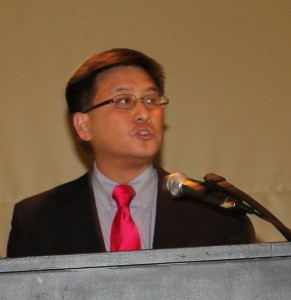 State Controller John Chiang said he is excited for all of us. Mike Eng offers wonderful hope for the education in California. He brings passion to the education community.  In 2009 the government used IOUs to balance the state budget. We will build an economic opportunity in the state with a better budget. Mike Eng will bring people together to achieve something great. He is a powerful speaker who is intelligent and fun. He will bring the community college district together to be the best in this land. It will be great for the students and society. Together we will make California great.
Mrs. Andrade-Stadler introduced Congressmember Judy Chu as the highest-ranking Asian American in Congress.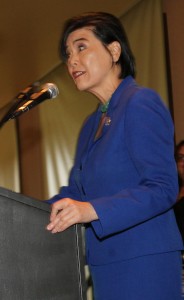 Congressmember Judy Chu stated she worked for the Los Angeles Community College District. Judy Chu and Mike Eng have been married for 34 years. Mike Eng is dedicated to education. He started a class in law for Asians and made a video on how to become a U S citizen. He served on the Monterey Park City Council and in the Assembly for six years.  He found his calling in education. He could have been a college teacher who works so hard to teach his students. He is so excited to serve as a Community College Boardmember. Education is very important to all.  He will use his experience to make sure the board will have to find success. The best is yet to come.
Trustee Mike Eng joked that today is about free air-conditioning and free food on a Sunday afternoon to the audience.  He thanked all of participants. Education is very important. People from humble beginnings as many of our elected officials stated that their community college education helped them strive for higher education. East Los Angeles College is one of the nine community colleges in California. He spoke about how he met Judy Chu. She educated him about the community college. He also spoke about his childhood. He was bullied at school. The education system and his parents saved him. He believes that every student should get their courses in two years to transfer to a four-year school. The community college should educate people for better jobs. He believes in a K – 14 system in California education. He needs all of us to bring the community college up to par. Community college is valuable to the community. They educate everyone for jobs. Los Angeles Community College District is the largest community college is the world. He thanked his community college colleagues. He thanked all of the volunteers and donors for their support.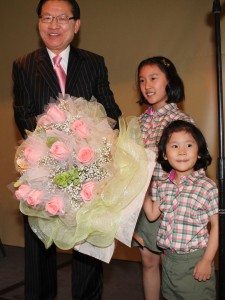 Mike Eng received flowers from his young supporters.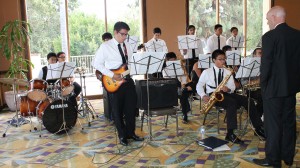 Mark Trulson and the Alhambra High School Jazz Band provided the entertainment.
The reception included delicious international foods and beverages.
Leave a Response