NO On FF Campaign Was Successful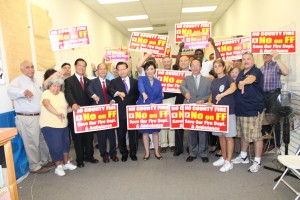 Congressmember Judy Chu, former Asssemblymember Mike Eng, Monterey Park Councilmembers Anthony Wong, Hans Liang and Peter Chan, former Mayor Francisco Alonso, former Mayor David Lau, former City Clerk Dave Barron joined with members of the Concerned Citizens of Monterey Park, members of the Monterey Park Police Officers Association, members of SEIU 721 and residents at several rallies to get out the NO vote.
The unofficial ballot count on July 2 was 3,514 or 64.1% NO votes to 1,961 or 35.8% YES votes.
Approximately 1,000 provisional and vote by mail ballots are to be counted and the final election results will be given to the City Council for validation at a future date.
The residents were concerned they would lose their Advanced Life Support Paramedic Ambulance Services and Fire Department to the Los Angeles County Fire Service.
They determined that Monterey Park, a full service city established in 1916 with their own fire department and police department, city library, city water department and 13 beautiful parks should be saved for themselves, their families and future generations.
Many of the residents complained to City Hall about the bullying, slandering and intimidated tactics used by the firefighters during this campaign.
This election was the third time the voters were determined to keep the Monterey Park Fire Department at home since the 1998 election. Residents voted in 1999 to establish Measure J, a law that requires a vote of the people to approve the City Council giving the fire department or police department to another entity.
Leave a Response