Night Out Against Crime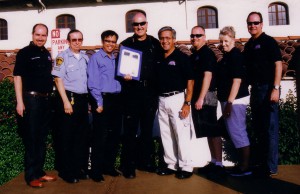 San Gabriel celebrated it's18th Annual Night Out on August 7 with Mayor Kevin Sawkins, Police Officer Alex Acosta, Henry Lo from Assemblymember Mike Eng's office, Police Chief David Lawton, Councilmember David Gutierrez, Councilmember John Harrington, Councilmember Juli Costanzo and Vice Mayor Mario De La Torre.
Officer Acosta welcomed all to their local Night Out Against Crime. We have 43 parties to attend. It will be a great turnout.
He introduced Police Chief Dave Lawton to the crowd. He welcomed all to San Gabriel's Night Out. He thanked Alex Acosta for planning this event. Several groups joined their parties together for the evening. This is a chance for the neighbors to get together. It is worth the effort.
Chief Lawton introduced the Councilmembers Mayor Kevin Sawkins, Vice Mayor Mario De La Torre, Councilmember David Gutierrez, Councilmember John Harrington, Councilmember Juli Costanzo, Department Heads: Steve Preston, Marcella Marlowe, Joseph Nestor, Tom Marston, Jennifer Davis, Bob Bustos, Rebecca Perez, Anna Cross and Nina Castrutia, Ron Ingles from the District Attorney's office, Jackie Wu from Senator Liu's office, Henry Lo from Assemblymember Mike Eng's office, San Gabriel Unified School Boardmembers: Andrew Ammon and Dr. David Yoshihara, Chamber of Commerce officers: Cheryl Weissend and Wynne Langer, La Casa Community Center members: Brenda Ricon and Martha Sanchez, Julies Soreson from the San Gabriel Library, Mary Garcia from the Coordinating Council, members of the Asian Youth Center as well as members of the U S Air Force, U S Army, U S Marine Corp, U S Army National Guard and U S Navy.
He thanked all of the city employees and guests for joining us tonight.
Henry Lo presented a proclamation from Assemblymember Mike Eng. He said San Gabriel has the best Night Out in the San Gabriel Valley. He thanked the City Council and the staff for this wonderful event.
Officer Acosta thanked everyone. Let's have fun!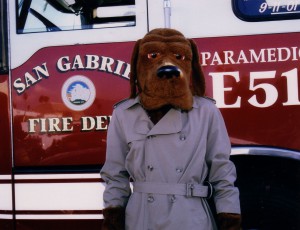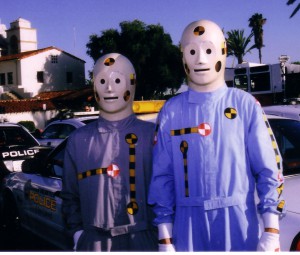 McGruff joined Vince and Larry to visit the 43 block parties held by members of the Neighborhood Watch.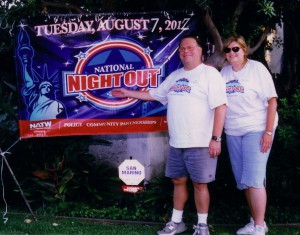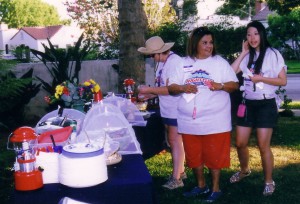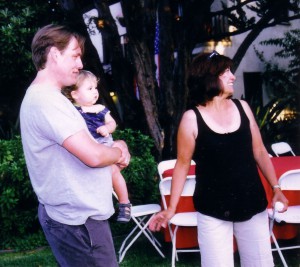 Aaron and Laurie Popel welcomed their neighbors to the block party held in their front yard.  They decorated the tables with red tablecloths and American flags in the yard.  Music played as everyone enjoyed good food and conversations. Neighbors of all ages enjoyed the evening.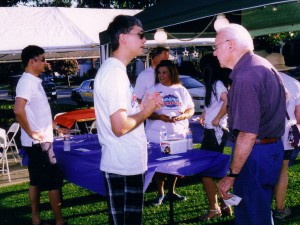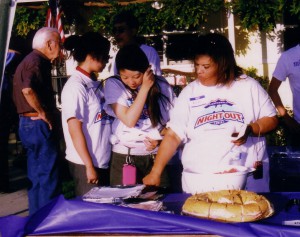 City representatives joined with residents to discuss their hometown over good food on a warm summer night.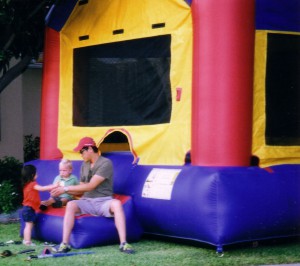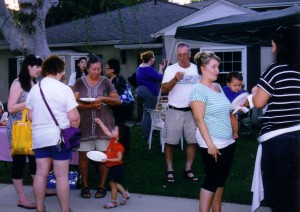 Children of all ages enjoyed games and the moon bounces set up for their enjoyment.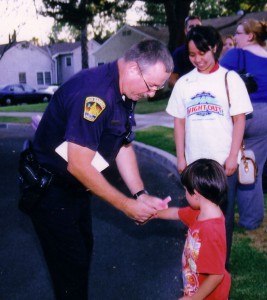 Members of the Police Department provided "glow" bracelets to the little ones.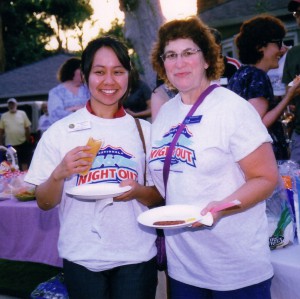 Jackie Wu and Wynne Langer agreed the hot dogs hit the spot.
Each party celebrated with various foods that included pizzas, sandwiches, fresh fruits and vegetables, hot dogs, rice and vegetables.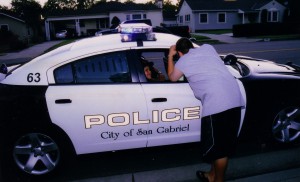 Several children and some adults tried out the police cars, fire engines and the Humvees that were opened for their inspection.
San Gabriel was one of thousands of cities that participated in the Annual Night Out that was established to heighten crime and drug prevention awareness; generate support and participation in local anti-crime efforts; strengthen neighborhood spirit and reinforce police-community partnerships and send a message to criminals letting them know neighborhoods are organized and fighting back in an effort to keep our neighborhoods safe.
Leave a Response