Pancakes and Eggs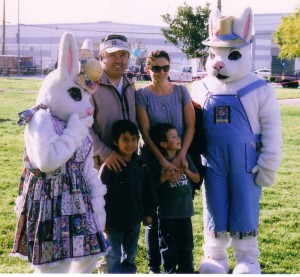 Mr. and Mrs. Easter Bunny met with many of their friends in Smith Park on April 7 during the 68th Annual San Gabriel Kiwanis Club and Parks & Recreation Easter Egg Hunt and Pancake Breakfast.
Over 1,200 people enjoyed the famous breakfast with the annual pancake races and the Easter egg hunt.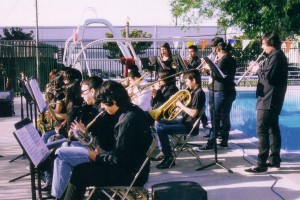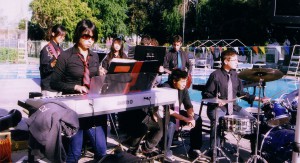 Members of the Gabrielino High School Jazz Band entertained the guests during breakfast.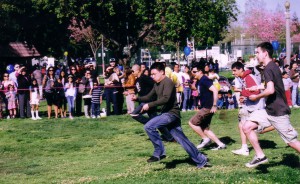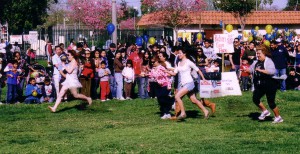 The famous pancake races began to the delight of the crowd. The races were between boys, girls, men and women in their age groups. All of the first place winners participated in the final race for the grand prize.
All of the prizes were donated by local businesses.
The winners were declared by members of the Parks & Recreation Department and listed by age groups:
City of San Gabriel Parks & Recreation
Eggstraordinary Spring Celebration
2012 Pancake Race Winners
Boys Ages 7-11                                            Girls ages 7 – 11
1st Place:                     Grant Pierce                                                    Idhalia De Luna
2nd Place:                     Sean Ong                                                        Giselle Gonzalez
3rd Place:                     Russell Burrel                                                 Kaylee Morrison
Boys Ages 12 – 16                                         Girls Ages 12 – 16
1st Place:                      Federico Casasola                                           Nini Gonzalez
2nd Place:                     Brian Tan                                                        Sunny Chen
3rd Place:                     Matthew Macias                                            Alexis Seebalac
Young Men 17 – 34                                       Women 17 – 34
1st Place:                      Jesse Maldonado                                            Alma Maldonado
2nd Place:                     Stephen Nakahara                                           Lina Tran
3rd Place:                     Julio Garcia                                                     Ruby Acuna
Men 35+                                                         Women 35+
1st Place:                      Emilio Galvan                                                 Yoke Liew
2nd Place:                     Victor Gonzalez                                              Mercedes Luna
3rd Place:                     Vanming Chen                                     Natalie Placcencia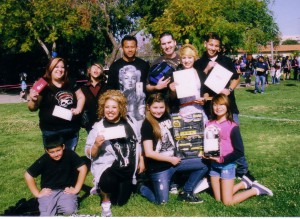 Grand Prize Winner: Nini Gonzalez is surrounded by her family who also won several of the races.
The pancake races are always well attended by the residents and their guests.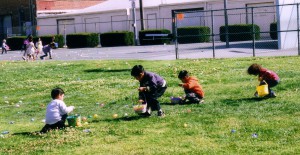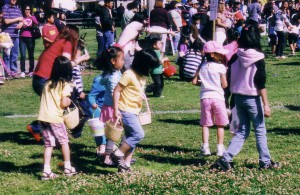 Next was the great Easter Egg Hunt as children up to age 8 ran into the field to collect as many eggs as they could pick up and put into their baskets.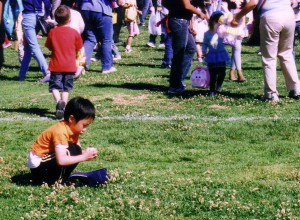 The plastic eggs contained candy packed by members of the local Key Clubs from San Gabriel High School, Gabrielino High School and Don Bosco High School.  Many of these volunteers also assisted with the pancake breakfast and passed out blue and yellow balloons to the children.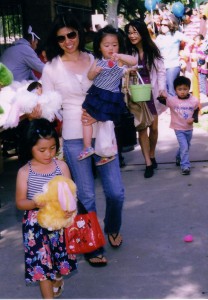 Every child received an Easter Bunny as a reward for their egg hunting as well as candy and fruit chews.
Members of the Kiwanis Club purchased the eggs, candy and bunnies for this special fundraiser.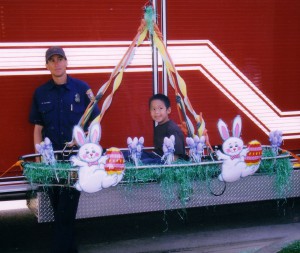 Firefighters from San Gabriel decorated their Search and Rescue basket as a large Easter basket and gave the children a ride up into the air and down to their delight.
Members of the San Gabriel Police Department and Explorers had safety information for the residents.
Face painting was very popular as several adults and children were decorated as bunnies, butterflies, flowers, Easter eggs, bats, Spiderman and more.
The special fundraiser was very successful this year. The San Gabriel Kiwanis Club will be offering $10,000 in Scholarships to students in local public and private school.
Leave a Response