Thank You Veterans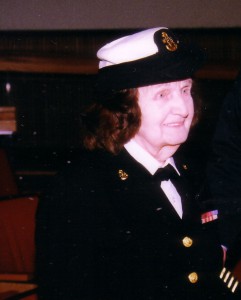 Laura Sudol, a veteran of World War II and the first woman Petty Officer in the U S Navy. She served in the South Pacific. Mrs. Sudol and her family have made their home in Monterey Park for the last 48 years. Her two children, Wayne and Kim are graduates of Mark Keppel High School.  Mrs. Sudol, now 94 years old, was proudly wearing her Navy uniform at the annual Veteran's Day ceremony held in the Monterey Park City Council Chambers on November 11.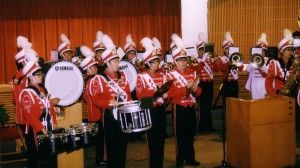 Members of the Mark Keppel High School Aztec Band performed many patriotic songs to the delight of the audience that filled the room. They honored the veterans through music.
American Legion Post 397 Commander Gabriel Suarez welcomed all to this special day to honor the veterans of World War II, Korea, Viet Nam, Desert Storm, Iraq and Afghanistan.
Members of the Post presented the colors and Commander Suarez led the Pledge of Allegiance.  The men and woman in uniform saluted the flag and everyone was very proud to hear our National Anthem fill the hall.
Commander Suarez stated today was known as Armistice Day at the end of World War I and later the name was changed to Veterans Day to honor all of those who have served our country.  People who served in the military service know it can change the course of their life. He thanked them, the 1% of Americans who serve in the greatest military in the world.
Herb Aguirre gave the invocation. He asked God to protect our men and women serving in the armed forces. We are at war again. He asked God to bless the mothers and fathers of the new generation who now serve. Let their lost lives not be in vain.
World War II veteran William Sanchez thanked all who came out today to honor our veterans. World War I was fought with Germany. It was the war to end all wars. World War II was fought in the South Pacific with the Japanese and in Europe with the Germans. Since then many wars have been fought in Korea, Viet Nam, Iraq and Afghanistan. He stated the Iraq troops are coming home soon. This is a great step forward.
Freedom is most important to him. People take it for granted. You will enjoy your freedoms once you have lost it. He was stationed in the Philippines when the Japanese attacked Pearl Harbor. They were also attacked and fought five months to hold them off. The Japanese were better prepared for the war.
He was one of the many military members that were made prisoners of war. He spoke about the Death March and the loss of life from illness and starvation. He was shipped over to Japan in Hell Ships to work for the enemy.
The thing you miss most is your lost of freedom and identity. You are assigned a number. You are no longer free to do whatever you please. You must take orders. He recalled his number was 372, which gave him days off from hard labor based on the last digit of his number. On your days off your did laundry and other jobs around the camp.  For three and one-half years he ate the soup and rice given to him. He had no choice of food.
He still recalls the formal ceremony when his group was turned over to the United States military troops and saw the American flag flying overhead.  It was very emotional as he was finally free. Enjoy your freedoms. Hopefully everything will work out for you.
Mayor David Lau welcome all to this annual celebration of Veterans Day sponsored the Post 397 and the city. He was the Master of Ceremonies who introduced Congressmember Judy Chu (who had to leave for an emergency), State Senator Ed Hernandez, Mayor Pro Tem Mitch Ing, Councilmembers Teresa Real Sebastian, Anthony Wong and Betty Tom Chu, City Clerk Dave Barron, City Treasurer Joseph Leon and former mayor Frank Venti.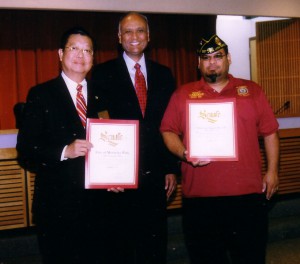 Mayor Lau and Post Commander Suarez received proclamations from Senator Ed Hernandez for hosting this event.
Senator Hernandez said we have a great country that allows us to vote and have free speech. We live in a country that allows us to go to school and be free. Freedom is not free. Our veterans have served to protect us. He thanked all of them. He was inspired by Mr. Sanchez and thanked him.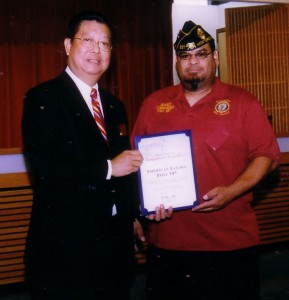 Mayor Lau presented a proclamation from Congressmember Judy Chu to American Legion Post 397 Commander Gabriel Suarez.
Mayor Lau thanked all for coming to this celebration to honor our defenders of freedom. Freedom is not free. Our veterans have risked their lives for freedoms and justice for all. Some of them gave their all or were POWs or are MIAs and many are now disabled. We honor them as they sacrificed their lives and futures for our future generations and us.
He thanked our firefighters and police officers for keeping our city safe and secure. He thanked the members of the American Legion and the staff for this event.  He asked the residents to lobby our government officials to get better benefits for the veterans. He asked God to bless America, Monterey Park and everyone.
Mayor Pro Tem Ing welcomed all to the City Hall Council Chambers. He called America a great melting pot for all of the immigrants from across the Atlantic and the Pacific and from the north and the south borders. Freedom is protected by our military.
He spoke about his son who saluted Sgt. Mejia from Monterey Park who served in Iraq because his son wanted people to remember that some soldiers don't come back home. His son stated that of all the sights they saw in the Washington DC area he was most impressed with Arlington Cemetery as being a very patriotic place.  He thanked the veterans and asked God to bless America and us.
Councilmember Real Sebastian said the American freedom is why many of our ancestors came here. We enjoy the right to express ourselves, the right to vote, to seek religion, the right to own property, the right to educate our children and ourselves. We realize all the freedoms are as result of our American military. She thanked the veterans for our American freedom.
Councilmember Wong stated we are all here together to salute our heroes, the veterans of our country. You are the role model for all of our young Americans. You defend our country and our lives from all enemies. You protect our freedoms, American lives and the lives of people of other countries. You give up everything to protect us so we can enjoy our lives and human rights. All countries should work together to enjoy freedom and democracy.  He asked God to bless everyone and America.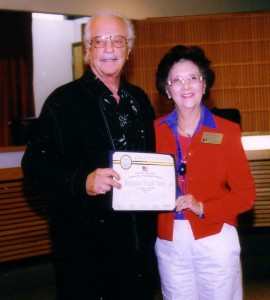 Frank Venti received a proclamation from Betty Tom Chu for his service to our country.
Councilmember Chu thanked everyone for attending this event to acknowledge the service of our veterans and their families.  She spoke about how important it is for us to keep our national motto "In God We Trust" that Samuel Chase in Abe Lincoln's cabinet used on our money. Mr. Chase believed that no nation could be strong without God's defense. We are free to believe or not to believe in God. Men and women who have fought for us have turned to God in their time of hardship in war.
She spoke about the wonderful event held by the students of Monterey Vista School to honor the veterans. The children sang, danced, wrote poems and essays to honor them.  The students from Kindergarten to the 8th grade shared their knowledge of what it means to be a veteran, the sacrifices they made and the freedoms that are allowed by the veterans.  She thanked the Garvey School District and principals for teaching the students about our freedoms.
She spoke about the Japanese volunteers from the 442 combat team and translators that were finally acknowledge d by our government for their service to our country during World War II.
She thanked Frank Venti, David Lau and Anthony Wong for their support to provide housing for veterans in homes rehabilitated by the city. She also thanked City Manager Paul Talbot and the city staff for their assistance on the projects.
She thanked the members of the American-Chinese World War II Memorial Committee for their service.
She thanked her husband, Bob Chu, for his military service.  They were engaged on 11-11 so this day is very special to them.
Lets all work together to make the wishes of the students of Monterey Vista come true so we can say that we have done our best to provide you with a better America to live in.
Mayor Lau thanked the Mark Keppel Band, the Opti-Mrs., the veterans and their families and all those who honor all the men and women who defend our country.
Commander Suarez thanked all of the veterans and the audience. He asked that everyone reach out to the veterans and thank them. He invited everyone to join them at the post for lunch.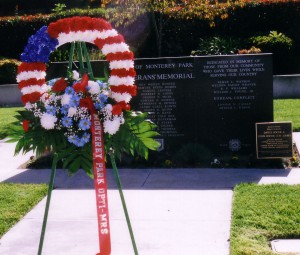 The members of Monterey Park Opti-Mrs. provided the colorful wreath that was laid in front of the War Memorial at City Hall.
Leave a Response