New Leadership
New Leadership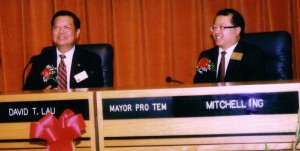 Monterey Park Mayor David Lau and Mayor Pro Tem Mitch Ing enjoy their first moments after being sworn into office on September 14. The Council Chambers were packed with family, friends and guests to witness this great event.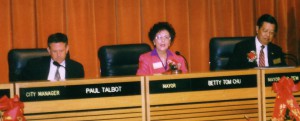 Outgoing Mayor Betty Tom Chu gave her farewell address. She thanked her husband for reading all of the agendas and giving her his unsolicited advice. She thanked her children for their support. She also thanked the residents and said that she represented them in the best way that she could. We may not have the same goals but we all want to have a better Monterey Park. She thanked the staff for their assistance. She balanced the interest of all of the employees with the needs of all of the residents. She set up a roadmap for a better financial plan. Balancing the budget needs to be done. She thanked the Council. We have a lot to achieve for the community. She wished the new mayor and mayor pro tem good luck. We want better relationships with our state and federal elected officials. She still has an open door policy.
Mrs. Chu received praise and proclamations from several local organizations.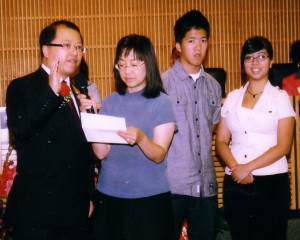 Gloria Ing administered the oath of office to her husband, Mitch Ing in the presence of their children Derek and Chantal. Mr. Ing stated that public service involves dedication.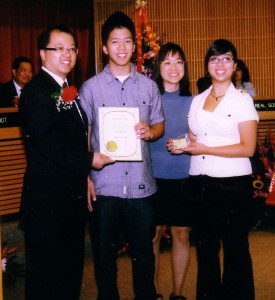 Mitch Ing proudly introduced his family to the audience.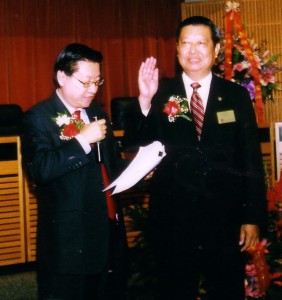 Assemblymember Mike Eng administered the oath of office to his longtime friend, David Lau. He was glad to be home in Monterey Park. He thanked Betty Tom Chu for her service. He congratulated Mitch Ing and David Lau.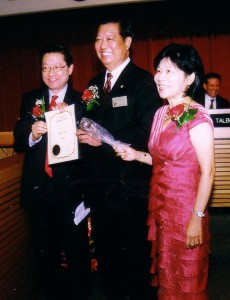 Cici Lau presented her husband, David Lau with his gavel and badge in the presence of Mike Eng.
Councilmember Betty Tom Chu congratulated Mayor Lau and wished him good luck. She thanked him for his service when she was mayor. We have the same goals with a different strategy.
Councilmember Anthony Wong thanked Betty Tom Chu for her leadership serving as mayor. He congratulated David Lau and Mitch Ing.  He is looking forward to working together with the staff and the residents of Monterey Park. He wished them good luck.
Councilmember Teresa Real Sebastian congratulated David Lau. She is looking forward to his leadership. She thanked Betty Tom Chu and called her a true advocate of transparency.
Mayor Pro Tem Mitch Ing congratulated David Lau. He served three times as mayor. He thanked Cici Lau. He said Councilmembers need their spouses' support.
Mayor David Lau congratulated Mitch Ing and thanked Betty Tom Chu for her dedicated service to Monterey Park. We agree on certain issue. We can work together for the better tomorrow for Monterey Park.  It is a great honor to be sworn in as a three-time mayor. He is touched by our presents. He is grateful and humble to serve this diverse community. Monterey Park has been his home for the last 32 years. The economic issues in 2011 caused our budget cuts. They made difficult cuts and staff reductions. We are doing more with less. He plans to work with the employee groups, BIDAC and the business community to make downtown more friendly. He supports the mixed-use projects. Atlantic Time Square is well on its way. The Towne Centre is making progress and its getting ready to break ground. Atlantic Square is bringing in more new restaurants into the center. The Market Place and Towne Centre will be happening in the near future. The city is committed to going green. They plan to install more bike paths. They plan to make a video on the city's points of interest for developers, homeowners and tourists. The city is one of the safest cities in the United States with a low crime rate. He thanked the staff for all of their hard work. His is committed to excellence. He asked the Council to work together. He thanked his volunteers. He thanked his family and friends for their support. He thanked Cici, his beautiful and talented wife. She is his true partner. He is a public servant with an open door policy. He thanked the Council. We are one country, one family, and one dream. He asked God to bless America, Monterey Park and all.
Mayor Lau received praise and proclamation from several local organizations.
The meeting was adjourned and Mayor Lau joined with the residents in a celebration in the lobby of City Hall.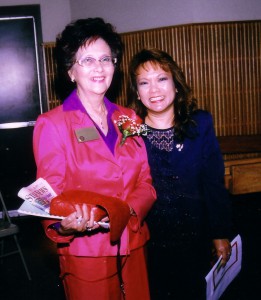 Mayor Betty Tom Chu and Commissioner Vickie Le at the celebration.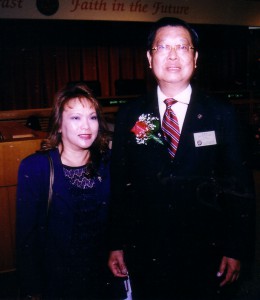 Commissioner Vickie Le congratulated Mayor David Lau.
Leave a Response