Memorial Day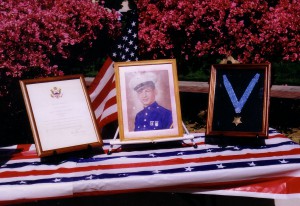 Eugene Arnold Obergon was remembered at the special event held at the Monterey Park City Hall on May 30. He was a Medal of Honor Winner from the Korean War who died September 26, 1950. He was raised in Boyle Heights and graduated from Roosevelt High School.  A local park in Los Angeles is named in his honor.
Commander Ray Villalobos welcome everyone to the Memorial Day celebration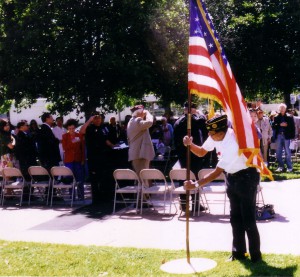 Members of the American Legion Post 397 presented the colors and led the Pledge of Allegiance.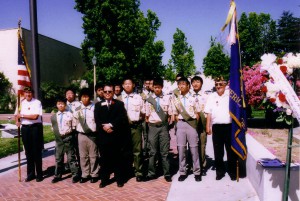 Members of Boy Scout Troop 301 with Councilmember Mitch Ing and color guards sang the National Anthem.
Post Chaplin Tom McCrady led the invocation. "Dear God, You have called so many of our comrades to everlasting rest, and eternal peace. Now that they are at rest, surely there is an afterlife for all who have been loyal and true. An afterlife to which light and peace will come. An afterlife where all of their burdens will be lifted, and heartaches shall cease. An afterlife where the love, the hope, and the fulfillment that escaped them here on earth will now be given to them, to be theirs forever and ever. O God, who heals the broken-hearted and binds up their wounds, look with tender compassion upon your servants, whose joy has been turned into mourning for our fallen comrades. Comfort us in our fond memories of those no longer with us. Open the gates of heaven to them, for they will find shelter in Your arms. Eternal rest granted them O Lord, and let perpetual light shine on them, and all of the souls of the faithful departed. Amen."
Ladies Auxiliary Unit 397 presented the wreath in front of the Veterans' Memorial at City Hall.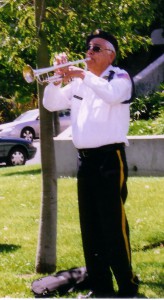 Gil Beltran played taps that filled the air and brought tears of the eyes of many the veterans and family members.
Mayor Betty Tom Chu thanked all for coming to honor all those who fought for our freedoms. She asked all the veterans to be remembered. She introduced Mayor Pro Tem David Lau, Councilmembers Mitch Ing, Teresa Real Sebastian and Anthony Wong, Becky Chang from Congressmember Judy Chu's office and Jaime Rodriguez from State Senator Ron Calderon's office.
Becky Chang presented the Legion and Council with a proclamation of appreciation from Congressmember Judy Chu. On Memorial Day people come together to celebrate the military and their families who sacrificed for all of us. Congressmember Chu voted for better benefits for the veterans and their families. Thank you for being here today.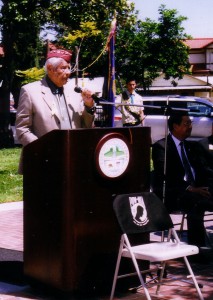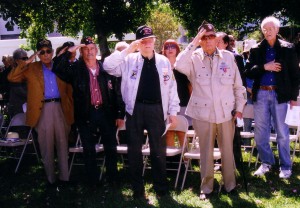 World War II veteran William Sanchez introduced World War II veterans Jess Samaniego from the 82nd Airborne who served in France, Ed Griffin from the 101st Airborne who served in France and David Fuentes who served in the South Pacific in the Philippines. In front of the podium is an empty chair in memory of all of the MIAs and POWs.  They are not forgotten.
Mayor Chu read from a lengthy letter from Sgt. John Eric Mejia from Monterey Park who is serving his fifth tour in Afghanistan. He asked that we all remember those who died fighting for us. Remember this day proudly and honor all the veterans living and dead. We cannot forget those who sacrifice for us. Freedom is not free. It is our way of life – service before self. He asked us to thank the veterans for our freedoms. Please remember our fallen heroes.  Remember their sacrifices and courage. Ask them to tell their stories about their service to all of us. Honor all of the veterans every day for our freedoms. God bless all of our fallen heroes, their families, all of you and America.
Mayor Pro Tem Lau stated that freedom is not free. It has cost many lives. We must remember our soldiers who sacrificed their lives for us and future generations. We need to stand behind our president so he can continue to do a good job fighting terrorists.  Pray for the early return of our soldiers in the Middle East. He thanked the veterans and their families, the POWs and MIAs. We need to lobby Congress for better benefits for the veterans and their families. Remember the veterans every day of the year. We need war to gain peace. One world and one family. He thanked Ray Villalobos, American Legion Post 397 and the city staff for this successful event. He thanked the police officers and firefighters for their service. Remember the fallen heroes always.
Councilmember Ing thanked all for coming to remember all the men and women in the service. His grandfather and his wife's grandfathers all served in World War II. He wants the students to remember the veterans from World War II.
He read a very famous poem written in World War I by Col. John McCrea called "In Flanders Fields", one of the bloodiest battlegrounds in France.
"In Flanders fields the poppies blow
Between the crosses, row on row,
That mark our place; and in the sky
The larks, still bravely singing, fly
Scarce heard amid the guns below.
We are the Dead. Short days ago
We lived, felt dawn, saw sunset glow,
Loved and were loved, and now we lie
In Flanders fields.
Take up our quarrel with the foe:
To you from failing hands we throw
The torch; be yours to hold it high.
If ye break faith with us who die
We shall not sleep, through poppies grow
In Flanders fields."
Mr. Ing said he committed to a Veterans' Concert on November 9, 2010.  33 veterans presented their service pictures and current pictures for the event. Students from Mark Keppel's band played music as their pictures were flashed across the screen. He is planning a second event in November.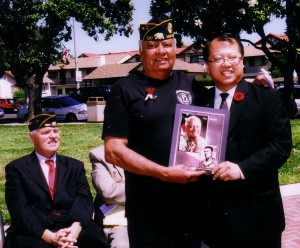 Commander Ray Villalobos and Councilmember Mitch Ing display one of the pictures being used at the concert.
Councilmember Real Sebastian thanked all for coming out today. She thanked the mayor for reading Sgt. Mejia's letter. She spoke about her great uncle a World War II veteran. She was taught that their sacrifices were for life, liberty and the pursuit of happiness. Honor the veterans for our freedoms. She thanked all of the veterans. We are truly the home of the free and the land of the brave.
Councilmember Wong thanked the American Legion Post 397 and the city for putting together this event to honor the veterans who sacrificed their lives for their fellow Americans. They fought for the entire world. They want peace for all in the world. It is not enough to thank all of the veterans who died or survived. We must show kindness and love to each other. We need to work together to give everybody peace. We must work together as a family and a team for peaceful and happy lives to honor all of the veterans. He asked God's blessing of America and all of us.
Mayor Chu thanked the police officers and the firefighters for their service. She asked for a moment of silence with a prayer for the veterans and their families. Remember as we celebrate today and all days to be proud to be an American. Remember our fellow Americans who sacrificed their lives for others.
Charlie Cheung, Henry Yee, Michael Cheung and Peter Ng presented a wreath at the American and Chinese World War II Memorial at City Hall.
Charlie Cheung spoke about all the Chinese and Americans who fought the Japanese from 1937 to 1941 before the attack on Pearl Harbor. Approximately 3 million people were killed and 10 million were wounded. He spoke of the Flying Tigers who rescued them from Japan. The memorial is dedicated to all who fought and those who died for their freedoms. There is a friendship between the Chinese and Americans.
William Sanchez thanked all for taking time to pay homage and honor all the veterans. He said this is a special day for him because he protected the flag "old Glory". He treated the flag with respect when he was ordered to destroy the flag before the Americans in the Philippines surrender to Japan after fighting for five months after the bombing of Pearl Harbor. Their sacrifices gave the US government time to rebuild their fleets and planes to continue to fight the war in the Pacific. He joined the Army before the war. He chose to serve in the Philippines and complete his military service after two years. After the Japanese attacked Pearl Harbor they attacked the Philippines to continue to destroy our military bases in the Pacific. The U S military surrender to the Japanese on May 6, 1942. He spoke about tearing up the tattered flag so the enemy would not have our flag. He said the surrender began his three and one-half years as a prisoner of war. He told of the horrors the Death March and the Hell Camps. Many Americans died of illnesses or were killed by the Japanese. The Atom bombs ended the war. He spoke of being freed by the Japanese and liberated back to the U S government. He witnessed the Japanese government surrendering on the Missouri on September 2, 1945. He said that he kept his promise to one of his high school friends and told his mother about his death in the war. Visit a military cemetery and see all the flags placed in front of each individual grave. We pay a heavy price for freedom. It is not free.
Mr. Sanchez' speech was interrupted by two military flyovers which caused everyone to look up at the beautiful sight of our planes protecting us.
Commander Villalobos thanked Monterey Park and the American and Chinese World War II committee.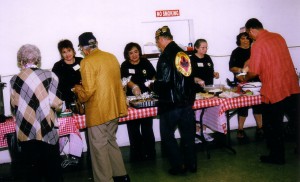 He invited everyone on the Post to enjoy a luncheon. Friends and neighbors joined together to celebrate Memorial Day with good food, good conversation and friendship.
May God continue to bless our America.
Leave a Response