Memorial Day Celebration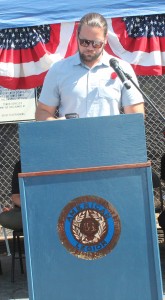 Eric Goepel was the  Emcee of this special event held on May 30th Memorial Day at American Legion Post 397 in Monterey Park. He is a Veteran Advocate. He welcomed all the veterans, their families, their friends and our residents.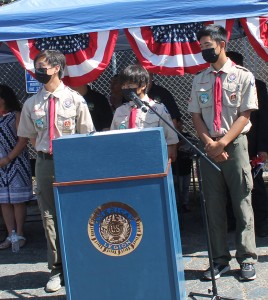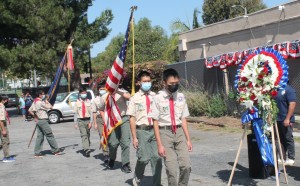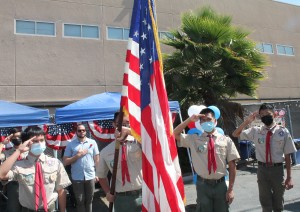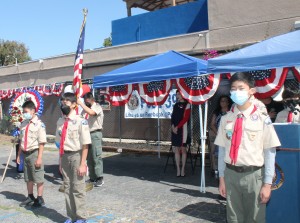 Members of Boy Scouts Troop 329 presented our colors and led our Pledge of Allegiance.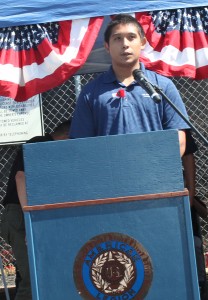 Sam Santos sang our National Anthem.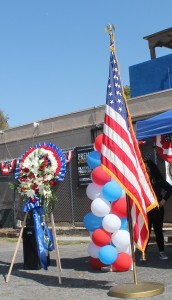 The wreath was posted by our American flag at the stage.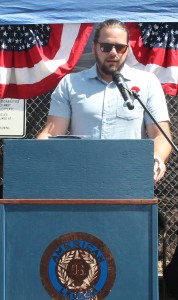 Eric Goepel led the Invocation. We thank God to give us freedom. Today we are here to honor those who died for our freedoms.
He introduced Mayor Henry Lo, Councilmember Peter Chan, Councilmember Yvonne Yiu, City Clerk Vince Chang and Jennifer Tang from Assemblymember Mike Fong's office.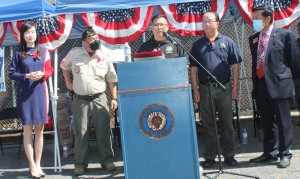 Henry Lo said we are here to talk about our brave men and women who died to save our world. He spoke about all of the people in the USA who want the promise of America. We should be uplifted. He thanked everyone and asked them to check on our veterans.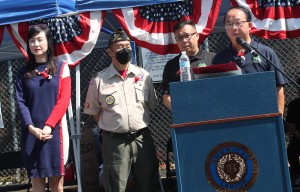 Peter Chan said we owe our freedoms to the people who died for us. Our American Spirit will go on.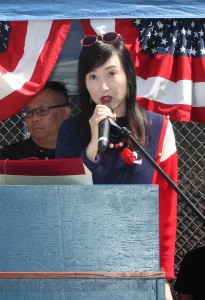 Yvonne Yiu said she thanked them for their valor and she appreciates them every day.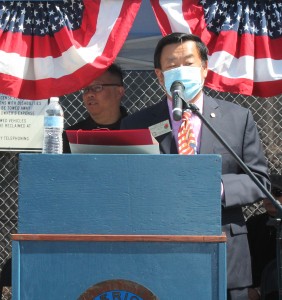 Vince Chang said we are here to honor them who sacrificed their lives for us. Please help the veterans.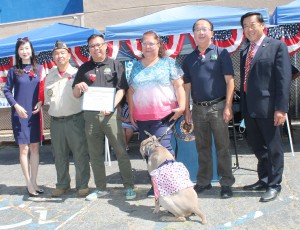 The City Officials presented American Legion Post 397 with a proclamation which was received by Rocky Woo, Karen Suarez and Roxie.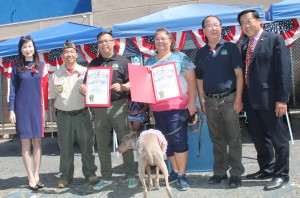 The City Officials presented American Legion Post 397 with a proclamation from Supervisor Hilda Solis which was received by Rocky Woo, Karen Suarez and Roxie.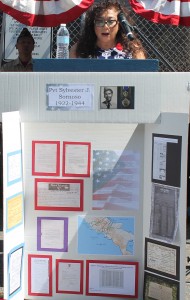 Sherri Mora Bass made a presentation on behalf of Fred Sornoso.  She spoke about his uncle Sylvester Sornoso who was born in 1922 in Mexico and moved into America with his parents at the age of two. He wanted to serve his country so he enlisted in the US Army. He landed in Italy on January 22, 1944 and they fought in trenches like they fought in World War I.
On January 29, 1944 they were under heavy shelling. Sylvester Sornoso died serving his country after 67 days of battle on March 27, 1944.  He was buried in Calvary Cemetery.
Ms. Bass spoke about the horrors of war and that Sylvester Sornoso died a hero. She had a display of his military paper work and awards that his family kept. His nephew Fred Sornoso never got to meet his uncle.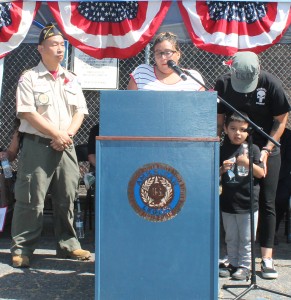 Renee Pizana spoke about her brother David A. Pizana III. She is honored to speak to all of us. Today is for our veterans. They come from all walks of life. They display courage, pride and dedication to serve their country.  Serving means sacrifice.
Her brother was born on January 29, 1983. He was one of three children. She spoke about his education. He enlisted in the Marines and in 2003 he attended Boot Camp. He served two tours in Iraq and two tours in Afghanistan.
He was a Sergeant and he suffered from PTSD Post-traumatic stress disorder (PTSD) is a mental health condition that's triggered by a terrifying event — either experiencing it or witnessing it. Symptoms may include flashbacks, nightmares and severe anxiety, as well as uncontrollable thoughts about the event.
David spent seven years struggling with his illness. He worked and continued his education at ELAC. He died on June 6, 2019.
She said we should not forget those who fought for us and later lost their lives to PTSD. Please help them.
Ms. Pizana told David that we will never forget you. She asked the audience to please remember all of those people who have lost their lives.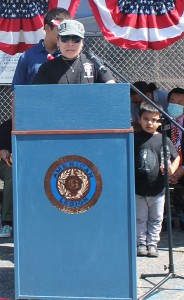 Melissa Ramon spoke about her friend Kenny R. Eads Jr. She served in our military from 2000 to 2008. She met Kenny while in the service. He was a fun-loving guy from Kentucky. He loved life and loved to sing. He had PTSD and died in 2018. She said after 9/11 she lost most of her miliary friends.
Today we are here to celebrate his life. Please remember all of our veterans still struggling with PTSD.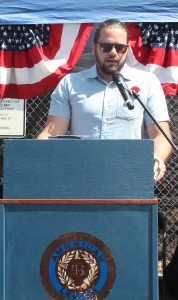 Eric Goepel said today we are making sense of the trauma of the veterans coming home. After World War II and Korea, the veterans turned to drinking to help them overcome their trauma.
He served seven years in the Army. He served six years with the same people. Fourteen of his friends were killed in action.
We need to help the trauma of the veterans. He has dreams of fighting to protect others. We have to help the veterans with their pain.
Since 2001, more than 114,000 veterans have died by suicide. Since 2006, there has been an 86% increase in suicide rate among 18-to-34-year-old male veterans.
The veterans need Post 397 to help them to survive. They share their trauma with each other.
We all could have PTSD from some traumatic events. We need to seek help to find our way out to break this cycle.
He said Karen and Gab are important as this Post saves lives. Community is the solution. Please care about yourself.
Lillian Anaya, President of Auxiliary Unit 397 thanked everyone for coming. She asked God to protect all of those servings to protect us. Please remember the Gold Star families.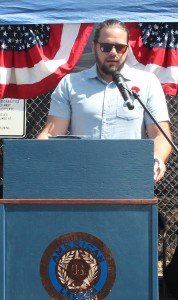 Eric Goepel wished everyone  a Blessed Memorial Day. The Post served boxed lunches to all of the guests.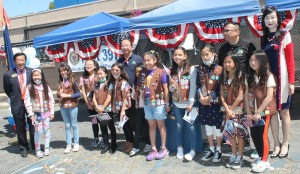 The City Officials posed for pictures with members of Girl Scout Troop 71231. The girls passed out the Red Poppies to the audience for a donation for the Post.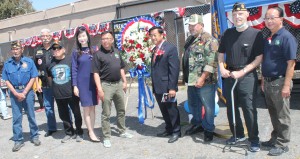 The City Officials posed for pictures with some of the many veterans who attended this very special event.
Leave a Response