Veterans Day Celebration in Monterey Park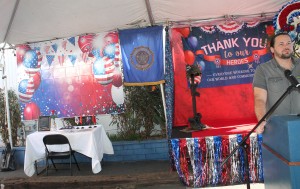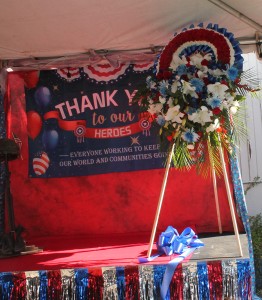 American Legion Post 397 hosted the celebration for veterans, their families and their friends.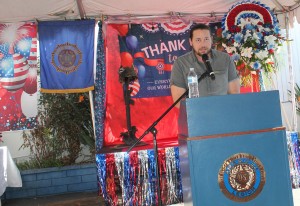 Eric Goepel, Founder of VCC, welcomed everyone to this Veterans Day event.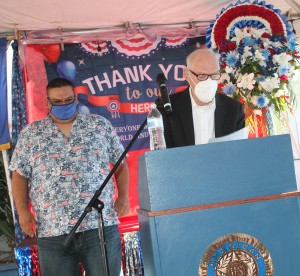 Chaplain Tom Mc Crady led the Invocation. Oh Lord we pray to remember our veterans today. We have enjoyed 245 years of freedom.  We pray for all of the veterans. Please pray for our POWs and those who have been listed as MIAs. We thank You for the freedoms we have received in Your name.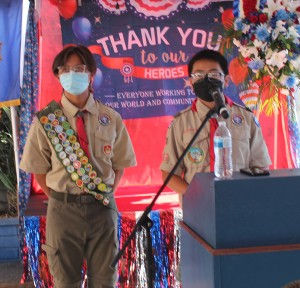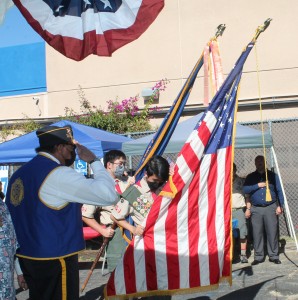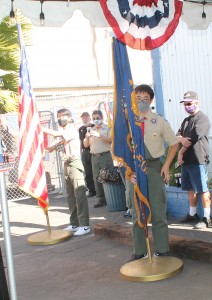 Members of Boy Scout Troop 329 led our Pledge of Allegiance and presented the Colors.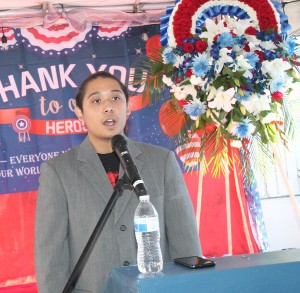 Sam Santos sang our National Anthem. The crowd cheered for our song.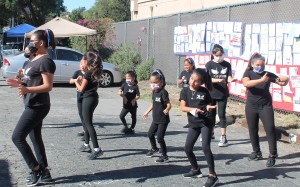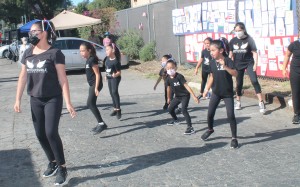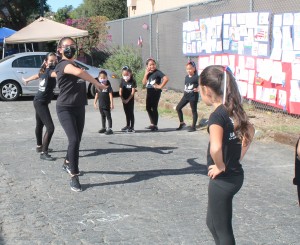 Members of the Untouchable Dance Studio performed several dances to the delight of the crowd.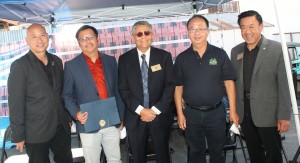 Eric Goepel introduced our elected officials to the audience: Monterey Park Mayor Pro Tem Henry Lo, Councilmember Hans Liang, Councilmember Fred Sornoso, Councilmember Peter Chan and City Clerk Vince Chang.
He thanked Post Commander Gabriel Suarez and his wife, Karen to for keeping this Post alive.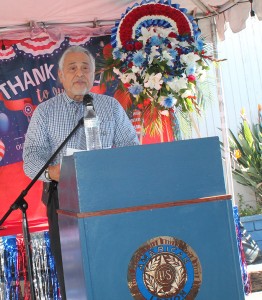 US Army Veteran Manuel Martinez said he had to be here today to honor the 22 million living veterans today.  There is no apostrophe in Veterans Day. We are here to honor all veterans  who served both in peace time and in war time.
He reminded the guests that on the 11th hour of the 11th day in the 11th month World War One ended in 1918. He also gave a history of Armistice Day later called Veterans Day to honor all of our veterans.
We need to honor all of our veterans who fought for our peace. Please pray for peace but be prepared for war.
He thanked Monterey Park for their support. All veterans gave something and some gave their all. God bless you all.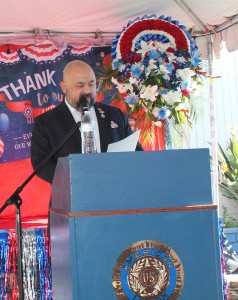 US Army Veteran Robert "Sarge" Perez thanked Commander Gabriel Suarez and the City Council for hosting this Veterans Day Program. He read a Veterans Day Poem  by Cheryl Dyson that touched his heart. He said it took him 10 years to finally get his benefits so  he decided to give back to his fellow veterans by creating  "Sarge's Resource Center" to help other veterans adjust to civilian life and get their much-needed benefits. He said that veterans rely on each other. Please honor the Women Veterans  too.
Thank you for being here today for all of us.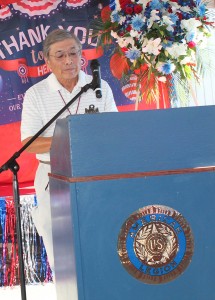 US Army Veteran Jim Iwaki is also a member of our Historical Society. He welcomed all of the residents and guests to this event.  He said that World War Two Veterans are dying quickly—according to US Department of Veterans Affairs statistics, 240,329 of the 16 million Americans who served in World War II are alive in 2021.
He read a statement about several California community members who served in World War Two:
" Last week  I visited the Japanese American Museum in downtown Los Angeles.
The story of Stanley Hayami, born in San Gabriel, student at Mark Keppel High School, was told and his writings were on display.
After the attack on Pearl Harbor, his family was imprisoned at the internment camp in Heart Mountain, Wyoming.  Over 100,000 people of Japanese ancestry were removed from the west coast to inland camps, only because they looked like the enemy.
The Japanese American boys who did not register for the draft were sent to federal prison.  Stanley did register and as a 19yr. old was drafted into the U.S. Army's 442nd  Regimental Combat Team, the most decorated unit in U.S. history for its size and length of  service.
At the age of 19, Stanley was killed in Italy while trying to rescue a fellow soldier during combat."
Edwin Holt Chan
"Edwin Chan, born in Oakland, served from 1942 -1946 in the 555th Air Service Squadron, a unit of the 14th Air Force. Comprised mostly of Chinese Americans who were fluent in Chinese and English in communication as an interpreter and linguist. It was the largest unit to serve in the China Burma India theater. Edwin joined the Army Corps of Engineers in San Francisco where he retired after 30 years."
Frank Alvidrez
"Frank is here today.   Frank served in the Navy from 1943-1946, he lives in Monterey Park. He joined the Navy at age 17, served on the mine sweeper , USS Buttress, steel hulled, PCE #878(Patrol Craft Escort), served in the So. Pacific, maintaining the Gyro Compass which helps steer the ship.  The USS Buttress not only removed mines from the ocean but also planted mines along the Calif. Coast from San Francisco to San Diego.
Frank was a volunteer on the Special Patrol with John Duce. His nephew is Fred Sornoso, volunteer Historical Society and also councilman for the City of Monterey Park. Frank is 96 yrs. Old and still drives. I hope I can when I am 96."
Norm Stevens
"Norm is the author of 3 books; "An Innocent at Polebrook" is an excellent book about Norm's experience during the War.    At 18, he joined the Army Air Corp, served as a bombardier on a B-17 in the 8th Air Force, 351st Bomb Group, completing 34 bombing missions over Germany, occupied France, Belgium and Holland.  During the bombing run he would actually control the flying of the aircraft (most people don't know that). Norm is 96, a member of the Historical Society and has spoken at our programs."
Don J. Laventure from Monterey Park served in World War II, Army, 11th Airborne, 187th glider Div./ Infantry in the Pacific Theater.
The Monterey Park Historical Society has a Veterans Directory and we would like all of our veterans to register their services into our city history.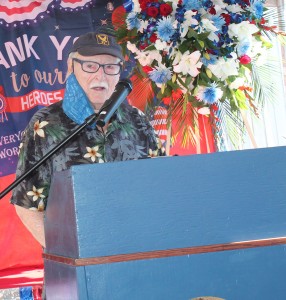 Army Air Corp Veteran Norm Stevens said he is 96 years old and will soon be 97 years old. He spoke about his war experiences as a young man of 18. He remembers all about the war since he was a Bombardier who sat in the tail of the plane and dropped the bombs. He remembers all of the tension as they flew  off to battle and their joy at surviving their mission. He still recalls all of the action as he saw everything. Coming home to the White Cliffs of Dover.  He recalled that 26,000 members died in the war. He is lucky to be alive to enjoy his children and grandchildren.  He thanked all of the veterans. He thanked the audience for being here today.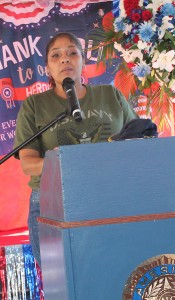 US Navy Veteran Miyoko Toy thanked everyone being here today. She enlisted in the Navy to serve her country and wanted to have her husband become a US citizen. She had support when she was on duty in the military as her husband and family helped raise their children. Then 9/11 changed her life. She spoke about her friend whose mother adopted her as her second daughter. The mother was killed in the Twin Towers.  Her life changed.  She is divorced from her husband now. She meets up with other military members who help her. She is very happy to belong to Post 397 where members  help her live her new life with her children.  Thank you!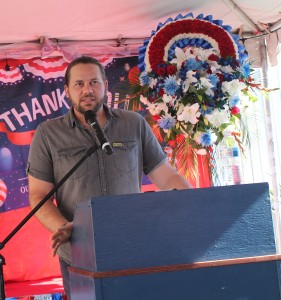 Eric Goepel, who founded the VCC helps all of the veterans after their service. Veterans need good health care. Our country helps the veterans join back into our society. The Millennials
are the next generation of leadership. We need to remember.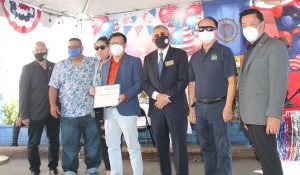 The Monterey Park elected officials presented a proclamation to Post Commander Gabriel Suarez, his wife Karen and Melissa Ramos in honor of this Veterans Day event.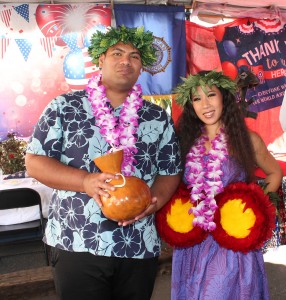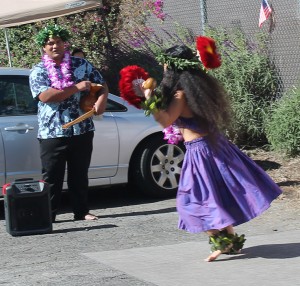 Members of Hula AFI performed several dances for the guests who enjoyed the rhythm of the Islands.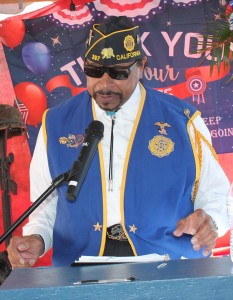 Chaplain Fritz Wilson said he was a Naval Office who served with the Army. He said that God does things in His way. He said that Post 397 serves with the community.  That is why he jointed this post. He asked us to remembers all of the veterans.
He prayed for the Lord's blessing to protect the veterans and keep them safe from harm.
God will guide the veterans and keep them safe. He asked God for grace and mercy for all of us. Amen.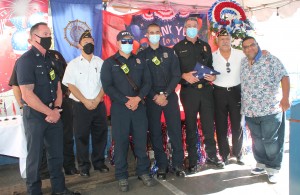 Members of Post 397 presented our Firefighters with a new flag to fly over our new Fire Station #2.
Fire Chief Matt Hallock thanked the veterans for the new flag.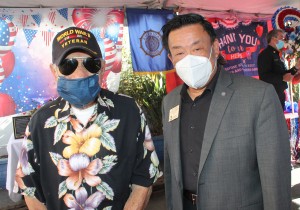 World War Two veteran Frank Alvidrez posed for a picture with City Clerk Vince Chang.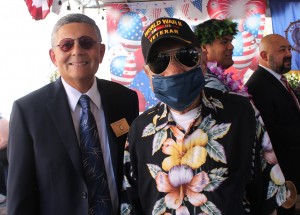 World War Two veteran Frank Alvidrez posed for a picture with Councilmember Fred Sornoso.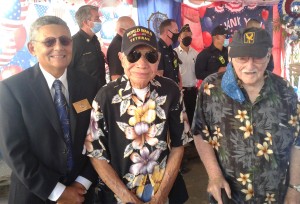 Fred Sornoso, Council member M.P., Historical Society member and Docent at the museum.
Frank Alvidrez, Age 96, WWII Veteran/Navy.  Fred's Uncle.  Norm Stevens, Age 96, Author, "An Innocent at Polebrook", WWII Veteran/Army-Air Force.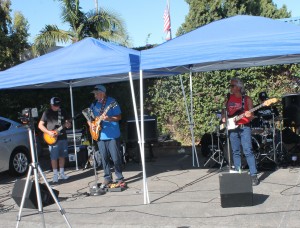 Members of the Band Free Wing played Rock and Roll music for all of the guests to enjoy.
The Post  members provided box lunches to all of the attendees to enjoy.
This was a wonderful Veterans Day enjoyed by the veterans, their families, their friends and many local residents.
Please be sure to thank our veterans for their service to all of us and our country.
Leave a Response