Honoring Our Veterans
Honoring Our Veterans
"For Your Honor" is a display honoring all of our military members of the United States of America. Art Hernandez proudly participated in Monterey Park's Veterans Day Celebration on November 11th.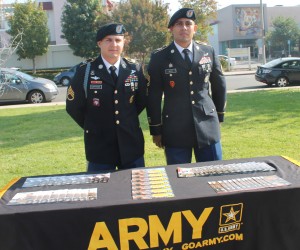 Staff Sergeant Antonio Esparza and Sergeant First Class Diego Mata enjoyed the event. They are members of the Army Recruiting Office in Monterey Park.  They spoke to people interested in the benefits of serving in our military.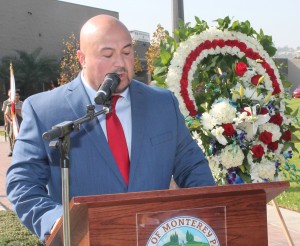 Memo Chavez was the Master of Ceremony. He welcomed the veterans, their families and friends to this special event. He introduced Councilmember Peter Chan, City Clerk Vince Chang, Henry Lo from Assemblymember Ed Chau's office, Post Commander Gabriel Suarez and Post Chaplain Tom McCrady to the audience.
Mr. Chavez said that Monterey Park resident Patrick Verduzco is new military member. His picture will be placed on the Military Wall inside City Hall. He thanked Patrick and his family for their service to our country.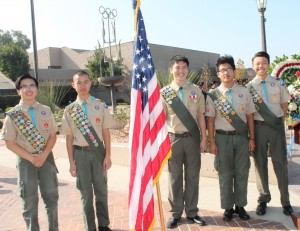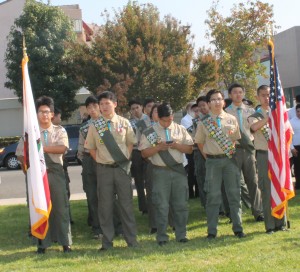 Members of Boy Scout Troop 301 presented the Colors and led the Flag Salute.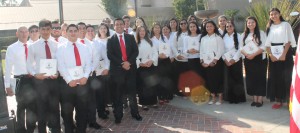 Members of the Light of the World Church sang our National Anthem at the beginning of the event and later sang God Bless America at the end of the ceremony.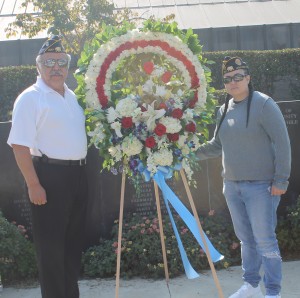 Staff Sergeant Steven Aguilar and Staff Sergeant Dominique Hernandez laid the wreath in front of the city's monument honoring our military members who died in combat.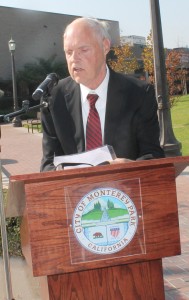 Post Chaplain Tom McCrady led the Invocation. He asked our dear Lord to honor our veterans. We pray that you protect them, who keep us safe. Bless them for the their many contributions against tyranny. We honor them and are proud of them. Please God bless them with peace and happiness. Amen.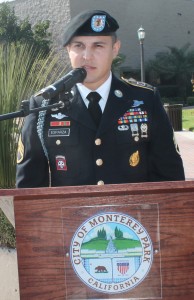 Staff Sergeant Antonio Esparza said he has served in the Army for seven years. He was born and raised in Oregon. He listed all of the locations of his service. He is now stationed in Monterey Park. Veterans Day is very special for him. We honor and remember those who served and now serve.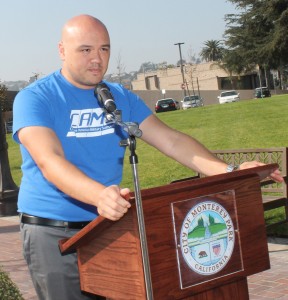 David Lane is a retired veteran. He belongs to CAMS that serves Chinese-American military members and their families. He thanked all of the veterans for their service. Veterans can get help from the government. You earned these benefits by your service to our country.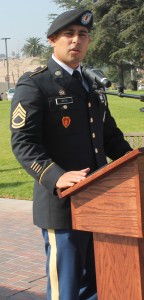 Sergeant First Class Diego Mata said he has served for eleven years. He has served in the war zone and now at home. He was born in Mexico and had become a United States citizen while serving our country. He is humbled and blessed to attend this Veterans Day service. He thanked all the veterans for their service and their families who serve too.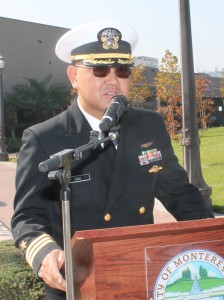 Navy Commander Arthur Fong introduced Navy Commander Henry Wong and Navy Signalman Frank Hui to the guests. He is a reserved officer in the Pacific Fleet. We are safe at home. But issues in the South China Seas are a major concern. All of our United States military is helping to keep the peace.  He thanked Gabriel Suarez at Post 397 for his service. Monterey Park has a lot of people who serve in the military or who have served our country.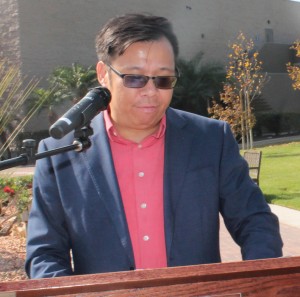 Henry Lo from Assemblymember Ed Chau's office thanked the military for their service to our country. These men and women are the lifeblood to all of us to live in freedom.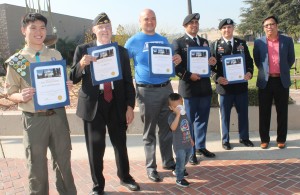 Henry Lo presented proclamations to First Class Sergeant Diego Mata, David Lane, Staff Sergeant Antonio Esparza, Post Chaplain Tom McCrady and Boy Scout Troop 301.
Mr. Chavez thanked everyone for their participation. Post 397 is inviting everyone to join them for lunch at the post.

Veterans joined together for a group picture in front of City Hall.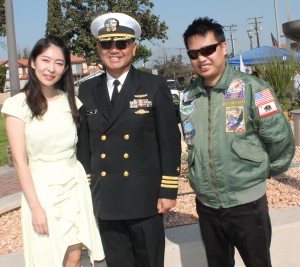 Jeanette Li, Arthur Fong and Richard Yiang posed for a picture to mark the occasion.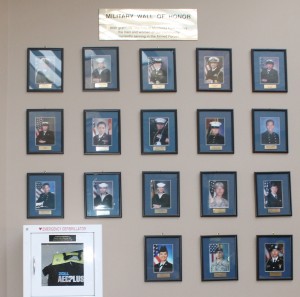 The Military Wall located inside of the City Hall that displays pictures of Monterey Park residents currently serving our country
Leave a Response