Family Promise of San Gabriel Valley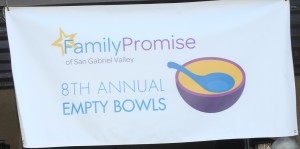 The banner over the front door of The Santa Anita Golf Course Clubhouse, located in the city of Arcadia, announced the 8th Annual Empty Bowls event on October 6th.


Guests picked out their favorite ceramic bowls created by local artisans to hold their soup.

The dessert table was loaded with favorite goodies donated by local restaurants.
They also donated delicious breads and soups for the guests to enjoy.
The Empty Bowls represent the plight of homeless people who may not get enough to eat or have a place to sleep.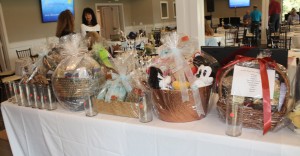 The raffle prizes were located near the entrance so everyone could view them and place their lucky tickets in front of the special gifts.
Student volunteers from Rosemead High School Kiwanis Key Club bused the tables and made sure that the guests had enough bread to enjoy with their soup.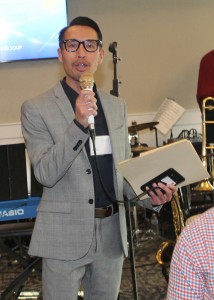 Martin Yuson was the Master of Ceremonies. He welcomed the guests to 8th Annual Empty Bowls event. Don't forget to buy you raffle tickets and enjoy the delicious soups, breads and bakery goods. He introduced the city officials who volunteered to share their evening with supporters of Family Promise of San Gabriel Valley. He also thanked all of the generous donors. He thanked all of the restaurant owners for donating their delicious specialties for this event. He thanks all of the artists for donating their creative bowls for this event.  Please take home your beautiful bowls. He thanked all of the organizers for this successful event.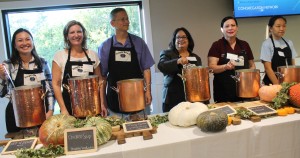 Julie Nguyen, City Clerk of San Gabriel; April Verlato, Mayor of Arcadia; Bill Huang, Housing Director of Pasadena; Adele Andrade-Stadler, Mayor of Alhambra and Sandra Armenta, Mayor Pro Tem of Rosemead were busy serving soup to the estimated 300 guests.  Student volunteers also help served soup.
Xochitl Hernandez, Executive Director, welcomed all of the guests to the 8th Annual Empty Bowls event. Please enjoy the food and have a good time.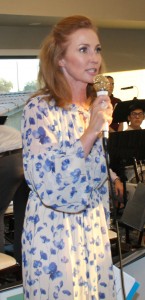 Sarah Dussenult, a representative from Supervisor Hilda Solis' office was the Keynote Speaker. She said that a $400 million budget has been set aside to help end homelessness in California. Family Promise helps to serve the homeless. Please think about our neighbors who are going without food. We want our kids to step up. Hilda Solis wants to help prevent people from being homeless. She provides direct aid to all of the 32 cities in Los Angeles County. They want to provide $2.2 million with the Sheriffs to help the homeless. Please apply for the city funds to help the homeless. You can become a host family to help out the homeless by providing a bedroom for them. The county will pay all of the expenses to the host family.
Los Angeles County is working to help homeless with their mental health issues. Approximately $516 million has been dedicated to help with mental health issues in Los Angeles County. She thanked the guests for their support.
Sarah Dussenult honored Martin Yuson and Xochitl Hernandez with a proclamation for their service to the homeless.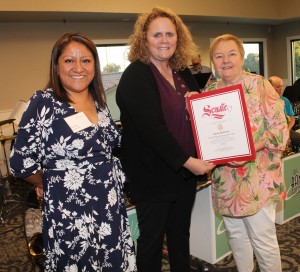 Darla Dyson honored Karen Roberson with a proclamation from Senator Anthony Portantino for her many years of service to the homeless in the presence of Xochitl Hernandez.
Karen Roberson thanked everyone for this honor.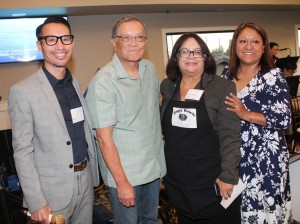 Alhambra Mayor Adele Andrade-Stadler and Alhambra School Boardmember Bob Gin honored Martin Yuson and Xochitl Hernandez with a proclamation for providing assistance to the students and their families in the school district through the HOPE Program.
Xochitl Hernandez thanked Supervisor Hilda Solis for her generous grant to help Family Promise to hire more staff.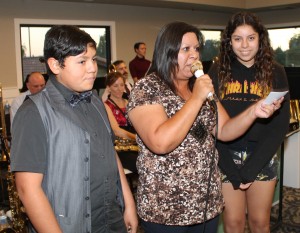 Dioselina Gallardo said she went to Family Promise for help after a family tragedy that caused her to be homeless with her children, Katelynn and Justin. Some shelters would not accept her son because he was older. She wanted to keep her family together. Family Promise helped keep her family together. All of the volunteers were friendly and helpful. It was hard to find an apartment for herself and her children. Family Promise helped her find an apartment that she could afford with her job. She thanked God and all of the family members for their help.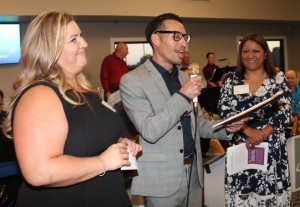 Martin Yuson announced that Xochitl Hernandez is leaving Family Promise for a job at Catholic Charities. He thanked her for her service to Family Promise. He introduced Melissa Odotei as the new Executive Director of Family Promise. He thanked her for accepting the position.
Melissa Odotei thanked the guests for their support.
Many lucky raffle winners received the gift of their dreams during the event.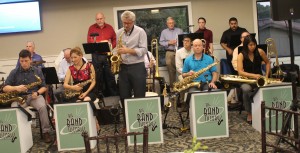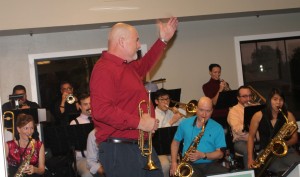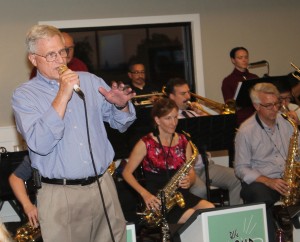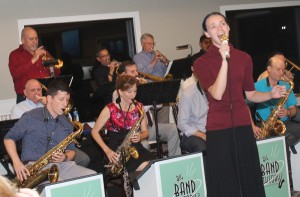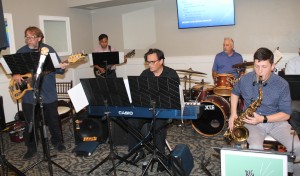 Members of the Big Band Theory played the famous swing style of jazz music from the 1920s–1940s. Several members of the band also sang some of the special songs to the delight of the guests who were dancing in their chairs.
Family Promise of San Gabriel Valley's mission is to help families challenged with homelessness and low income achieve sustainable independence through a community-based approach
For more information on Family Promise of San Gabriel Valley please contact them at 1005 E Las Tunas Drive #525, San Gabriel, CA 91776 or call them at (626) 569-0991.
Leave a Response