Monterey Park's Night Out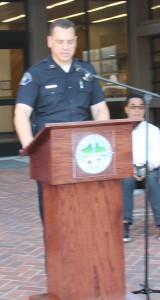 Police Captain Steve Coday welcomed everyone to the city's 36th Annual National Night Out celebrated in front of City Hall on August 6th.
National Night Out, which is sponsored by 
the National Association of Town Watch and co-sponsored locally by the Monterey Park Police Department, will involve over 16,000 communities from all 50 states, United States territories, Canadian cities and military bases around the world. In all, over 37 million people are expected to participate in "America's Night Out Against Crime."
National Night Out is designed to increase crime prevention awareness; generate support for, and relationships in, local anti-crime efforts; strengthen neighborhood spirit and police-community partnerships; and send a message to criminals by letting them know that our neighborhoods are organized and fighting back.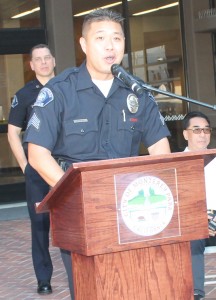 Sgt. Bob Hung welcomed residents and their guests to this special event. He introduced Mayor Hans Liang, Mayor Pro Tem Mitch Ing, Councilmember Teresa Real Sebastian, Councilmember Stephen Lam, Councilmember Peter Chan, City Clerk Vince Chang, City Treasurer Joseph Leon, Senator Susan Rubio, Enrique Robles from Congressmember Judy Chu's office, City Manager Ron Bow, Fire Chief Scott Haberle, Department Heads: Mark McAvoy, Inez Alvarez, Diana Garcia and Troy Grant, President of MPPOA.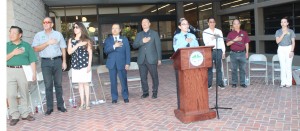 Monterey Park Police Explorer Flores led the Flag Salute.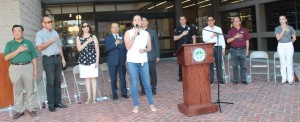 Lauren Kinkade-Wong sang our "National Anthem". The audience praised her wonderful voice.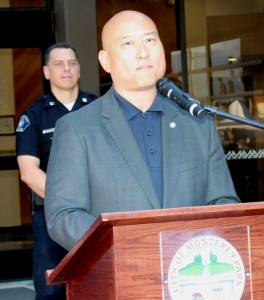 Mayor Hans Liang welcomed everyone to this event. He thanked our police department. Please meet your neighbors tonight and talk to our police officers. He stated more people attend this event every year. Have a wonderful Night Out.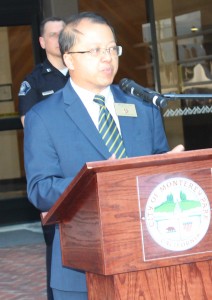 Mayor Pro Tem Mitch Ing said this event is also held across the USA and Canada. His wife, Gloria's uncle is a retired from the Los Angeles Police Department. His 16-year-old nephew from Canada was visiting him many years ago. He introduced him to retired Police Chief Dan Cross and his nephew spent the summer learning about law enforcement. His 35-year-old nephew is now a member of the Royal Canadian Mounted Police Department. The best deterrent to crime is to own a dog.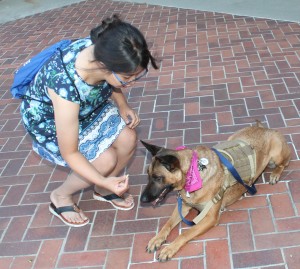 His daughter, Chantal Ing owns Moxy, a Belgian Malinois. The dog has endless energy and is a protector.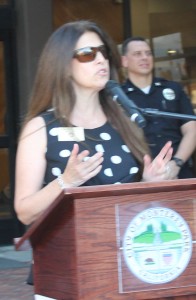 Councilmember Teresa Real Sebastian said they have two poodle mutts that protect them. Monterey Park Police are strong in our community. She said call them right away if you see a crime being committed. She recalled the "Five Minute Rule" from childhood. You have five minutes to eat something that falls on the floor. Remember this rule and call the police right away. Thank you for joining us tonight. She also thanked the vendors.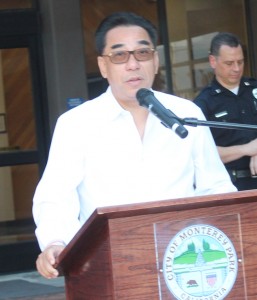 Councilmember Stephen Lam thanked the residents for coming out tonight. It has been 36 years since we have been visiting with our police department. He thanked the Captain Coday and the police officers for their service.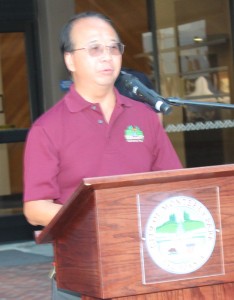 Councilmember Peter Chan welcomed residents and guests to Monterey Park. No to the criminal. Neighborhood Watch is a strong group. He thanked the police department for arresting three people in his neighborhood who committed crimes. We make Monterey Park a very safe city. Enjoy tonight.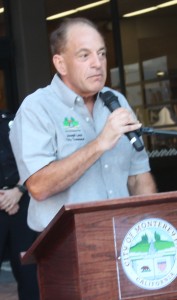 City Treasurer Joseph Leon suggested we keep in touch with our neighbors. Two people were arrested breaking into his home. The neighbors called the police. He suggested people join the Police Academy to see how our police officers do their job. Have a great evening.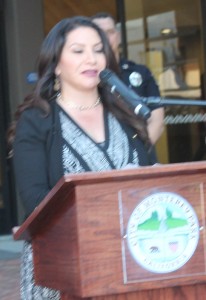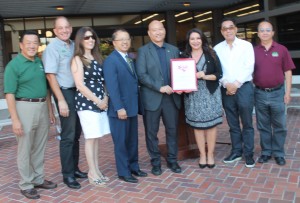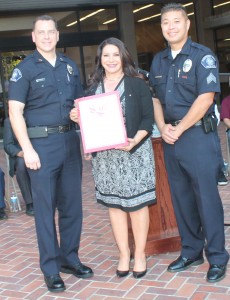 Senator Susan Rubio said she is very happy to be here today. We need to have our children meet with the police. They are here to help protect us in our community. Remind to teach children to ask the police for help in an emergency.
She presented proclamations to Mayor Liang, Mayor Pro Tem Ing, Councilmember Real Sebastian, Councilmember Lam, Councilmember Chan, City Clerk Chang, City Treasurer Leon, Capt. Coday and Sgt. Hung in honor of this special event.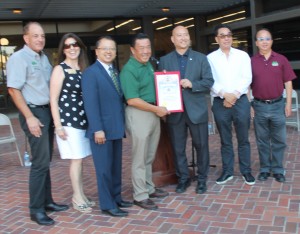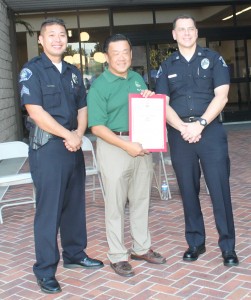 City Clerk Vince Chang representing Supervisor Hilda Solis said we come together to protect our open space. He presented proclamations from Supervisor Solis to Mayor Liang, Mayor Pro Tem Ing, Councilmember Real Sebastian, Councilmember Lam, Councilmember Chan, City Clerk Chang, City Treasurer Leon, Capt. Coday and Sgt. Hung in honor of this special event.
Sgt. Hung said please meet your police officers and visit the vendors booths. You can participate is the educational activities, displays from our Special Response Team, K9 Unit, Community Services Bureau, Animal Services and members of the Monterey Park Fire Department and Community Emergency Response Team (C.E.R.T.). Thank you for supporting your police department.
The grill masters were busy cooking hot dogs for 700 guests who also enjoyed chips and sodas.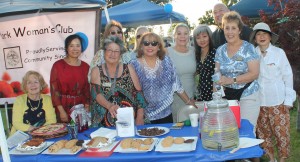 Members of the Monterey Park Woman's Club had a booth to educate the residents on their club services to the public.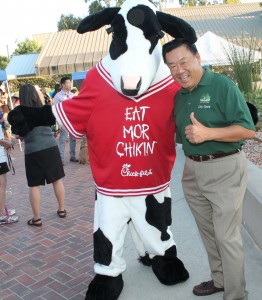 Chick-fil-A visited with his friends that included Vince Chang.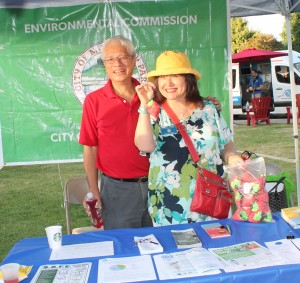 Stephen Fong and Shirley Hwong from the Environmental Commission shared information with the residents.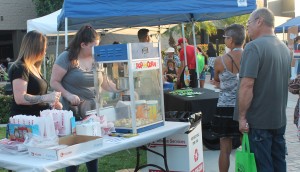 Members of BJ's Party Supplies worked the Popcorn Booth and served the hungry guests.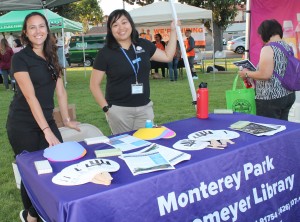 Kristen Olivarez and Anita Phan provided information about our library services to everyone at the event.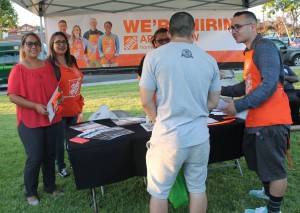 Home Depot had a booth seeking new employees for their local stores.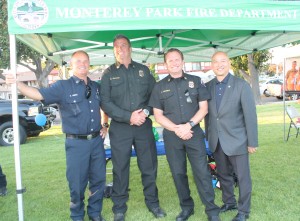 Monterey Park Fire Department had a booth manned by Steve Gregg, Matt Hallock and Fire Chief Scott Haberle. Mayor Hans Liang visited their booth and thanked them for their service to our community.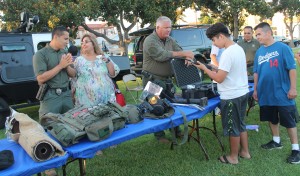 Children of all ages learned how our SWAT team services the city. They asked so many questions about the various guns displayed on the table.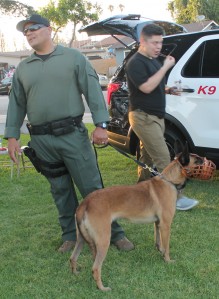 K-9 Officer Ray Cota and his partner Veeda visited with the residents. Veeda had a successful drug bust in our city the other day.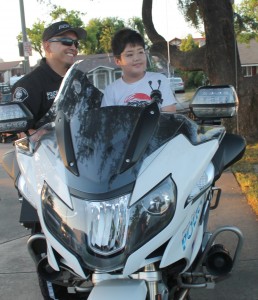 Children of all ages enjoyed sitting on a police motorcycle and posed for family pictures.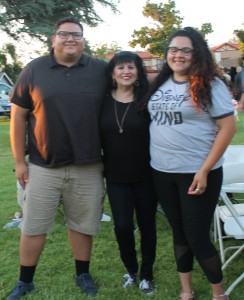 Ernesto Padilla, Terry Valenzuela and Jessica Ramos, at her Face Painting booth. For more information on her Jessica's artistic services please call 626-632-8338.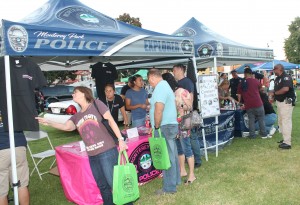 Members of the Monterey Park Police Officers Association had booths to share their experience and knowledge with the residents. Some lucky guests won T-shirts and caps during their raffles.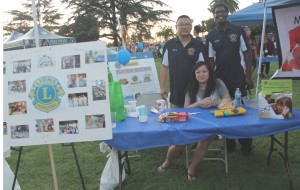 President Jason Dhing, Jenelle Dhing and Third Vice President Delario Robinson staffed the Lions Club booth. They were collecting donations of old eyeglasses and providing information on their club.
The event featured several other booths that provided information on other services available to the public.
Student volunteers were members of Mark Keppel High School and the Monterey Park Police Explorers.
The evening gave residents a chance to meet their employees from the Police Department, Fire Department, Public Works, the Library and other city departments. Several commissioners were on hand to advise the residents about the various commissions that Monterey Park residents could join to help keep our city safe and clean.
Leave a Response