Happy New Year 2019!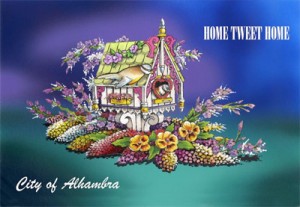 The City of Alhambra's float, "Home Tweet Home," was drawing by Miss Grace Blackwell, a 5th grade student at St. Theresa Elementary School. She won the design contest and her design was selected for the city's Rose Parade float.
For 91 years, the City of Alhambra has been a part of the Tournament of Roses Parade on New Year's Day.
This year's theme was "The Melody of Life" celebrates music – the universal language.
"Music has the power to not only bring us together but take us back to memories and moments as nothing else can. From the sweep of a conductor's baton to a simply whistled tune, music is woven into the fabric of our lives, community, family, friendship, and love. Music heals us. Defines us. Reminds us, and inspires us to be our greater selves. Rhythm, melody, harmony, and color all come together to create the soundtrack that defines our lives."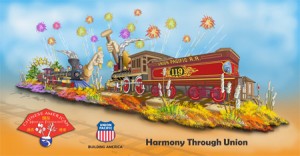 Chinese American Heritage Foundation's float "Harmony Through Union".
Their float shines a light on Immigrants that depicts the completing of the United States Railroad system built by Chinese immigrants on the West Coast after the Civil War.  They stated that their history was not taught in the History classes across America.
The float had a minor fire and broke down during the annual Rose Parade on New Year's Day, bringing the flowery procession to a temporary halt.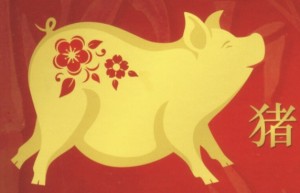 The 2019 Lunar New Year is called the "Year of the Pig".
"People born in the year of the Pig think logically and are able to fix whatever problem they're in. They aren't good communicators, but they're kind and able to provide for the family. Most of them are wealthy. Their only obvious fault is that they lose their temper easily." (According to the Chinese Zodiac)
Wishing you and yours a Happy and Healthy New Year!
Leave a Response