Big Band Theory Swing Dance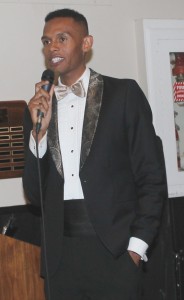 Christian Daly, the Master of Ceremonies, welcomed the guests to the Third Annual Fundraiser for Family Promise of San Gabriel on October 6th.  Tonight's hosts are members of the Church of the Good Sheperd.
He invited the 125 guests to check out the Silent Action that offered twenty different gift certificates, dinners and tours.
These funds will be used to help us support our families.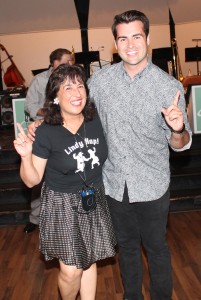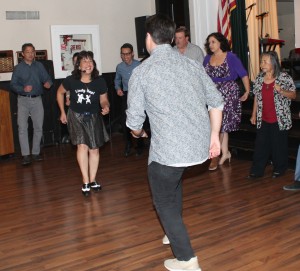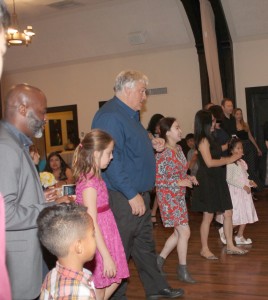 Erin Stevens Key and her son, Jimmy Key gave dance lessons based on swing music. Mrs. Key provided a brief history about Swing Dancing that has been popular since the1920s. It has been called the "Lindy Hop".
She was impressed as a young girl with a story in Life magazine published in 1926 and an old VHS movie owned by her father. It was called "A Day at the Races" produced by the Marx Brothers that showed Swing Dancing.
The guests crowed around in a large circle to learn several of the movements that they could use to dance.
The family owns the Pasadena Ballroom Dance Association located 73 N. Hill Ave. in Pasadena.  For information on dance lessons please call them at (626) 799-5689 or email them at http://www.pasadenaballroomdance.com/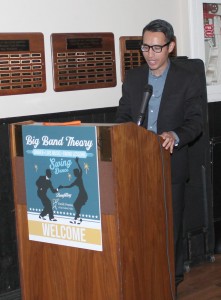 Mr. Daly introduced Martin Yuson, the Board President to the guests. Mr. Yuson thanked all of audience for supporting Family Promise, the host church and the Key family for the dance lessons.
He has served on the board for one and one/half years. It has been a learning experience for him. It is a tangible way to address the issues of homelessness in our community. We need to serve the families and children.
He thanked all of the supporters and donors of Family Promise.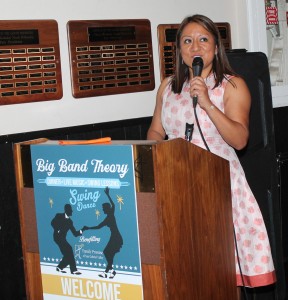 Mr. Daly introduced Xochitl Hernandez, Executive Director to the guests.  Ms. Hernandez thanked everyone for supporting this Third Annual Event of the Big Band Fundraiser. She joined Family Promise in April 2018 and is happy to join this great organization. It was formed 30 years ago in our country. In 2011 Family Promise of San Gabriel was founded to help the homeless families in our area.
She is happy to join all of the host churches and the volunteers. She thanked the Boardmembers for their support. She thanked Karen Roberson for her support.
She is happy to meet the children and their families. It is part of her job. The hardest part is to see the needs of the families. They help them to address the system to get help from the government agencies.
She gave a brief history on the homelessness in our country. Between 2016 to 2017
we saw the largest number of families with children that were homeless.
She also explained one of the reasons for homelessness is high rent in Los Angeles County where a renter needs to earn four times the local minimum wage to afford the median asking rent estimated to be $2,499 a month.
Family Promise has served over 70 families through our congregational network shelter program and over 90 families through the Alhambra Promise program. They have helped 440 children since they opened their doors.
She asked that volunteers and donors continue to give their time, talents and gifts so they can expand their support to children and their families.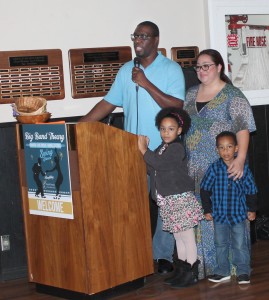 Ms. Hernandez introduced Joel and Jessica Pernell and their children to the guests.
They are just one of the many families the organization help to get back on their feet.
Mr. Pernell said in 2015 they were homeless living in hotels and out of their car. Family Promise helped them find a home in 2016.  He is now a student, his children are attending school and his wife is working several jobs to support their family.  Family Promise showed them love and support. He thanked everyone who helped them for their love and support.
Mrs. Pernell said it was tough to be homeless. She is grateful for Family Promise for their support and generosity. She thanked everyone and gave them a big hug and blessings.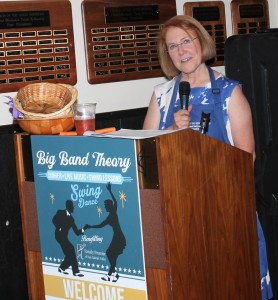 Natalie Poole, a Board Member, thanked the Pernell family and her staff.
Family Promise will be offering Rental Assistance and Eviction Assistance in 2019. They received $20,000 grant from HUMI to help them with the new projects.
She asked for $20,000 more in donations from the guests to help continue these new projects in the future.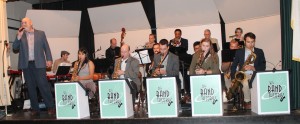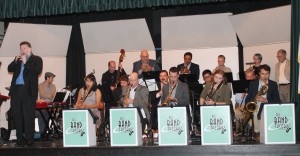 The Big Band performed several favorite songs to the delight of the dancers.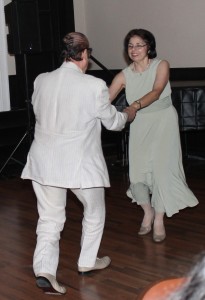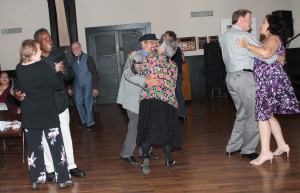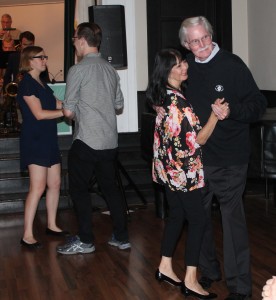 Guests walked to the dance floor and enjoyed the beat of the music. Many of them enjoyed the famous dances of yesteryear.
Mr. Daly thanked the events sponsors that included The Olive Garden in Montebello, Officezilla, Eraxtyle Design, Sergio Negrete Flowers, Rosemead Kawanis, Asuncion Hernandez Rentals, the Big Band Theory and Erin Stevens Key for making this very special evening.
He thanked the guests for coming to this event and for their financial support of Family Promise of San Gabriel.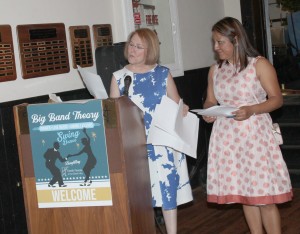 Natalie Poole and Xochitl Hernandez announced the winners of the Silent Auction.
The event ended with the guests dancing the night away.
Family Promise's Mission statement: To help children in homelessness by helping their families to stay intact, to regain stable housing and to return to steady work, in the warm fold of a supportive, volunteer-driven community.
For more information on Family Promise of San Gabriel please contact them at 1005 E. Las Tunas Dr. #525, phone them at (626) 569-0991 or email them at http://www.familypromisesgv.org/
Leave a Response