Happy Birthday America!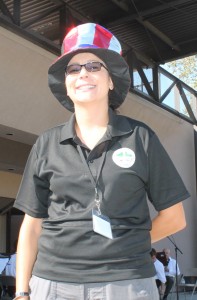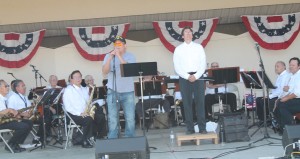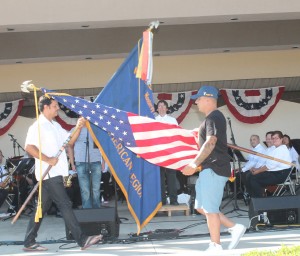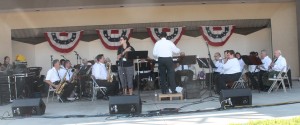 Recreation and Community Services Director Inez Alvarez welcomed the residents and their friends to Monterey Park's Annual 4th of July celebration at the Barnes Park.
Dennis Sandoval, Ruben Garcia and Alonso Fuente from American Legion Post 397 presented the colors. Ms. Alvarez led our Pledge of Allegiance.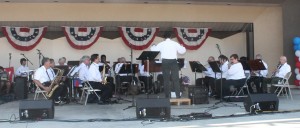 Members of the Monterey Park Concert Band played our National Anthem, other historical songs and old favorites to the delight of the crowd.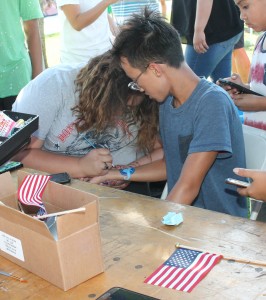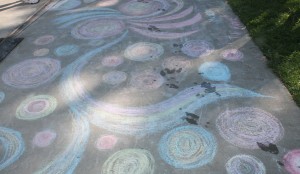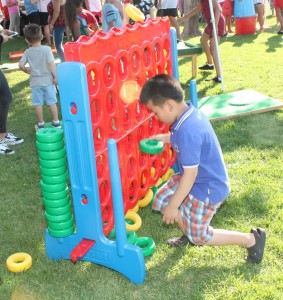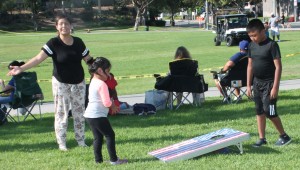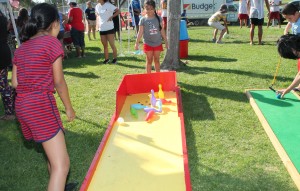 Some of the summertime activities for the children included face painting, sidewalk art, golf, bowling and ring toss.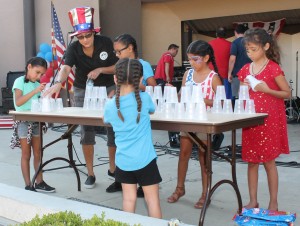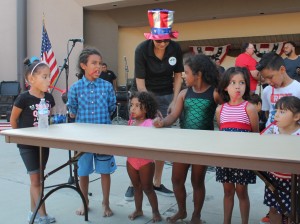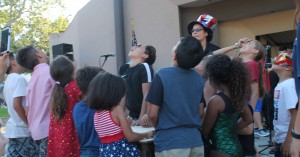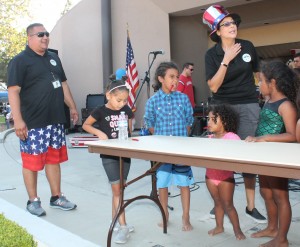 Children and adults enjoyed building art with plastic cups, eating Red Vine licorice with the hands behind their backs and trying to move a cookie from their foreheads into the mouths.  The winners were awarded more candy or cookies.
The party included delicious corn on the cob, popcorn, Mexican food, fresh fruit, soft drinks and more.
The crowd enjoyed the food court and their own picnics in the park.
Hundreds of people arrived early to setup their locations to get great seats for the 9:00 PM fireworks show.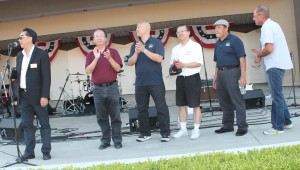 Mayor Stephen Lam, Mayor Pro Tem Peter Chan, Councilmember Hans Liang, Councilmember Mitch Ing, City Clerk Vince Chang and City Treasurer Joseph Leon joined the party.
Mayor Lam welcomed everyone to the 4th of July in Monterey Park. He is an immigrant from Hong Kong. Here in American we enjoy freedoms of speech, religion and the press. We are the best country in the world. He thanked everyone for coming to our birthday celebration. Americans, we are all united in colors.  He quoted President Kennedy "Don't ask what your country can do for you?" You work for our country. We are all one. We are the Number 3 best city in the USA!
Mayor Pro Tem Chan said enjoy the Independence Day of America! Please enjoy it with your family and friends. Thank this great country that we are here together free. We are a country of immigrants. We are in the greatest country in the world. We all share the American dream. Enjoy!
Councilmember Liang welcomed the crowd to Monterey Park. He is honored to serve you. Happy 4th of July to celebrate the birth of our nation!
Councilmember Ing welcomed the crowd to Barnes Park for our 4th of July celebration. We are celebrating our independence. Have a safe 4th of July!  He immigrated to the USA when his grandfather invited him to move to Monterey Park to attend college. His grandfather fought in World War II. His grandfather told him to always remember his family, his country and his God. Happy 4th of July!
City Clerk Chang said as immigrants we are here to celebrate one of the greatest nations in the world. He spoke about the American Revolution when we revolted against England because their charged too much tax and restricted our freedoms from afar. We have freedom of speech, religion and the right to vote. He reminds new citizen to register to vote in every election no matter whom you choose to vote for. Happy 4th of July!
City Treasurer Leon thanked the crowd for joining us. He recalled 30 years ago his parents were honored by the City Council for becoming new citizens. Happy 4th!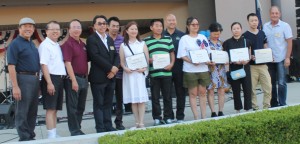 The elected officials welcomed our new citizens that included: R. Wang, Y. Jang, Lan Zhang, Shu Iling Li, Chuan Zhu Wei, Hoa T. Lu and Yu Mi Chan and introduced them to their fellow Americans.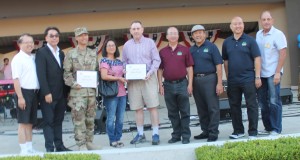 The elected officials welcomed military families: the Situ family and the Atkins family and thanked them for their service to our country.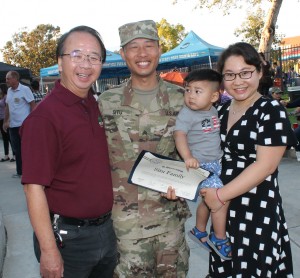 Mayor Pro Tem Chen and members of the Situ family posed for a picture to celebrate this special day.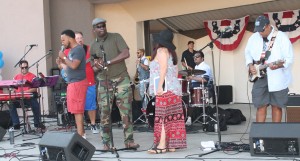 Members of the Bulletproof Soul performed their special music to the delight of the crowd.
The 4th of July celebration ended with fireworks that light up the skies in honor of our Nation's Birthday.
Happy Birthday to us!
Leave a Response