Memorial Day in Monterey Park

Members of the American Legion Post 397 prepared to post the colors in front of City Hall on May 28th.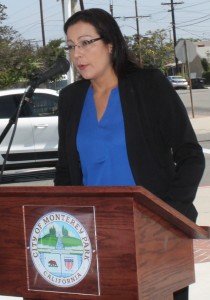 Recreation and Community Services Director Inez Alvarez welcomed the veterans, family members, residents and employees to this special event sponsored by the city and members of American Legion Post 397.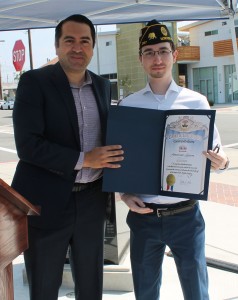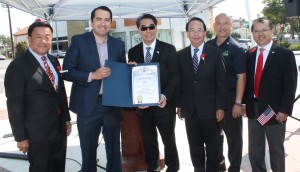 Cesar Diaz, a representative from Supervisor Hilda Solis' office presented proclamations to Owen Wolf representing Post 397 and Mayor Stephen Lam, Mayor Pro Tem Peter Chan, Councilmember Hans Liang, Councilmember Mitch Ing and City Clerk Vince Chang for honoring our fallen military members.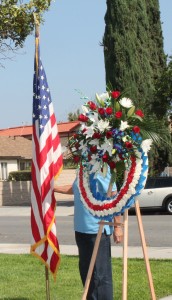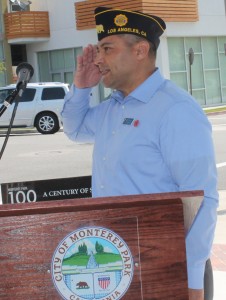 U S Army veteran Ernie Bille led our flag salute after the colors were posted.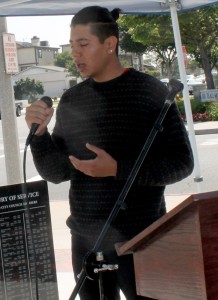 Edwin Alvarez from Notes for Notes from the West San Gabriel Valley Boys & Girls Club sang our national anthem.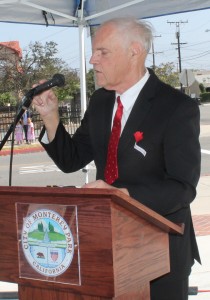 Post Chaplain Tom McCrady led the invocation. He reminded everyone that there is no greater love to lay down one's life for friends and country. Today we remember the men and women who laid down their lives for us. They did it with God's grace. He asked people to pray to their God. He asked God to bless us and hold us in His holy embrace.
Owen Wolf from Post 397 welcomed everyone to this special event. Commander Gabriel Suarez was ill and was not able to attend.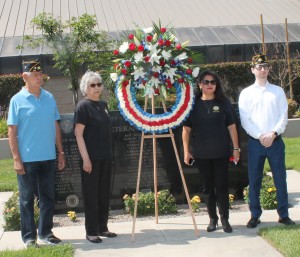 Members of American Legion Post 397 and members of American Legion Auxiliary Unit 397 presented a wreath in front of our War Memorial.
Ms. Alvarez introduced Mayor Stephen Lam, Mayor Pro Tem Peter Chan, Councilmember Hans Liang, Councilmember Mitch Ing, City Clerk Vince Chang, City Manager Ron Bow and Baldwin Park City Councilmember Susan Rubio to the audience. She said our elected officials wanted the veterans to share their history with the guests.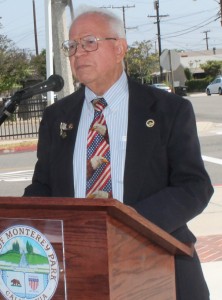 US Marine Corps veteran Paul Perez stated he was from a military family. His granddad enlisted in the Army when he immigrated to the United States.  His family members also served in the Navy too. We are Americans. We are free because service members gave their lives. He said that people who do community service like firefighters, police and residents help keep our country safe.
He teaches Citizenship classes and reminds new citizens you have to vote and serve in the community. He salutes all of you.
Memorial Day celebrates the people who gave their lives. He gave a brief history of Decoration Day that honored the war dead from the Civil War to the current Memorial Day to honor all of our war dead.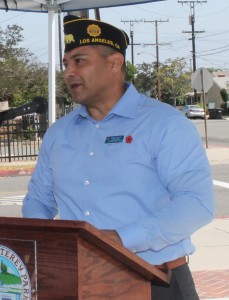 US Army veteran Ernie Bille thanked all of the first responders. He works for the Los Angeles County Sheriff's Department. He said that on last Monday in May we remember all of those in the military who have died. He spoke about the Police Officers' Memorial Week. To date 64 officers had died in the line of duty this year. Police officers and firefighters serve the public. He thanked all of the veterans for serving for us. We are family. Remember all of those who have died.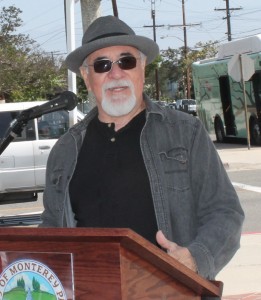 U S Army veteran Pedro Martinez said it is a blessed day. The sun is out. This country is for all of us. We don't have to agree but we are here. He spoke about his friend George Alvarez, who is now in heaven. He lived in Monterey Park. They met in the service and served in Vietnam together.  He now understands what they were doing in Vietnam. He cannot forget the pain and anger. He is not an angry anymore. He visited with George and his family. He brought George home from Vietnam. He recalled George's prize possession was a 1956 Chevy. George's name is carved into the city's War Memorial. Now I make Monterey Park my home.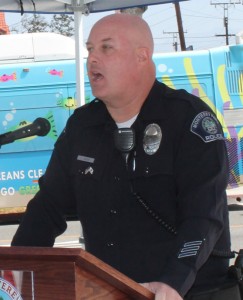 US Army veteran and Police Officer Troy Grant said he working in our police department to serve the people. Today is about the freedoms we have over the last 250 years. This day is about the men and women who served but they didn't come home. He remembered Police Officer William Guidera who was hit by a car on Garvey helping a driver fixing a taillight in 1927. He died a few days later at Garfield Hospital. Officer Guidera was a veteran of WWI. He also remembers Police Officer George Elder who was shot and killed during a holdup at the Star Market on Garvey in 1961. He and his family lived in Monterey Park. He never got to see his children grow up. It was very sad for our city. They also sacrificed for us. We need to remember all of those who died for us.
Ms. Alvarez thanked all of the speakers for sharing thier history with us. Post 397 is hosting a luncheon for everyone.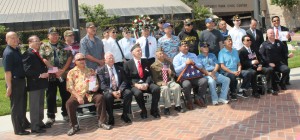 Military veterans and elected officials joined together in front of the War Memorial in honor of this Memorial Day.
Leave a Response