Pancakes and Eggs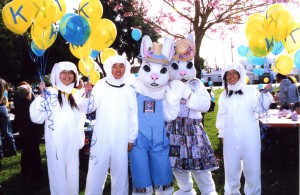 Mr. and Mrs. Easter Bunny with their friends from the Key Club welcomed everyone to the 66th Annual San Gabriel Kiwanis Club and Parks and Recreation Easter Egg Hunt and Pancake Breakfast held on April 3 in Smith Park.
The annual breakfast is the major fundraiser for the Kiwanis Club.  Their goal is to raise $10,000 a year for scholarships for local students.
The members cooked a delicious pancake breakfast for their guests.  Members of the Key Club passed out yellow and blue balloons to the children.
Members of the fire and police departments were on hand and provided safety handouts to the guests.  The children climbed on the antique fire truck and viewed a motorcycle and mini-police car.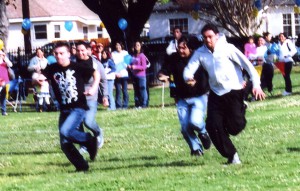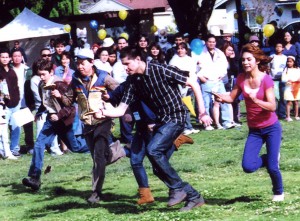 The Pancake Race provided fun for all as young and old alike competed in their age groups to race to the finish line balancing a pancake on a spatula.
Sean Ong, Hiroto Shigeta, Andrew Bargoza, Julisa Torres, Akane Horii, Serrena Macias, Sean Rickard, Brian Chen, William Vazquez, Lucero Gonzales, Jazmine Reyez, Jessica Sample, Alex Arteaga, Marcus Carmona, Omar Sandoval, Elaine Tam, Cecile Vazquez, Stephanie Arteaga, Vanminh Chen, Gary Glade, John Chea, Elia Flores, Sue Lien and Yoke Liew were the winners.
The first three winners from each age group were awarded gifts from local businesses that included O'Donnell Chevrolet, Betos Grill, Albertson, Shakeys' Pizza, Lucky Burger, Fortune Bakery, Mike's Pizza, Stuffed Sandwich, San Gabriel Nursery Florist and Jeff's Sporting Goods.
The first place winners from each age group ran in the final race to win the grand prize.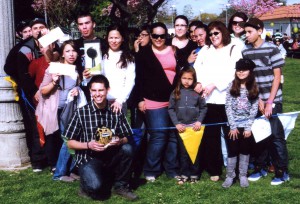 Grand Prize Winner Alex Arteaga celebrated with his family.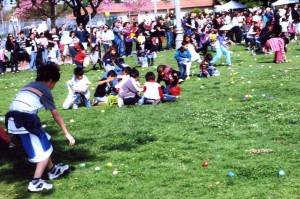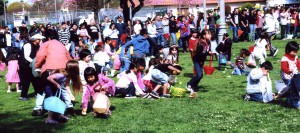 Colorful plastic eggs were scattered around the grass for the Easter Egg Hunt.  Excited children up to the age of six collected as many of colorful eggs as they could pick up. Some children brought their own baskets while other children clutched their treasures in their hands.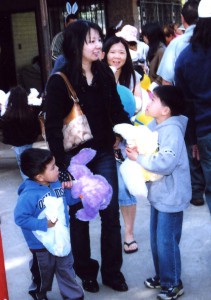 Each of the children received a colorful Easter bunny as their prize.
It was a wonderful event to celebrate Easter and spring.
Leave a Response