Easter Egg Hunt
Easter Egg Hunt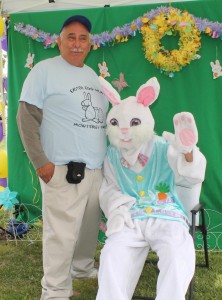 The Easter Bunny visited with his friend, Dave Barron on March 31st during the 6th Annual Easter Egg Hunt held in front of the Monterey Park City Hall.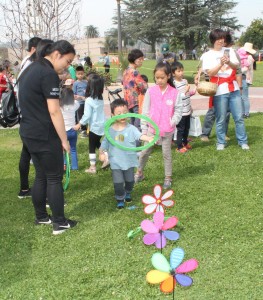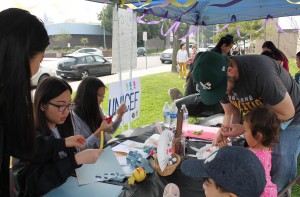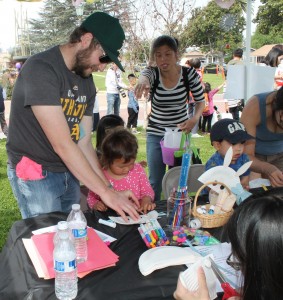 The younger crowd between 2 to 11 played games for candy at the booths sponsored by the Mark Keppel's UNCEF Club.  They also created Easter baskets and other decorations as part of this community event.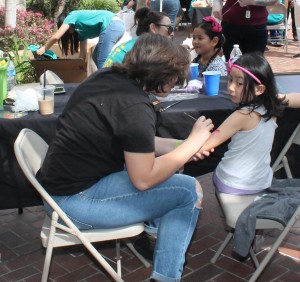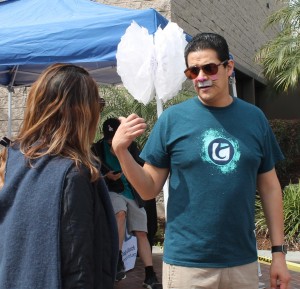 Children of all ages waited to have their face painted as part of the party.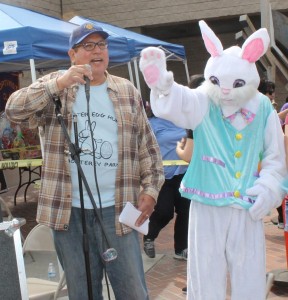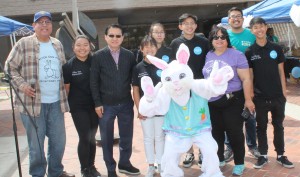 Dennis Gutierrez from the Lamp Optimist Club welcomed the parents, grandparents and children to this special celebration. He introduced City Clerk Vince Chang, Mike Eng, Pastor Jeff Cao of Trinity Church, Jason Chen from the UNICEF Club and Timothy Thai from Eco Harmony, the sponsors to the crowd.
Vince Chang waved to the crowd.
Members of the Monterey Park Police and Fire Explorers joined the members of the
Senior Patrol who helped with crowd control.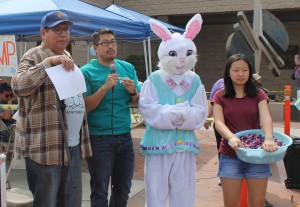 Pastor Cao welcomed everyone to this event. He also invited them to join their church. He wished the guests a Happy Easter!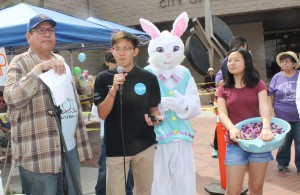 Mr. Chen welcomed all to this celebration. He invited them to visit their game booths. He thanked the many sponsors and the city for their support. Happy Easter!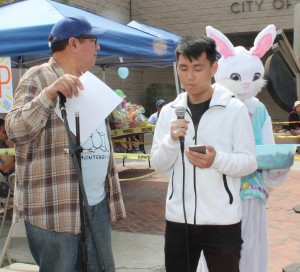 Mr. Thai wished everyone a great time and asked them to stay safe.
Mr. Gutierrez advised the parents and grandparents about the rules that they could not help the children pick up any eggs and they could not use baskets to collect their eggs.  An exception was made for the little ones. The rules were also issued in two Chinese dialects and Spanish so everyone was on the same page.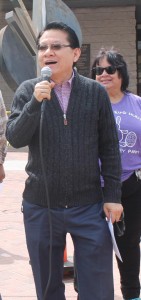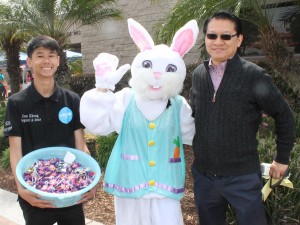 State Senator candidate Mike Eng joined the celebration. He thanked all of the sponsors. He is very happy to celebrate Easter in Monterey Park with family, friends and candy.
Mike Eng joined with the Easter Bunny and his friend at the hunt.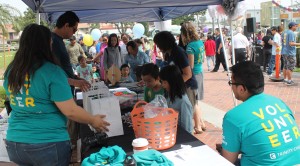 Members of Trinity Church also provided candy grab bags so everyone could enjoy the party.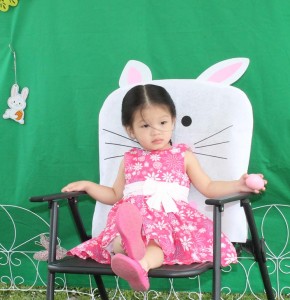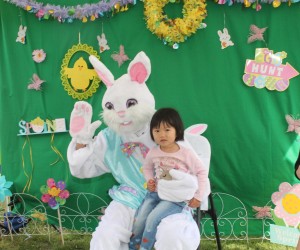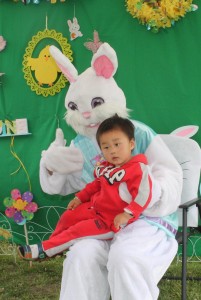 The Easter Bunny visited with many of his young friends.  He also gave them candy and a balloon. A young lady enjoying the Easter Bunny's seat and the shade.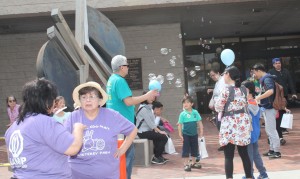 Bubbles filled the air as excited children waited for the race to begin.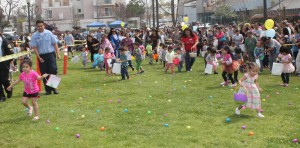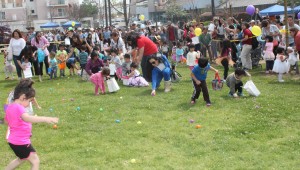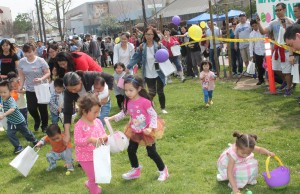 The race began as children from the ages of 2 to11 picked up as many eggs as they could hold.
1,000 plastic eggs were filled with candy and 36 eggs each held a lucky ticket to win an Easter Basket.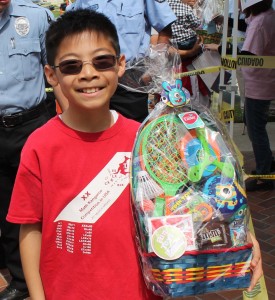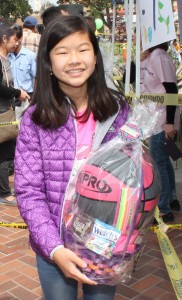 The lucky winners received baskets filled with candy, games, stuffed animals or sports equipment.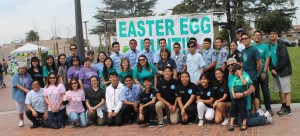 Many of the volunteers posed for a picture to remember this wonderful event.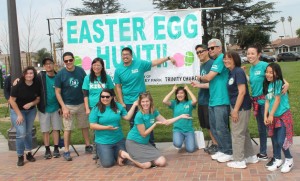 Members of Trinity Church posed for a picture for their church's publication.
The Easter Egg Hunt in one of the many cultural events held in Monterey Park for the residents and their guests to enjoy.
Leave a Response