Night Out Against Crime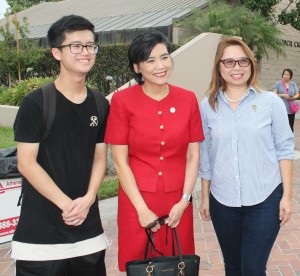 Congressmember Judy Chu joined with Monterey Park residents Andy Yam and Dora Leung in front of Monterey Park City Hall on August 1st to celebrate our 34th Annual National Night Out Against Crime.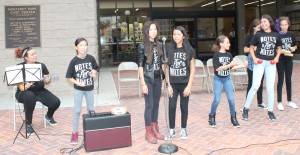 "Notes for Notes" from the West San Gabriel Valley Boys & Girls Club provided entertainment. They sang several songs to the delight of their friends and family.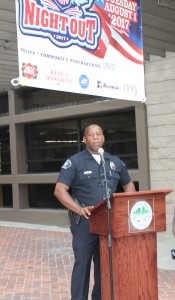 Officer Gary Sims welcomed the residents to our National Night Out. Monterey Park joined over 16,000 communities from all 50 states as well as U S territories, Canadian cities and military bases around the world.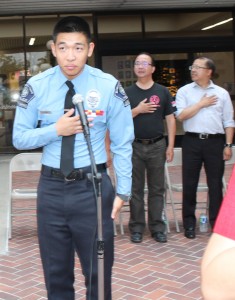 Police Explorer Anthony Yam led the Pledge of Allegiance as the audience faced the flag.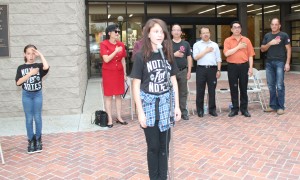 Carissa White sang our National Anthem at the beginning of the event.
Office Sims thanked the residents for attending and introduced Captain Kelly Gordon.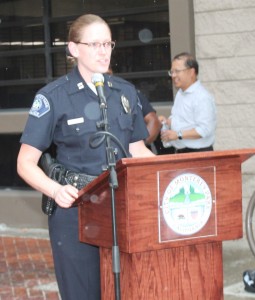 Captain Gordon welcomed the residents to this special night out. She said that Chief Jim Smith was on vacation with his family. He sends his best wishes.
She introduced Congressmember Judy Chu to the audience.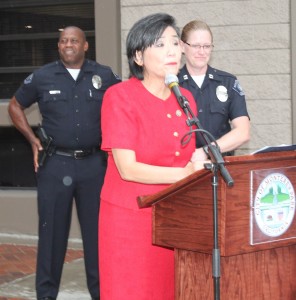 Congressmember Chu said she is happy to be here to celebrate our National Night Out. It is so important to show our support of our police department. She spoke about the recent shooting of some Congressmembers in the Nation's Capital. The Capital police ran into danger to protect them. The police officers always run into danger to protect the people they serve.  They keep every one safe in our community.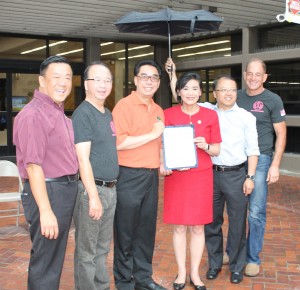 Congressmember Chu presented a proclamation to Mayor Pro Tem Stephen Lam, Councilmember Peter Chan, Councilmember Mitch Ing, City Clerk Vince Chang and City Treasurer Joseph Leon in honor of this event.
Mayor Teresa Real Sebastian was celebrating her 19th wedding anniversary and sent her best wishes to the residents.
Garvey School Boardmember Henry Lo and Alhambra School Boardmember Bob Gin joined the party.
Captain Gordon thanked the staff and volunteers for their assistance for our National Night Out.  She thanked the many sponsors and asked the residents to please visit their booths. Please visit the "Pink Patch Program" booth and help them support a program to research and and cure cancer.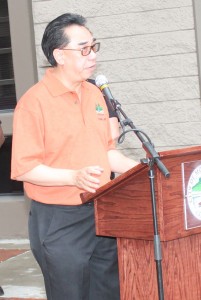 Mayor Pro Tem Stephen Lam said he was happy to be here for National Night Out to keep our city safe. He learns from our police and fire departments. Please tell the Council what you want to see in our city.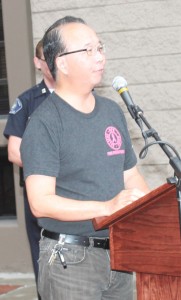 Councilmember Peter Chan said he was honored to be here to share in this event. Public safety is important in the city. We will stop the crime to keep our city safe. He thanked the fire department, the police department and the staff for making it possible. We work together to prevent crime.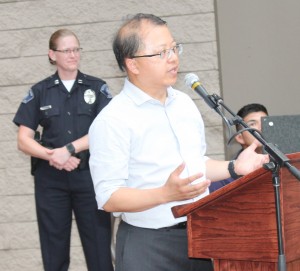 Councilmember Mitch Ing said our first responders are the police and firefighters. We are the eyes and ears of the city. If you see something…say something. Call in any problems to the police department. Enjoy the evening!
City Clerk Vince Chang did not address the audience but he enjoyed the party.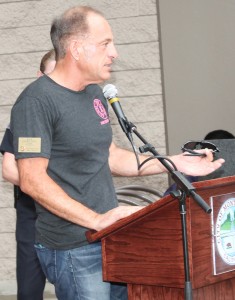 City Treasurer Joseph Leon suggested the residents join "Neighborhood Watch" to help prevent crime and meet your neighbors. He has been their Block Captain for the last 12 years.
Captain Gordon introduced City Manager Ron Bow, Department Heads: Tito Haes, Mike Huntley and Norm Arvizu who attended the event. Enjoy the evening!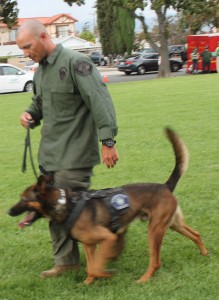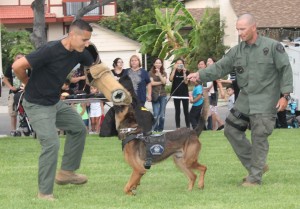 Corporal Ryan Esquibel and his K-9 partner Piro visited with the crowd. They also had a demonstration on how they catch the bad guys.  The dog was ready to charge the suspect if he did not comply with his human's commands. Most bad guys are afraid of being bitten so they surrender to law enforcement.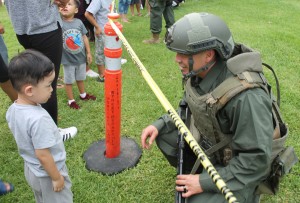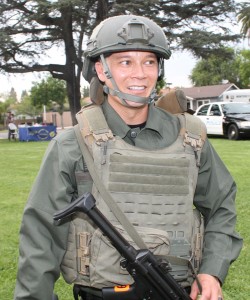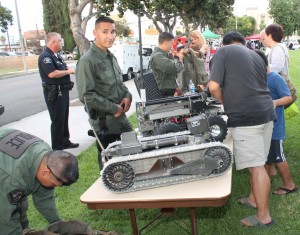 Members of the SWAT Team visited with the residents.  Children of all ages asked questions and touched the guns. They also had a change to view the robots used by the department.
Young children wore police and fire department badges. Some of them wore red fire hats and carried blue or white balloons.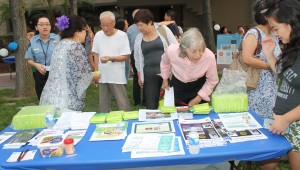 The residents visited with the city information booths, sponsors booths that gave them advice on health, safety, housing and education.  Members of the Environmental Commission handed out green shopping bags. Garfield Hospital handed out sunglasses. Radiant Mortgage Bank offered advise on their loans. Code Enforcement answered many questions for the residents.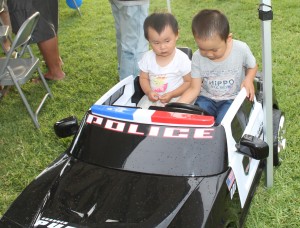 Young children sat in a mini-police car and posed for pictures.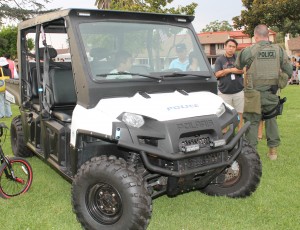 Young recruits sat in one of the many police vehicles available public inspection.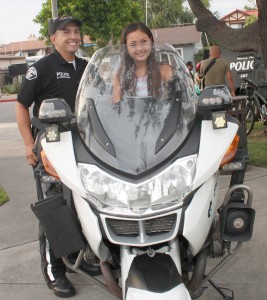 Officer David Castellanos helped children of all ages sit on one of the police motorcycles.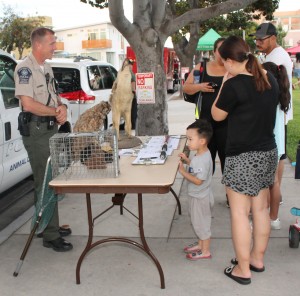 Officer Chris Hubert from Animal Control explained to the residents the dangers of coyotes in the city. They roam the hills and will attack smaller animals, if they are hungry.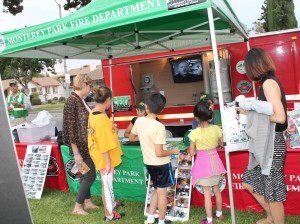 Members of CERT provided information to residents on safety in the event of a major earthquake. They also had the famous trailer available to show residents how to shut off their gas, electricity and water in case of an emergency.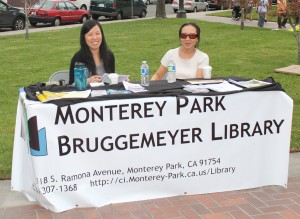 Mei Wan and Maggie Wang handed out flyers on the upcoming events being held at the Monterey Park Bruggemeyer Library.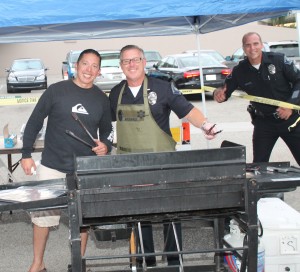 Officer William Escobar and Lt. Brent Archibald had kitchen duty. They grilled 1,000 hot dogs for the hungry residents. The guests also received a bag of chips and a bottle of water.
Sgt. Paul Yniguez who planned this event was very happy with the turnout. He thanked all of the employees and volunteers for making this evening special. He thanked the vendors for their participation in this great event.
Several service clubs also provided lemonade, popcorn and more as part of the celebration.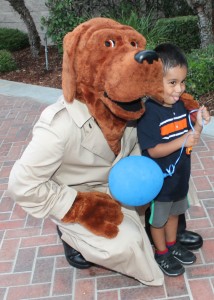 Special guest McGruff visited with his friends. He reminded them to help the police take a bite out of crime.
Leave a Response