Happy New Year!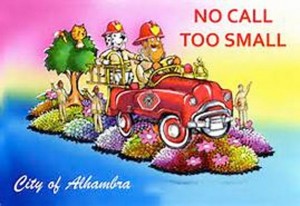 The residents of the City of Alhambra always welcome in the New Year with a float in the Rose Parade that was held in Pasadena on January 2nd.
The theme for the 2017 Parade is "Echoes of Success."
Alhambra's float "No Call Too Small" honors their Firefighters is the City's 89th float entry.
The float features an old-time firefighter in a fire engine, with his Dalmatian partner, as they head to a call to save a kitty stuck in a tree.
The City was proud to honor one such group of heroes that echo the City's success 24/7, 365 days a year: the brave men and women of the Alhambra Fire Department.
Leave a Response