Easter Egg Hunt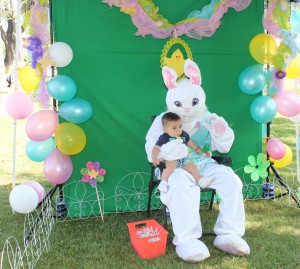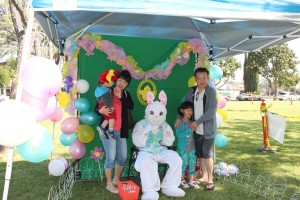 Parents and children lined up to meet and greet the Easter Bunny at the Community Easter Egg Hunt held on March 26th on the Monterey Park City Hall Lawn.
The City of Monterey Park, Monterey Park LAMP Optimist Club, Trinity Church and the Eco-Harmony Club sponsored this event.  Volunteers from the Monterey Park Police Explorers and the Monterey Park Citizens Patrol also joined in the fun.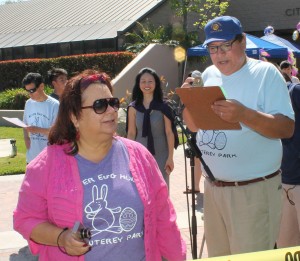 Club President Dennis Gutierrez welcomed the residents and their guests to the Community Easter Egg Hunt. He explained the rules of the game that the children will have a chance to pick up as many eggs they could carry in their hands.  No baskets or parents were allowed in the hunting areas set up according to age groups. Each egg contained some candy and some lucky kids would receive a lottery ticket for an Easter Basket. He introduced Mayor Peter Chan, Councilmember Hans Liang, Alhambra School Boardmember Adele Andrade-Stadler and Club member Dave Barron.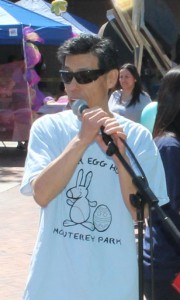 Club member Sam Luk welcomed the residents and their guests to the Community Easter Egg Hunt. He explained the rules of the game in Chinese so every one would have a chance to have a safe time.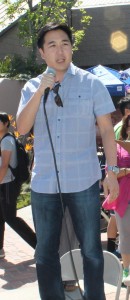 Pastor Albert Huang from Trinity Church welcomed everyone to this event. He thanked all of the volunteers for their time and effort making this Egg Hunt successful.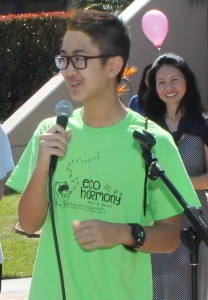 Andrew Sove, a member of Mark Keppel's Eco-Harmony Club welcomed everyone to this event.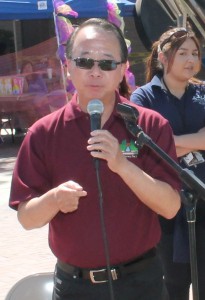 Mayor Peter Chan welcomed the residents to this special event. He thanked the sponsors. Have fun!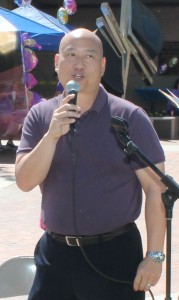 Councilmember Hans Liang thanked the staff and volunteers for this event. He said he was wearing purple which in the color of Easter. Happy Easter! Enjoy!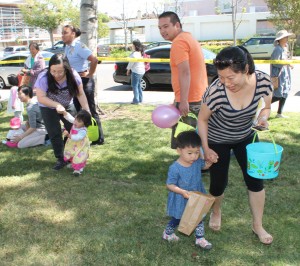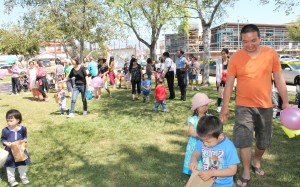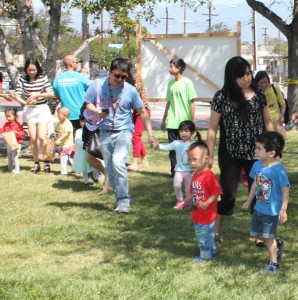 Children in the three and under group stormed the field and picked up every egg they could find.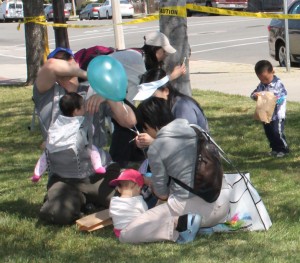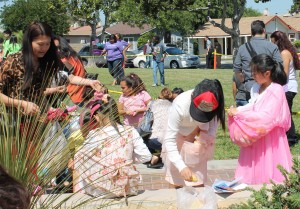 Children and their parents opened each egg to find candy and sometimes a lucky ticket.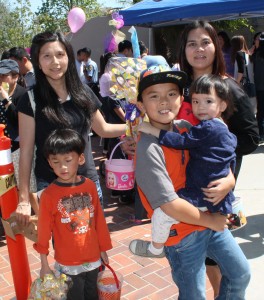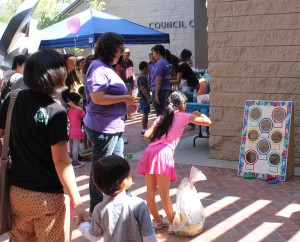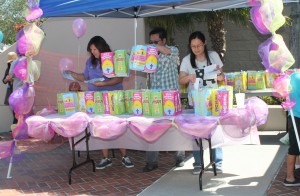 Children received a basket for their age group that included candy, games, books and more. Sponsors donated 40 baskets.  Some children stopped to play games presented by Trinity Church. Trinity Church also proved gift bags of candy so every child received some candy.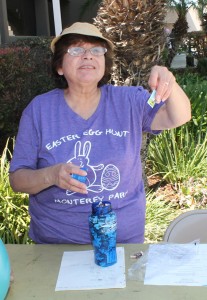 Club member Mary Ellen Barron opened the lucky bottle to see the count of the Tootsie Rolls. Many people guessed the number of Tootsie Rolls that were stuffed into the bottle. The secret number was 127.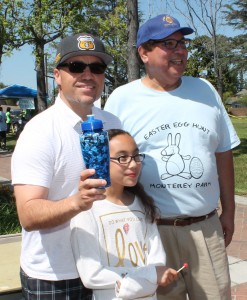 Juan Reyes was the lucky winner. He guessed 126 Tootsie Rolls were in the bottle. He and his daughter accepted the winning candy from President Dennis Gutierrez.
Approximately 300 adults and children enjoyed this annual event.
Leave a Response