Monterey Park Lion's Club 2016 Student Speaker's Contest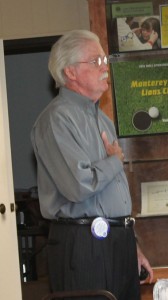 President Larry Sullivan welcomed the students and their teachers from Alhambra, Mark Keppel and San Gabriel High Schools to the Lion's Manor in Monterey Park on February 16th. He led the Pledge of Allegiance.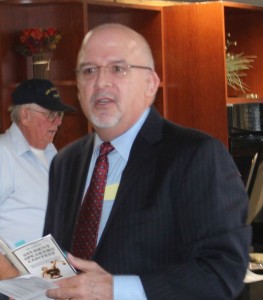 2nd V P Tom Cody welcomed everyone to the 79th Lion's Club Speech Contest. The topic is "Liberty and Justice for All-What Does It Mean To You"?
Public speaking is a form of self-expression to help keep our country free. He instructed the audience that each speaker has ten minutes to present their point of view.
The Judges for this event were Librarian Norma Arvizu, Fire Chief Scott Haberle and Chamber President Dora Leung.
These are some of the highlights from the students' speeches:
Caitlin Tieu stated that liberty is the act of satisfying your own interest. She was not raised in a strict household where life is planned by parents. She gets to choose her activities. Liberty is having your own choices and the right to speak out for whatever you believe in. Liberty means the right to believe in your religion, free press, right to a fair trail. Liberty means the right to change laws and the right to your own opinions.
Justice means the court system will carry out the laws. Innocent until proven guilty. Not the old saying "an eye for an eye". Justice punishes people according to their act. Justice is carried out to protect our America by the courts, the police, judges and the laws.
Liberty is the right to choose and Justice means two wrongs don't make it right.
Jess Rosales stated our Pledge of Allegiance is the definition of our country. How it affects the lives of Americans. We have a society where we have closed the gap between races and genders. It will take time to close all of the gaps.
All men are created equal is a lie. People are born with different family, neighborhoods and economic circumstances. Affirmative action promotes and includes African-Americans to add them back to our society.
Whites, Asians, Blacks and Latinos racially divide the Golden State of California. There should be equal opportunity for all.  There is still discrimination because some students receive extra credit based in their race. This is a form of discrimination when the government decides which race is superior.
No more separate but equal. We must be prepared to accept that we are a nation of immigrants. Not just Black and White. We must live in unity. We must be united.
Edward Rivera said "we must not judge a person by the color of their skin but by their character" a quote from Dr. Martin Luther King.
The need to die for Liberty and Justice has been created by our government. It is a great country. As a concern citizen he stated the country is corrupt.
Liberty and Justice doesn't exist as true liberty and equality. Different is not acceptable. We need a certain inequality to promote change. We need a social and political society where the lowest class disappears. Equality is not always what we need. There is still slavery in the world. People come to the USA for a new life. We must struggle to survive.
Brandon Lim-Effendy said true Liberty and Justice are not true. America can't provide Liberty and Justice. Justice in America where Latinos and African-Americans don't have the same justice. They receive longer prison sentences. Justice is not handled well as defined in our core values.  Justice still exits. We need justice and uphold it.
Liberty is true freedom. Liberty is a gift. We believe that no one can judge us. We can get fair justice. Liberty gives power to us. We can grow. Humans define these terms and establish our core beliefs.
Liberty and Justice supports our lives.
Anthony Hu said Liberty and Justice for all is our nation's foundation. Have you thought about it? To most people it is just a phase our founding fathers used to set the up the country. "The land of the free and the home of the brave". Humans try to reach it. People would forever look down on people. We need to accept people without prejudice with the Liberty to live.
Justice is a sound promise to accept everyone with rights to vote, for justice, for freedom and for equal treatment.
Don't judge people based on stereotypes. Then we will have liberty. We have a duty and responsibility to help others. "Don't look down on someone unless you can help them up", a quote from Jesse Jackson.
Jennifer Cheung quoted the Pledge of Alliance with Liberty and Justice for all. Liberty and Justice provided to all citizens of the USA.
Some people take power over all. Justice is not always equal in the land of freedom.
The Supreme Court voted five to four for same sex marriage.
No nation is perfect. Liberty and Justice has different meanings to each person.
Larry Sullivan thanked all of the speakers. He suggested the students join the Leo's Clubs at their schools.
He also gave the history of the Lions Club in Monterey Park that was founded in 1937. They currently have an eyesight program for local students. They built the Lions Manor with 120 affordable housing units. The Lions help to support it. They built the amphitheater at Barnes Park. The Lions also help support MERCI.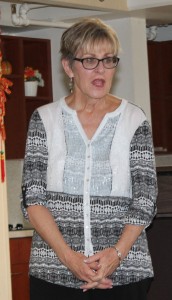 Chris Ohrmund spoke about the Student Speech Contest Foundation that offers financial awards in California to help the students financially. The Lions are totally for the youth. They are seeking donations for their club. She wished the speakers good luck. She called them the leaders of tomorrow.
Tom Cody called it a learning and teaching moment for everyone as he introduced the student speakers (named in the article) and teachers Kevin Wong from Alhambra High School, Jessica Sandercock from San Gabriel High School and Joe Yaklich from Mark Keppel High School.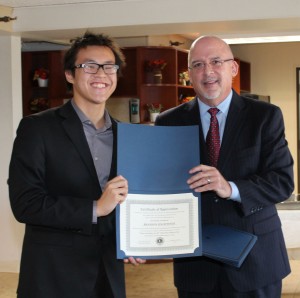 Brandon Lim-Effendy was the First Place winner with Tom Cody.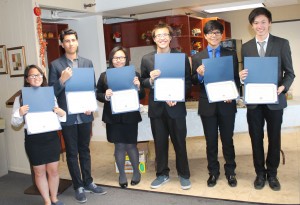 Brandon Lim-Effendy is pictured third from the right with his fellow students Caitlin Tieu, Edward Rivera, Jennifer Cheung, Jess Rosales and Anthony Hu.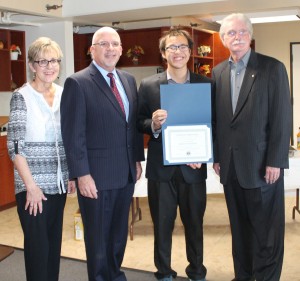 Chris Ohrmund, Larry Sullivan, Tom Cody joined with Brandon Lim-Effendy at the end of the event.
Brandon Lim-Effendy will be attending the next round of speeches at a later date.
Leave a Response