11th Hour of the 11th Day of the 11th Month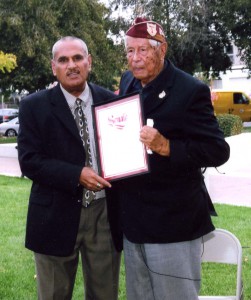 State Senator Ron Calderon honored World War II veteran William Sanchez for his service to our country during the Veterans Day Ceremony held in front of Monterey Park's City Hall.
Mayor Mitch Ing welcomed all to our Veterans Day ceremony. He introduced Mayor Pro Tem Anthony Wong, Councilmembers Betty Tom Chu, David Lau and Frank Venti, City Clerk Dave Barron, City Manager June Yotsuya, Lt. Commander Arthur Fong, American Legion Post #397 Commander Ray Villlobos and Post Chaplain Tom McCrady, Members of Boy Scout Troop 301 from Monterey Park's United Methodist Church and William Sanchez.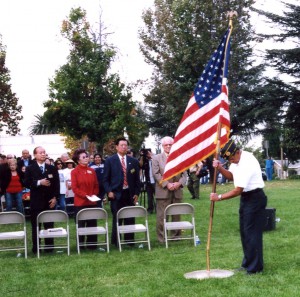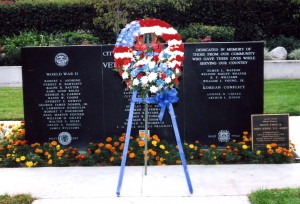 Members of the American Legion presented the colors and laid a wreath in front of the Veterans Memorial.
Boy Scout Taylor Brigglio, grandson of former mayor Cam Brigglio, led the Pledge of Allegiance.
Chaplain McCrady gave the invocation. He asked God's blessing on the families of all those sent to war and those fighting for us that their sacrifices would not be in vain.
Mayor Ing read an article titled "What is a Veteran" written by Jack H. Brown that was published in the local newspapers on 11-11-2007.  Mr. Brown, served in the US Navy, listed several important facts that truly describe a veteran.  Mr. Ing read the article that included these thoughts "A veteran is a person who fell in love with his country; a veteran is a person who does what must be done; a veteran is an American who serves our country honorable".  He said that he could not better describe a veteran than Mr. Brown.
Mayor Pro Tem Wong thanked everyone for joining with us today to honor our American veterans from WWI, WWII, Korea and Vietnam. This is a special day to honor the American Legion. Today is Armistice Day. Today we honor all those who serve to protect our freedoms here and around the world. They fight to stop all future wars. We must respect and work together to stop all of the wars.  We must work together. He salutes all the veterans. He asked God's blessings on all present and America.
Mrs. Chu said this day is to remember and say thank you. It's just one day. What about the rest of the days? The veterans fought for our freedoms. She suggested people honor the veterans by doing acts of kindness. She thanked members of American Legion Post #397 for remembering all those who fought. She thanked the Boy Scouts for joining us today to honor and respect all the people who died for our freedoms. We have a responsibility to our children and friends to enjoy our freedoms. She asked if political correctness caused the tragedy at Fort Hood.  We need to have a balance in our country between political correctness and the courage to stand up for what is right. She asked everyone to preserve our freedoms that the veterans worked so hard to give us.
Mr. Lau thanked all for attending this event to honor the end of WWI and all the veterans. He has the deepest appreciation for the veterans for defending our nation, freedoms and democracy here and around the world. Many veterans lost their lives. Some were POWs or MIAs. Many returned home injured. They are our heroes. They sacrificed their lives so we may have a better future. He thanked the veterans for defending our country against all enemies. We should honor them every day of the year. He suggested residents lobby the federal government for better benefits for the veterans. He thanked the American Legion and the staff for this event.  He hopes and prays for the early return of all our soldiers fighting overseas against the terrorists. He hopes for peace in the future.
Mr. Venti asked for the family members of the veterans to say the veterans' names out loud into the trees. He spoke about his military experiences and being station at Camp Casey in Korea after the fighting. He stated that he had revisited the camp many years later and it looked just about the same to him. Armistice Day is to honor all the veterans. We should remember the veterans all year long. It is impossible to forget their sacrifices. He thanked all the veterans from WWI to the current veterans. He read the names of the 13 people killed at Fort Hood as the flag was lowered to half-mast. He asked God's blessing on them and America.
Mr. Barron said City Treasurer Joseph Leon had a family commitment and could not join us today. He suggested that everyone make up a list of the names of the veterans they know and share it with your family. He spoke about two veterans, Joseph McDonough and Elias Fries.  Mr. McDonough was a member of the police reserves who recently died.  Mr. Fries fought in the Battle of the Bulge in WWII.  He said some veterans who serve in the reserves are currently serving in the Middle East. He suggested everyone think about all the veterans. Don't forget them. He thanked everyone for being here.
Mayor Ing announced Congressmember Judy Chu sent the city a proclamation in honor of Veterans Day.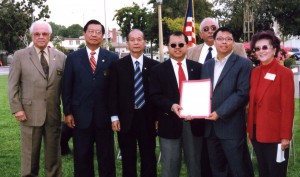 State Senator Gloria Romero had a proclamation presented to the city. Mr. Lo from her office said this day is in honor of the brave men and women who serve for us and keep us safe. It is important to remember that support from the community is important to the military.
Lt. Commander Fong, a veteran from Desert Storm, reminded everyone that this nation is still at war. He said to imagine going to Starbucks and dodging bullets and roadside bombs. That is life in Iraq.  Being in the sand but not at the ocean and using outhouses. That is life in the desert.  He said even members of the Navy reserve serve in the sand and not in the water. He suggested people speak to the veterans about their service.  He remarked this is the largest turnout ever. Next year bring a friend. He thanked all for being here today.
Tony Leon, a Vietnam veteran, said it has been 40 years since his friend and Mark Keppel classmate Xavier Amadz Arvizu was killed. He wanted to put a face to the name of a veteran who served from Monterey Park. His name is etched on the Veterans Memorial in front of city hall.  Mr. Leon said he spoke to his friend the day before he was killed.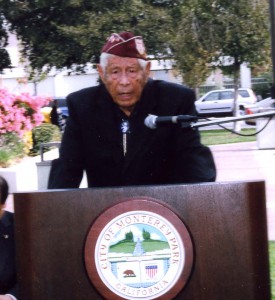 Mr. Sanchez gave the keynote address. He said he was privileged to be here today 11-11 Armistice Day.  He spoke about his military experiences. He said the Japanese attacked our bases in the Philippines on the same day as Pearl Harbor was attacked. Then Germany also declared war on us so we were fighting on two fronts.  He said the Americans fought for five months in the Philippines before they were forced to surrender. He was one of the many prisoners of war. The Japanese were better armed.  Their five-month battle allowed time for the Americans and their allies to set up a new base in Australia for fighting in the South Pacific. He volunteers at the VA Hospital in Westwood. He helps young veterans get their benefits. He has seen more young women serving in the military. Some of them serving in harms way. He didn't expect to see women in combat in his lifetime. He congratulated them. He said when he served in the South Pacific there were no women in uniform. After he was released as a POW he saw the women in uniform who were supporting our military who occupied Japan. He thanked the Council for voting to install a memorial honoring the Chinese who fought with the Americans in WWII. The memorial will be installed in front of city hall. Freedom is not free. Visit a cemetery on a day like today and see all those little flags that fly beside their tombstones. He thanked the veterans for their service. He thanked all for being here today to recognize this special day in our country.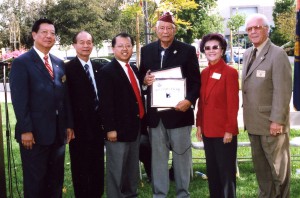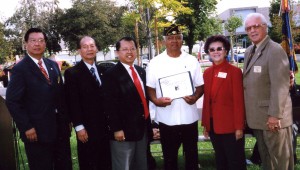 Council made presentations to Mr. Sanchez and the American Legion thanking them for their service to our country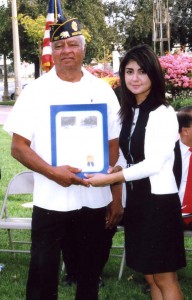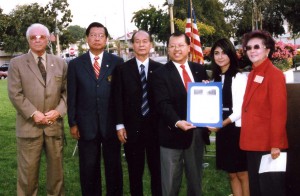 Assemblymember Mike Eng sent a proclamation to members of the American Legion. He also sent a proclamation to the Council. His representative said he was unable to make the city's event. This is a very special day for Mr. Eng. His father was a veteran of WWII. We must remember all the men and women who served.
Mr. Ing had the veterans meet the Boy Scouts in a receiving line to learn about their personal experiences.  He thanked all for attending this ceremony.  He thanked the Opti-Mrs. for donating the wreath. He asked God's blessing on all in attendance and America.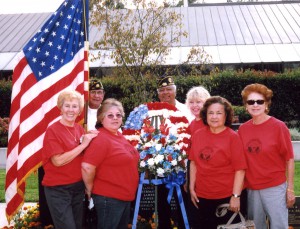 Members of the Monterey Park Opti-Mrs. and the American Legion in front of the memorial.
Refreshments were served at the post after the ceremony.
Leave a Response