Night Out Against Crime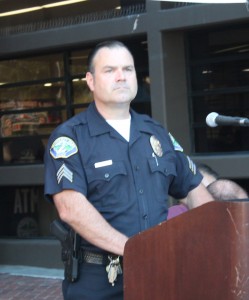 Sgt. John Martindale welcomed 400 or more residents to Monterey Park's Night Out Against Crime held in front of City Hall on August 4th. He thanked the residents for attending this 32nd year event.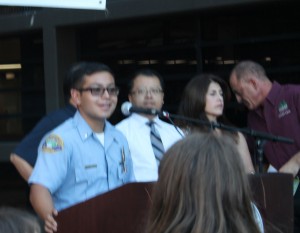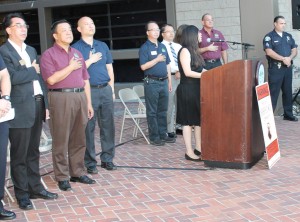 Police Explorer Cesar Rios led the Flag Salute. Angelene Storey sang our National Anthem.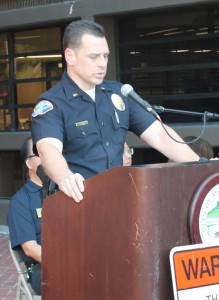 Lt. Steven Coday welcomed the residents to this special event. Chief Jim Smith was not able to attend our Night Out Against Crime. You can help keep the crime rate down in Monterey Park. Please join the Neighborhood Watch or Business Watch. Thank you for joining with us tonight to prevent crime.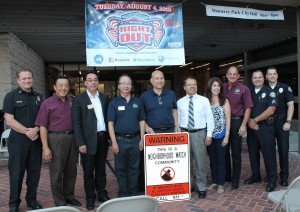 Sgt. Martindale introduced Mayor Hans Liang, Mayor Pro Tem Peter Chan, Councilmembers Mitch Ing, Teresa Real Sebastian and Stephen Lam, City Clerk Vince Chang, City Treasurer Joseph Leon, City Manager Paul Talbot, Assistance City Manager Ron Bow and Fire Chief Scott Haberle to the audience.
Mayor Liang welcomed all to this special event. He commended everyone for coming out tonight to be here. We are stronger against criminal elements.
Mayor Pro Tem Chan thanked the people and the police department for our low crime rate. Please participate is our safety as the eyes and ears of the police department. Enjoy the evening!
Councilmember Ing welcomed everyone here to night. He spoke about his trip to Virginia to visit his daughter. He commented on their low gas prices and their high humidity. He was glad to be back in Monterey Park. We have a good variety of food and low prices. We enjoy our community and watch out for each other. Enjoy!
Councilmember Real Sebastian stated she is happy the community is gathering together. She is glad for the police and volunteers that keep us safe. Neighborhood Watch members are our heroes. They report crime to protect us and keep us safe. Thank them for their support. Get involved and keep our neighborhoods safe. Have a great event!
Councilmember Lam thanked the police department, fire department, volunteers and sponsors for their support.  He thanked the residents for attending this event. You and me all make Monterey Park the safest city in Southern California. Help keep our city safe. He thanked the audience.
City Clerk Chang said tonight we are enjoying the sounds of the children and the sounds of summer. He thanked the police, fire and city staff. Our neighborhoods take the city back. The residents are in this together. We don't give crime a chance to take us over.
City Treasurer Leon asked the residents to join the Neighborhood Watch. Get to know your neighbors. Get involved and keep in touch. He suggested that they attend the Citizens Academy and support the 16th Annual Charity Golf Tournament.
Sgt. Martindale said the hot dogs are ready. Enjoy the party on the lawn! He suggested everyone meet back here for the drawings at the end of the event for first aid kits, backpacks, bike helmets and a change to win the two bikes. He thanked the sponsors for their generous support.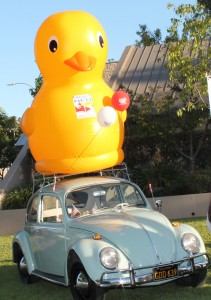 Volunteers from Project NEO served popcorn and snow cones to the guests.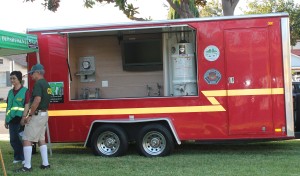 CERT members were available to show residents how to turn off their gas meter and how to collect water from their hot water tank in case of a disaster.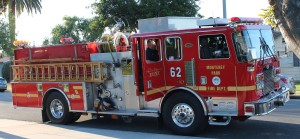 Fire Truck 62 was on hand for the event.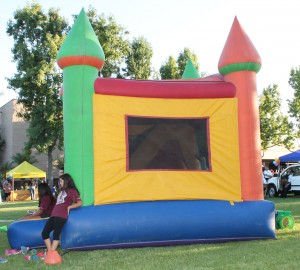 Children enjoyed the famous "Moon Bounce" as they jumped up and down.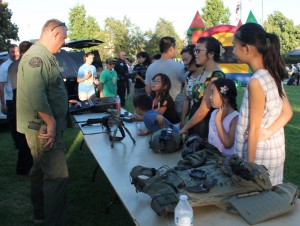 Lt. Scott Wiese displayed some of the weapons from the Special Response Team. He answered many questions about this branch of the police department.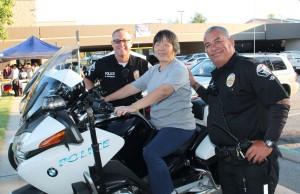 Sgt. Brent Archibald and Officer Robert Barrera showed a resident how to ride a motorcycle used by the Traffic Bureau. This branch of the department teaches and enforces traffic safety laws to bike riders, drivers and pedestrians in the city. They also receive grants from the state to promote their cause.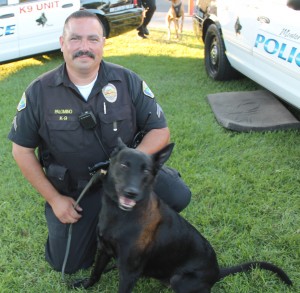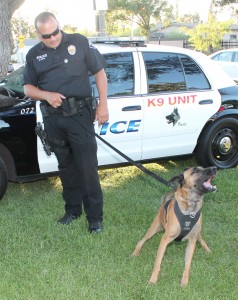 Agent Pete Palomino with three years old female K-9 Robin and Officer Ray Cota with four years old female K-9 Veeda introduced their police dogs to the residents. The Belgian Malinois dogs are trained in Holland to perform police services and response to commands in Dutch.
Monterey Park currently has three police dogs in service.  One K-9 was on vacation so he missed the event.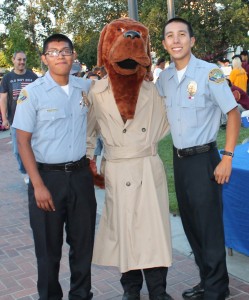 McGruff, the crime dog and his friends enjoyed visiting with the residents. McGruff reminds people "to take a bite out of crime".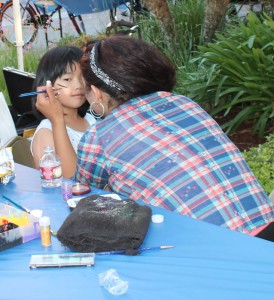 Jessica Ramos spent the evening painting the faces of many of the younger residents.
She is well known for her face painting talent. You can contact her at 626-632-8338 or email her at lovebyramos@hotmail.com.
The event featured informational booths from services clubs, sponsors and more.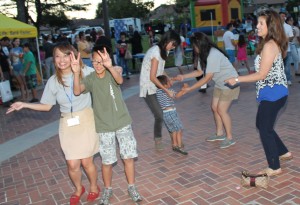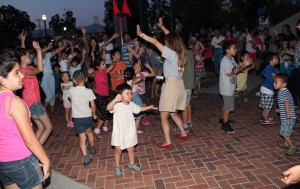 Councilmember Real Sebastian was joined with children of all ages as they danced to "Happy" and "YMCA".
The evening ended when many lucky raffle ticket holders claiming their special gifts.
Monterey Park was one of thousands of cities that participated in National Night Out.
Leave a Response