Memorial Day 2015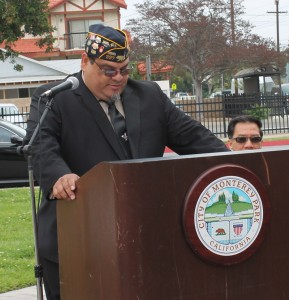 American Legion Commander Gabriel Suarez from Post 397 welcomed everyone to this special ceremony held in front of the Monterey Park City Hall on May 25th.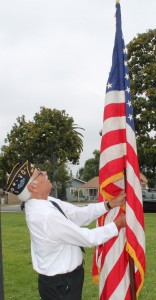 Veterans from the post presented the colors. Commander Suarez led the audience in the Pledge of Allegiance.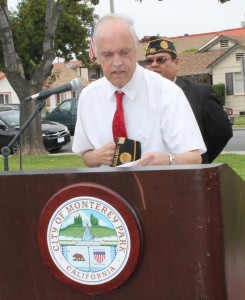 Post Chaplin Tom McCrady asked God to provide an afterlife for all of those who fought and died for us. He asked God to grant them hope and faith forever and ever. He asked God to bless the families and friends of those who died.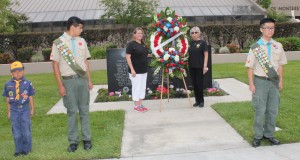 Members of the Post Auxiliary and Boy Scout Troop 301 laid a wreath at the War Memorial in front of City Hall.
Commander Suarez introduced Mayor Hans Liang, Mayor Pro Tem Peter Chan, Councilmembers Mitch Ing, Teresa Real Sebastian and Stephen Lam, City Clerk Vince Chang, Assemblymember Ed Chau, Chamber Boardmembers Dave Barron and Dora Leung and Lawrence Shih from Supervision Hilda Solis' office.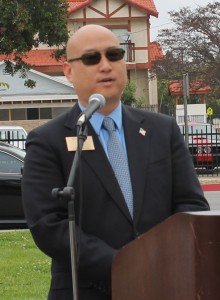 Mayor Liang said today we recognize those who gave their lives for our freedoms. He recalled that a friend who served said it was difficult to get close to people because they die in confrontations. They were close to each other.  Veterans have a hard time talking about the wars. Please remember all of those who stood beside you on the battlefield. The veterans are here to keep the memories alive. He thanked everyone for attending. He thanked all of the veterans who gave their lives for our freedoms.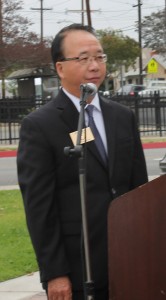 Mayor Pro Tem Chan reminded the audience that today is special. It is the 70th Anniversary of World War II. We owe it to all of the soldiers who did not survive. Today we remember all of those who died for us. He thanked the veterans. Enjoy the day!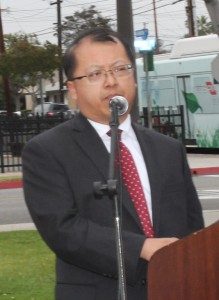 Councilmember Ing told the story about his grandfather who served in World War II. His wife still lived in China. The Japanese invaded her village. She didn't talk about it. His aunt told him about all of atrocities. His grandparents advised him to focus on your new life in America. God sent the Americans to enter the war. He grandfather always told him he fought for God, family and country. He asked God to bless America and the audience.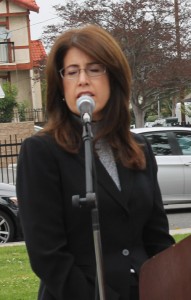 Councilmember Real Sebastian reminded the audience that you could enjoy Memorial Day shopping, having picnics and other events. Please remember all of the men and women who died in the wars for our freedoms. She spoke about a memorial in Chicago that displays Vietnam Dog Tags. The Legion posted flags at Resurrection Cemetery on all of the graves of the veterans buried there. It was admiring and humbling to see all of the people who died. Some were members of Monterey Park families. She thanked the parents who brought their children to this event. She read a poem "Memorial Day" by C. W. Johnson. It brought tears to the eyes. She asked God to bless the audience and America.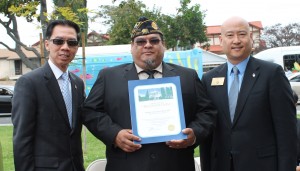 Assemblymember Chau stated he was honored to be here today in the city to celebrate Memorial Day to honor our fallen troops. Many of our military members are serving overseas. He thanked the military for protecting our lives and freedoms. We owe them our freedoms. Thousands of our military members sacrificed and died for our country. We thank them for their service.
He presented a proclamation of appreciation to Commander Suarez and Mayor Liang for honoring Memorial Day.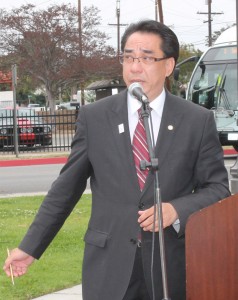 Councilmember Lam thanked Post 397 for remembering the men and women who served and died. He thanked the military members for making this country the greatest in the world.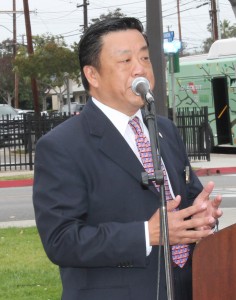 City Clerk Chang said he asks new citizens about the difference between Memorial Day and Veterans Day? They mention that both days celebrate our freedoms. They are happy to live in the USA. It's a good life if they work hard. He asks them what is a good American? He reminds them that our freedoms are paid by people dying in the fields in Europe and Asia. Remember those who made the sacrifice so we can be free. He thanked the residents for their family members in service to the USA.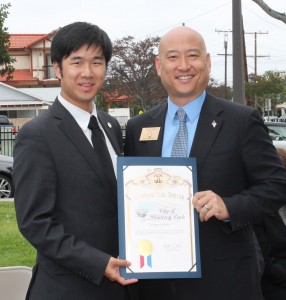 Lawrence Shih said Supervisor Solis sends her greetings on Memorial Day. Let us honor the veterans who sacrificed for our county and the veterans who survived.
He presented proclamation of appreciation to Mayor Liang for honoring Memorial Day.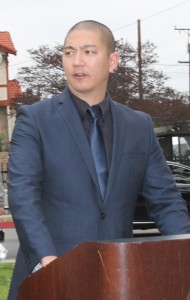 Iraq War veteran Jeffrey Chen stated we are gathered here today to celebrate the veterans of our great nation.  He recalled his friends from Mark Keppel who died in service. He spoke about the tenacity of Sgt. Brian Dunlop and the other military members who fight for the freedoms of America. They look out for each other. He is available at Post 397 to speak with veterans about their service.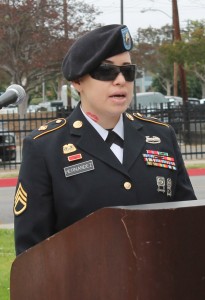 Sgt. Dominique Hernandez spoke abut her military service in Iraq. She served five tours of duty. She lost a lot of their members in the battles. They keep going. She remembers her friends as her backbone. They sacrificed their lives for us. They stay strong for us.
Commander Suarez stated we are all here for our veterans. He thanked them for their service. He recalled that many men and women also served and died for us.  It is a different world. He is proud to serve and thanked the older veterans who served before him. He thanked the police, firefighters and City Hall employees. We must work together.  He thanked the audience for their attendance. We are strong.
Post Chaplin McCrady asked God to protect us and those who have died for us. He asked God to remember their families. As American citizens we cannot replace their fallen heroes. He thanked their families. Please remember them every day for their service to our nation. He asked God to bless them all.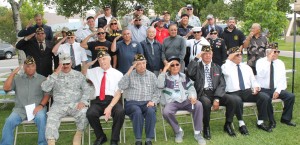 Veterans from Post 397 posed for a Memorial Day picture in honor of their fallen comrades.
Commander Suarez invited the audience to join them for lunch at the post.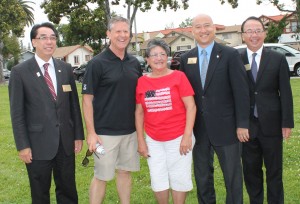 Victoria Chavez joined City Manager Paul Talbot, Mayor Hans Liang, Mayor Pro Tem Peter Chan and Councilmember Stephen Lam at the memorial celebration.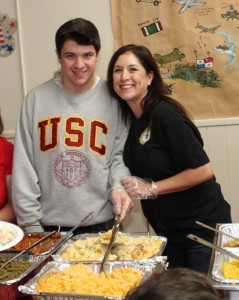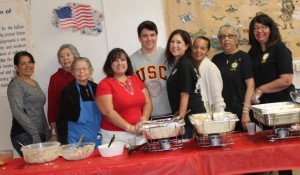 Brian Sewell, Deana Sewell and other post members served a delicious lunch to the hungry guests.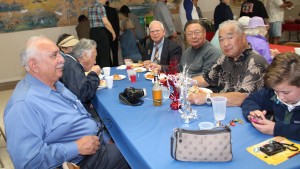 Veterans and their friends enjoyed good food and friendship at the post.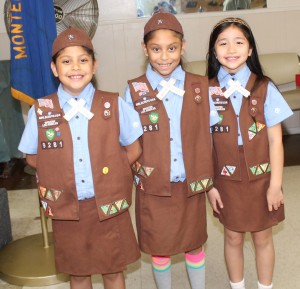 Bridett Cortez, Charlie Rose and Isabella Figueroa from Girl Scouts Post 9281 joined in the celebration.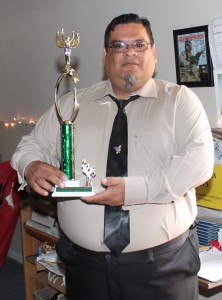 Commander Suarez proudly displayed the Post's Play Days Award.
Leave a Response