Happy New Year!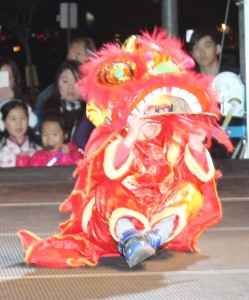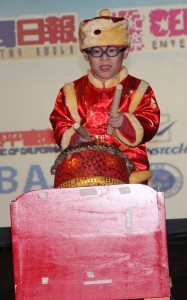 Three-year-old Jason Ho, a member of the Wong Tai-Sen Dancers, was the opened act at Monterey Park's First Annual International New Year's Eve Countdown held December 31, 2014 and January 1, 2015 on Garvey Avenue.
Young Jason Ho performed the Lion Dance and played on his drum to the delight of the audience at the event sponsored by the City of Monterey Park, Sing Tao Daily Newspaper and CMPG Marketing.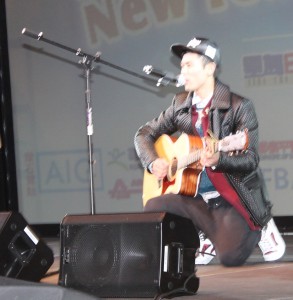 Wei Lin played his electric guitar and sang in Chinese during the sound check.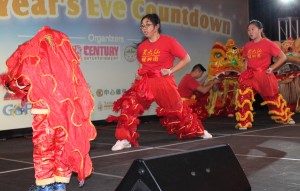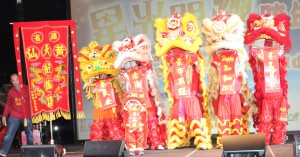 Members of the Wong Tai-Sen Dancers performed the Lion Dance for luck and displayed their martial arts to the large crowd surrounding the stage set up in the middle of the street.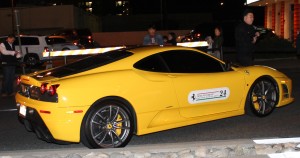 Elite Dream Cars sponsored a car show that included a 2008 Ferrari that is a dream car for many people of all ages.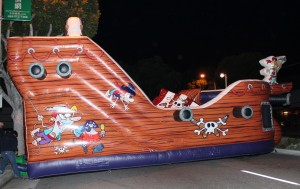 An inflated Pirate Ship, a Car Slide and a Moon Bounce provided entertainment for the children.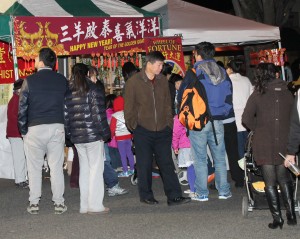 A Game of Chance for free gifts was sponsored by Prajan Buddhist Mission drew a large crowd hoping to change their luck for 2015.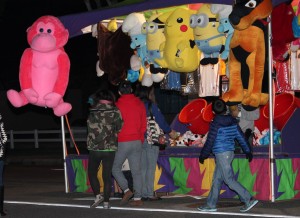 Carnival game booths were set up as part of the party.
The event featured International Food Booths for all of the guests to enjoy delicious delights as they walked up and down Garvey Avenue.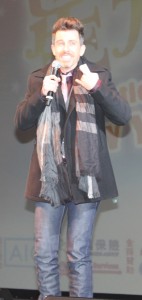 MC Jeff introduced the entertainment and special guests in both English and Chinese.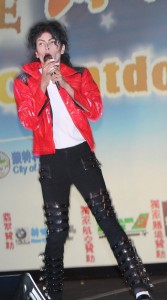 A Michael Jackson impersonator performed several of his famous songs complete with dance steps to the thrilled audience.
Many of the booths offered flowers, clothing and gifts for sale.

Monterey Park Councilmembers Hans Liang, Anthony Wong, Peter Chan and Mitch Ing and City Clerk Vince Chang were joined by San Marino Councilmember Eugene Sun, Walnut Councilmember Mary Su, San Gabriel Councilmember Chin Ho Liao, Rosemead Councilmember Polly Low, a member of the Taiwan Cultural and Economic Office, Los Angeles County Sheriff Jim Donnell, Congressmember Ed Royce with his wife, Marie on the stage to welcome everyone to this special event.
Anthony Wong welcomed the audience to this New Year's Eve Countdown in Monterey Park that he began to plan when he was mayor. He thanked Peter Chan for his assistance in planning this party.
Hans Liang welcomed all to the first Monterey Park Countdown to 2015. He thanked Anthony Wong and Peter Chan for planning this celebration. He also thanked the residents for joining them at this celebration and the sponsors for their support.
Peter Chan wished everyone a Happy New Year! This is a big event. He thanked the staff and sponsors for this evening.
Mitch Ing welcomed the crowd to Monterey Park. He should be at the Rose Parade in Pasadena since he is on the committee but he decided to join us at this event. He said Councilmember Teresa Real Sebastian was out of town so she could not join us tonight. He wished everyone a Happy and Prosperous New Year!
Vince Chang wished everyone a Happy New Year! He thanked the audience for attending this event.
Ed Royce told the guests that he would be working with Asian countries to help bring jobs to California.
Chin Ho Liao wished everyone and Happy and Healthy New Year!
Mary Su wished the guests a Happy New Year!
Jim Donnell wished everyone a Happy and Safe New Year!
The entertainment also included the famous Taiwanese singer Yao Yao and "Top Idol" singers and dancers.
2015 was welcomed into Monterey Park by hundreds of residents and their guests.
Leave a Response