Open Letter To Monterey Park Residents
Open Letter To Monterey Park Residents
Dear Friends and Neighbors,
Councilman Peter Chan and Mayor Hans Liang thank you for your support over these past years!
We would like to share some important information regarding a big challenge that we are both facing this year.
Our political opponents have rallied a group of their supporters to initiate a fraudulent recall effort against us.
They have been actively gathering signatures and are attempting to get the recall vote on the ballot this March.  If they succeed, both Peter and I will face the possibility of being recalled from the Monterey Park City council based on lies and inaccurate information!
We have been fighting against this recall and working together to prevent this abuse of the election system. We cannot allow these people to succeed in their misguided and fraudulent efforts to recall us, but we can't succeed alone.
We are asking for your much-needed support Friday September 20, 2019 to raise money to fund our campaign against this fraudulent recall effort. (Flyer attached)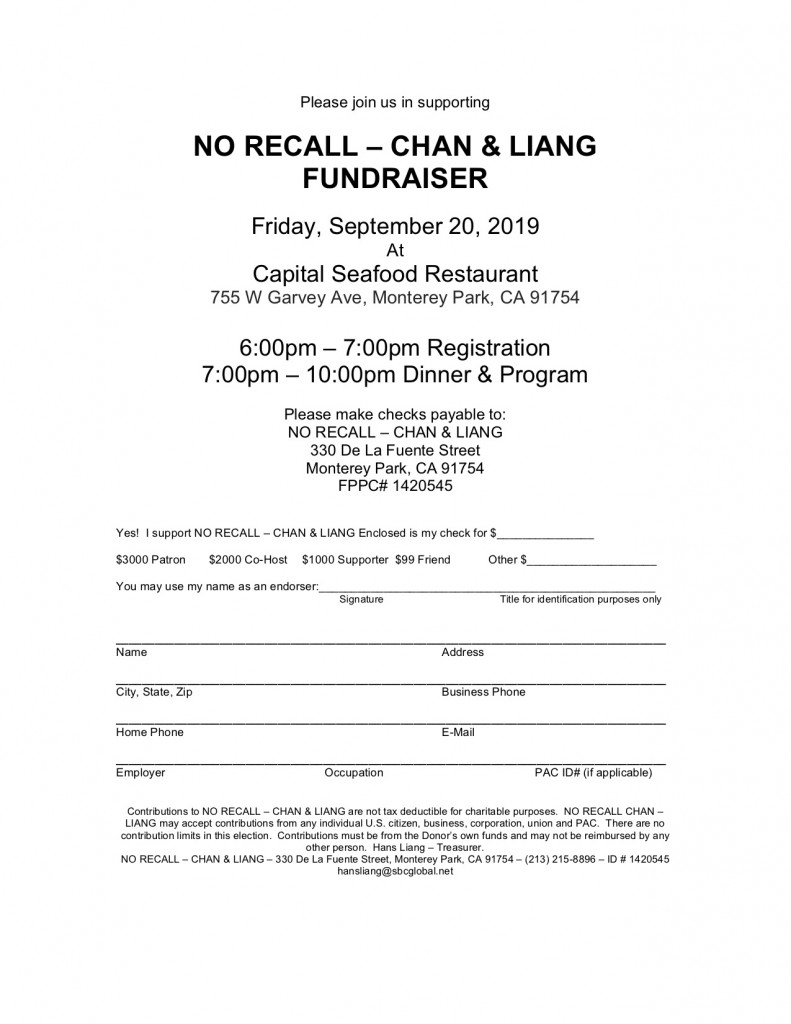 Our opponents have been spreading lies about us, and telling voters that we are weak minded, dishonest, unethical.  They claim that we approved cannabis cultivation on Monterey Pass Road and have broken city laws for our personal gain.  ALL LIES!!!
Our political opponents do not respect the democratic process and are trying to recall us and silence our voices so they can do whatever they want regardless of whether it benefits the City of Monterey Park.
During these past 7 years, Mayor Hans Liang and Councilmember Peter Chan have worked hard to improve the quality of life here in the City of Monterey Park and I believe you can all see the progress we have made!
We need your help to ensure that we remain on the city council to continue the positive progress we have made and to let everyone know that we will not tolerate anyone who is willing to use lies, inaccurate facts and negative propaganda to recall us and abuse the election process for their personal gain.
Thank you all again for your support, we would not be able to serve the City of Monterey Park without you and are always eternally grateful for your support and encouragement.
Mayor Hans Liang                                                   Councilmember Peter Chan
Leave a Response