Monterey Park's City Council Proclamations for October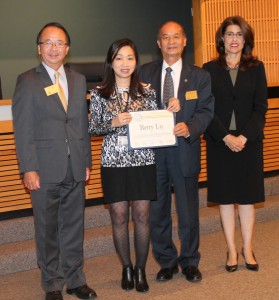 Betty Lu, Administrative Secretary Recreation and Community Services Department, 
for your assistance with the New Year's Eve Celebration was honored by the Council.
Monterey Park's
"Shining Star"
Mayor's Award
Honoring those whose dedication and efforts brightens the lives of others were honored by the Council.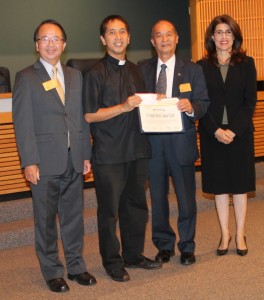 St. Stephen Martyr Catholic Church Pastor Leo Ortega
320 W. Garvey Avenue, Monterey Park, CA 91754. The award was accepted by Father Budi.
"As a community we value knowing and supporting each other. The faith, community and service aspects of our parish are important to us here at St. Stephen Martyr Church. In addition to the regularly scheduled Masses and sacramental celebrations, we offer a variety of prayer and formation opportunities as well as social activities for you and your family. We hope you will participate more fully in the life of the community by joining one or more of the ministries and service organizations. Descriptions of those ministries and organizations as well as contact information are included on our website."
Monterey Park Fire Fighter's Association Wounded Warriors Fundraiser
Saturday, December 6, 2014 Casino Night — Lincoln Plaza Hotel — 5:30 PM was announced their fundraiser by Fire Captain Matt Hallock.
Mission Statement: To honor and empower Wounded Warriors.
Vision: To foster the most successful, well-adjusted generation of wounded service members in our nation's history.
Purpose: To raise awareness and enlist the public's aid for the needs of injured service members. To help injured service members aid and assist each other.  To provide unique, direct programs and services to meet the needs of injured
service members.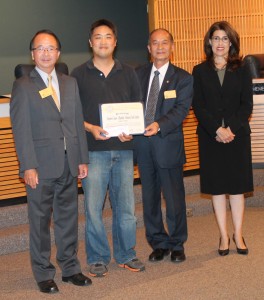 Kingdom Causes – Alhambra – Monterey Park Catalyst
Jesse Chang accepted the award.
"We are convinced that God is already at work in the City, and that the Church collectively is meant to be part of that work: to be positive agents of change, transformation, and hope in the City."
They have a month long campaign to raise a minimum of $6,000.00 to get a garden that will help empower local high school youth at San Gabriel High School learn how to grow and run a garden business selling herbs, flowers, and nursery plants.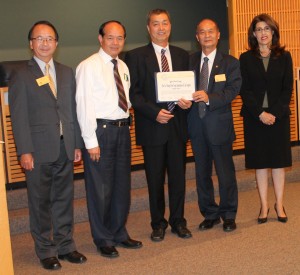 Reggie Shum of the Pan Yu Chong How Tong Association Of La accepted the award.
The City of Monterey Park, California in the United States of America and the Panyu District, Guangzhou City, Guangdong Province in the People's Republic of China have achieved the following agreement though friendly negotiation, and herewith express intention to promote the friendship and understanding between the people of Monterey Park and Panyu District, Guangzhou City, Guangdong Province in the People's Republic of China.
On the basis of this expressed intention to establish a good-will relationship, Monterey Park and Panyu District, Guangzhou City, Guangdong Province in the People's Republic of China will follow the principles of equality and mutual benefit to promote dynamic and effective exchanges and cooperation in various forms in fields such as economy, trade, science and technology, finance, culture, education and tourism with a view to achieving common prosperity and development.
The City and the District will make a great effort to keep close contact with each other, exchange information continually to increase mutual understanding, carry out regular discussions and consultations on specific exchange and cooperation programs and make unceasing efforts to develop the fraternal relationship.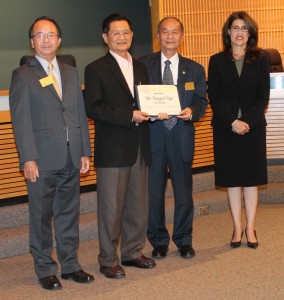 Mr. Gerald Ngo, President of Hawaii Supermarket were honored for their 25th Anniversary on October 18, 2014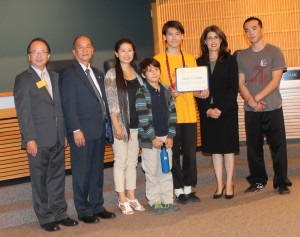 Zachary Li Norman was honored by the Council with his mother Lee Chen Norman, Master Yan Guang and his brother Perry Chen Norman.
Twelve-year-old Monterey Park resident Zachary Li Norman was invited by Shaolin Temple of China to experience life of the Shaolin Monks for two weeks from April 7 to 20 in 2014. He was one of the 1st place winners in Shaolin Cultural Festival Kung Fu competition (10/12/2013) who have been invited to Shaolin Temple. He won 1st place (Form: Tiger Boxing), 2nd place (Short Weapon: Broad Sword and Shield) and 3rd place (Long Weapon: Shaolin Spear) in three divisions in his age group.
He has studied Kung Fu since he was 8 and his Shifu Yang Guang and Yan Liang are the 34th generation of Shaolin Monk from Shaolin Temple of Song Mountain in China.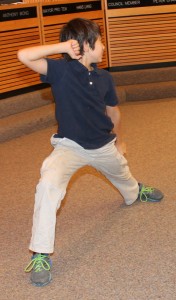 At the Shaolin Temple, the boys (Zachary's 9 year old younger brother Perry Chen Norman also trained at Shaolin Temple, however, he had to pay the tuition for the two weeks' Shaolin Life camp training.) along with 12 other 1st place winners from all over the United States had been trained by the martial monks and they experienced the monk life inside the temple for two weeks. They were welcomed by the Shaolin Temple Abbot Shi Yongxin who praised them for their dedication to Shaolin Culture and for enhancing the tie between the US and China.
Zachary Li Norman is currently an 8th grade student at Brightwood Elementary School and plays cello for the Alhambra School District Middle School Honor Orchestra. He is a Boy Scout at Troop 329 and on September 20, 2014 IFD, he won 4 awards in scouting skills and made to number 13 of Top 50 Elite group. This is his 3rd year in the scouts and 2nd time as one of the Top 50 Elite group.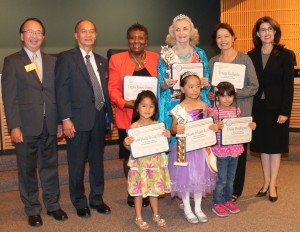 Geranium Festival Pageant Winners were honored by the Council:
Ms. Geranium Contest: 
1st Place – Catherine Wills, 2nd Place – Teresa Gallardo and 3rd Place – Virginia Mason-Greene.
Lil Miss Contest: 
1st Place – Shan Shan Lu, 2nd Place – Daisy Rodriguez
 and 3rd Place – Naomi Johanna He-Ling Chang.
Leave a Response