Teresa Real Sebastian For Monterey Park City Council 2015
Teresa Real Sebastian For Monterey Park City Council 2015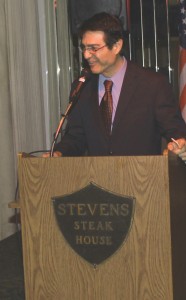 Armen Sebastian introduces his wife, Teresa Real Sebastian, who is running for the City Council in 2015 at a Re-election Campaign Fundraiser at the Historical Stevens Steakhouse on September 12.
Mr. Sebastian welcomed all to this event to support Teresa, his better half. This event is "awesome".
He introduced some special guests that included Monterey Park Councilmember Mitch Ing; South El Monte Councilmember Joseph Gonzalez; Garvey School Boardmember Janet Chin, who works in Senator Ed Hernandez' office; former Monterey Park Mayor Betty Tom Chu; former Monterey Park Mayor Francisco Alonso; former Monterey Park City Clerk Theresa Amador; Alhambra Councilmember Barbara Messina and Ernesto Moreno from East Los Angeles City College.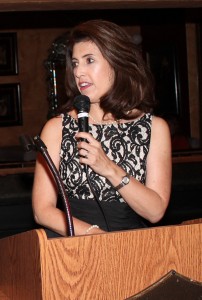 Councilmember Real Sebastian thanked her family and friends for their support. She introduced her mother and family members. She said her family moved into Monterey Park in the 1970s and they followed them. She thanked the staff at Stevens Steakhouse for putting this event together.  She stated that she is humbled by your presents tonight. Her four-year term is almost up. We have made many changes. She will continue to work hard to get results.
Councilmember Real Sebastian listed all of the committees and boards that she sits on including the 710 Freeway and Council of Governments that has been working on the Clean Water Act. Monterey Park joined with COG to help clean up the water and keep our city costs down.
Monterey Park is more transparent now with more documents on city's Internet sight. Our city budget is balanced and the staff hours are no longer reduced.  She did not approve the high raise giving to the city manager.
Councilmember Real Sebastian worked with 2,000 residents to keep Edison from cutting down trees in Edison Park. She has been spearheading the Beautiful Parks Program and is cleaning up our parks. Elder Park was scheduled to be cleaned up on September 27.
She voted NO on the Potrero Grande zone change that converted 9 1/2 acres from commercial to residential. We need more retail projects in the city. The Market Place is scheduled to close escrow by the end of this year.
Monterey Park stores provide sales taxes to run the city. Monterey Park has an Emergency Operations Center. We have a safe city. You are our eyes and ears.  We have our own Police and Fire Departments.
Monterey Park has a greater number of seniors than the rest of Los Angeles County.
She spoke about family events that include the October 17 Geranium Festival that will be based on a country fair and the Holiday Snow Village that had 2,000 people in attendance last year.
Education is important. We have many schools and East L A College.
Councilmember Real Sebastian stated she does her homework and asks questions. She will ask question for you. I am here to serve you. As a public servant she conducts herself with the highest ethics. She will not compromise her ethics. She makes her decisions on the wellbeing of the city.
As a City Councilmember she knows how to balance the budget. She does not want people to lose their jobs. She will help keep the schools going.
Councilmember Real Sebastian thanked the audience for their support. We need to encourage women to run for office. She pledged to do a better job for Monterey Park and you. We will win in March.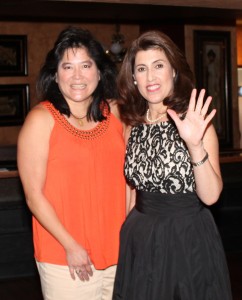 Teresa Real Sebastian and Cindy Lee Ota shared a birthday cake. The audience sang "Happy Birthday" to them.
Miguel and Jennifer, employees of Stevens, provided Salsa Dance Lessons for the guests.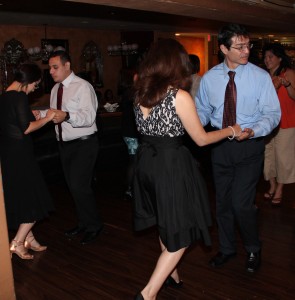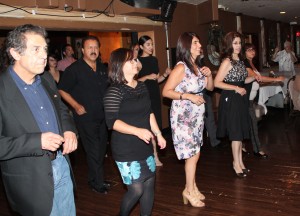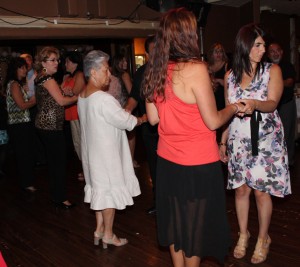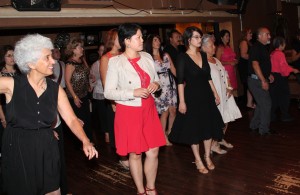 The dancers were put through their paces to the delight of the audience.
The successful event featured delicious food, good friends and great conversations surrounds by old and new friends.
The East Los Angeles-Montebello Business and Profession Women will honor Teresa Real Sebastian as their "Woman of Achievement" on October 22 at the Double Tree Restaurant in Montebello.
1 Comment
Leave a Response