Ice Bucket Challenge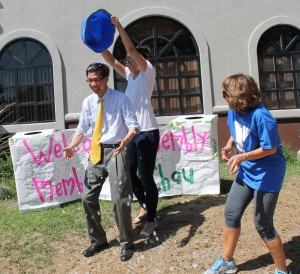 Assemblymember Ed Chau participated in the ALS' ice bucket challenge on September 13 in front of the YMCA in Alhambra.
Olivia Lee poured ice cubes over him in front of Valerie Gomez, the Director of the YMCA, members of his staff and residents on the very hot Saturday afternoon.
Assemblymember Chau participated in the ALS challenge and made a donation to the ALS Foundation for research.
He challenged Garvey School Boardmember Henry Lo, Monterey Park Councilmember Hans Liang and San Gabriel Councilmember Chin Ho Liao to participate in this worthy event in the future.
Leave a Response