Monterey Park Proclamations
Monterey Park Mayor Anthony Wong, Councilmembers Peter Chan, Mitch Ing and Teresa Real Sebastian presented proclamations on July 15 to honor these special people.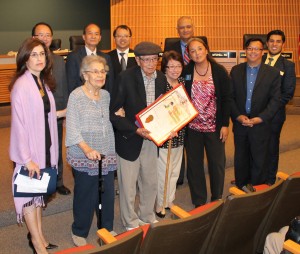 Senator Ed Hernandez
Henry Lo and Miguel Segura from Assembly Member Ed Chau's office,
Suzie Hsi from Supervisor Gloria Molina's office
The Monterey Park City Council honored:
JOSE MARTIN BECERRA "Happy Birthday" July 2nd 
102 Years Young
Jose Martin Becerra was born in Ocotlan, Jalisco in 1912 and has lived in Monterey Park for over forty years. He has been on the Spanish radio for over fifty years since 1949 and has also had a musical career from 1935, especially with the famous duet Martin and Malena. Mr. Becerra was the Master of Ceremonies at the Mason, Maya and the famous Million Dollar for 30 years. His wife's name is Carmen, his daughter Georgina and his grandson is Paul Gregorio.
MONTEREY PARK'S
"SHINING STAR"
MAYOR'S AWARDS 
Honoring those whose dedication and efforts brightens the lives of others.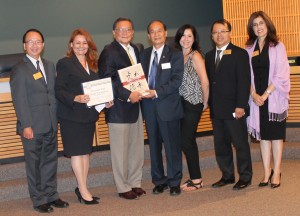 MONTEREY PARK LIBRARY FOUNDATION
President Bob Gin, Boardmember Deana Sewel and Librarian Norma Arvizu accepted the proclamation.
Monterey Park Library Foundation raises funds to supplement the library's budget. The Foundation raised more than $600,000 for the expanded and renovated library, which opened September 9, 2006. Over the last two years proceeds from the Foundation has been used to purchase books, magazines, DVDs, e-books and other library materials for the collection. In addition, the Foundation raised funds for the mural over the west entrance of the library. The Foundation accepts donations of any size. Organizations, businesses, and individuals who make large donations can have their name listed on the donor board in the library. For $1,000 donors can list their name, the name of someone who has passed away, their business name or the organization to which they belong. Foundation usually meets in the library on the second Monday of each month at 7 p.m.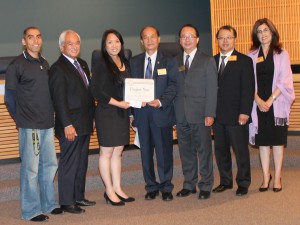 PROJECT NEO
Anna Chu, Chief Operations Officer; Stan Yonemoto, Interim Executive Director and Chambermember Damien Orozco accepted the proclamation.
Project NEO establishes and maintains a school- based learning program for at-risk youth. Our aim is to reach those whose educational achievement can be increased significantly by applying proven techniques at key points of opportunities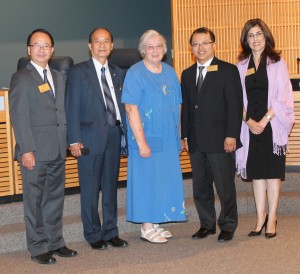 MONTEREY PARK WOMAN'S CLUB
Marian Hallin, 1st Vice President accepted the proclamation.
The Monterey Park Woman's Club is a member of the GFWC California Federation of Women's Clubs. As part of this international community service organization, they provide education, training and interaction opportunities for volunteers who are committed to individual growth and community improvement to enrich the quality of life throughout California and the world.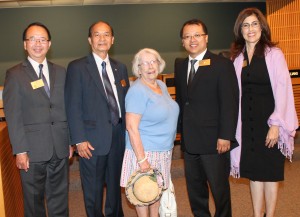 The Council recognized Joan Merino for her volunteer service.
Leave a Response