A SUMMER SURPRISE
By Mona Raskin
You might say that a sudden rainstorm in August would truly shake up Southern Californians!  Until now they have been sweltering in a deep sauna!
In fact, we were considering on visiting the San Diego area to escape the unbearable heat on August 2nd. While on the freeway, we suddenly noticed a flash of lightening, followed by a heavy down pour.  Due to the horrific change in the weather, we had to continue slowly to avoid any skidding!  For awhile I thought, we just might turn around and return home!
Before we knew it we realized we had reached our destination, a place called The Springs of Escondido, where we spent two nights! The following day we met an interesting and lovely couple, Don and Alexandra Kirkpatrick! Don was a former army service man, involved in the entertainment industry, as well! He had produced a variety of projects, one of which I will now display!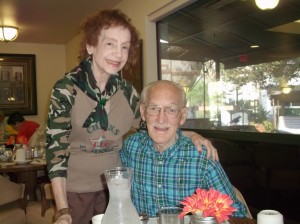 AMERICA
By Donald Kirkpatrick
I want to wake up to a new America
where everyone is totally free
I wanna wake up to a new America
where you got the right to be you
And I have the right to be me
I wanna wake up to a new America
where poverty is no longer in sight
where violence will finally take flight
So if you share this dream
Its a vision you can see
Lets march together toward a beautiful destiny
I wanna wake up to a new America
where everyone has the same opportunity
to reach the highest star
no matter who they are
in our great land of liberty
A new America for you and me
Actually it was a good idea that we stayed on to enjoy Alexander and Don's company.
Leave a Response