CAPTAIN LAWRENCE C. FU RECOGNIZED AS 49TH ASSEMBLY DISTRICT'S VETERAN OF THE YEAR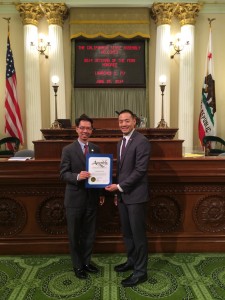 On June 25, Assemblymember Ed Chau (D-Monterey Park) recognized United States Marine Corps Captain Lawrence C. Fu as the 49th Assembly District's 2014 Veteran of the Year during the 7th Annual Veteran's Recognition Luncheon hosted at the Sacramento Convention Center.
"I am honored to recognize Captain Fu as the 49th Assembly District's Veteran of the Year for his sacrifice and his distinguished service as a member of the US armed forces and for his commitment and dedication to his fellow veterans," said Assemblymember Ed Chau.
Captain Fu served in the US armed forces from 2003 – 2008 and is a veteran of the Iraq War where he served two tours of duty in support of Operation Iraqi Freedom. During his service, Captain Fu planned and coordinated training for over 1000 Marines and Sailors while also engaging in over 200 combat reconnaissance and security patrols. He also led over 10 combat medical evacuations resulting in the saved lives of over 30 U.S. Marines, Iraqi Soldiers, and civilians. He received the Navy Marine Corps Commendation Medal, the Combat Action Ribbon, and the Certificate of Commendation for his service.
Upon leaving military service in 2008, Captain Fu has worked as the General Manager for CF Kent Contract, Inc., a company that sells and manufactures commercial furniture for the North American hotel industry. Captain Fu has also dedicated his time to helping fellow veterans through his involvement with the Chinese American Military Support Association, an organization that helps the families of Chinese-American veterans returning from the conflicts in Iraq and Afghanistan.
Leave a Response