Assemblymember Chau honors K.T. Leung during California Small Business Day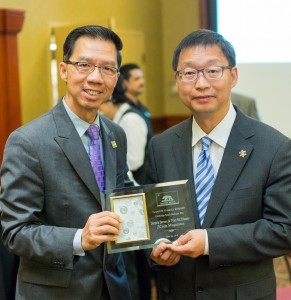 Assemblymember Ed Chau (D-Monterey Park) presented K.T. Leung with an award for his contributions to the 49th Assembly District as both a business and community leader during the 2014 California Small Business Day celebration on June 18 held at the Sheraton Grand Hotel in Sacramento earlier this week.
"I am proud to recognize exceptional businessmen and businesswomen and the significant role that California's outstanding entrepreneurs play in our communities," said Assemblymember Chau.  "K.T. Leung is a remarkable leader who has served not only his local community but our state as a whole."
K.T. Leung is the Principal of Leung Accountancy Corporation and for over 20 years has successfully assisted many businesses and individuals in understanding state and federal tax laws. Mr. Leung has been very involved in the business community and the profession of accountancy. For example, he is a current board member of both the California Board of Accountancy and the California Naturopathic Doctors Committee. Mr. Leung has also served on the board of numerous community and business organizations as a President, Chairman, Director, or Treasurer. Some of these organizations include: the California Certified Public Accountants Association; the Chinese Americans Cultural Exchange Foundation; the Center for Asian Americans United for Self-Empowerment; the China Economy & Trade Promotion Association; the Chinatown Service Center; and the Asian Youth Center.
California Small Business Day is a day dedicated to recognizing the contributions of small business to the state of California, and provides the California State Assembly and Senate an opportunity to honor small businesses from with-in their districts.
Leave a Response