Monterey Park City Council Mayor Anthony Wong and Councilmembers Peter Chan, Mitch Ing and Teresa Real Sebastian Presented Proclamations at the June 17 Meeting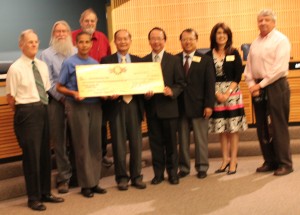 The Los Angeles Astronomical Society Mary Brown, President and fellow members presented of check for $125,000 for the purchase and installation of a new dome at the observatory at Garvey Ranch Park to the City Council.
The LAAS received a grant from Metabolic Studios for the dome. The City Council approved the project at the April 16th meeting, including a license agreement for the next five years. The LAAS has been operational at Garvey Ranch Park for more than 30 years; they offer sky viewing events ever Wednesday night, as well astronomy classes for the general public at no charge.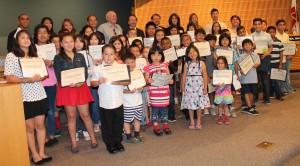 Monterey Park Play Days Contest "Honorable Mention" Certificates were presented to the following students by the City Council and sponsors (Superco, Mary Wong, Chamber of Commerce and Phil Smith). 120 students from 16 schools participated in the contest.
Alexis J. Ramirez, Angelina Camak, Anthony Porras, Caitlyn Leh, Jocelyn Leong, Alexis Do, Maddox Kiyohara, Andres Hernandez, Bonnie Huang, Brett Baligad, Christyn Leong, Clarissa His, Emily Chu, Feng Yi Li, 
Ian Tso, Katherine Harry, Alicia Fuentes, Raymond Deng, Tyler Baligad, Ava Martinez, Denise Tso, Frank Luu, Jessica Ramos, Joyce Mar, Alyssa Garcia, Amy To, Andy Lin, Beverly To, Cristina Porras, Jonathan Giang, Katelynn Kanemori, Lorenzo Benitez, Samuel Aros, Sophia Ramirez, Vanessa Zheng ,Walter Gomez, Briana Velez, Calvin Kamimura, Gabriella Madrid, Gordon Lin, Kaylee Truong, Mark Martinez, Noemi Atilano, Vincent Cuomo, Zaira Salas, Brian Chavez, Kyle Fujishima, Bianca Chiu, Christopher Lopez, Mireya A.Chau, Rafael T. Chau, Zoe Castellano, Alex Palmer, Vanessa Murillo, Mark Macias, Nicholas Casilias, Ray Guzman, Alexandra Quintero and Amber Contreraz.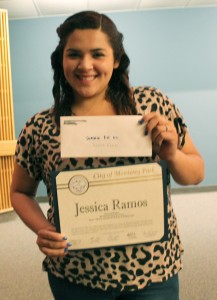 Jessica Ramos smiles for the camera with her certificate.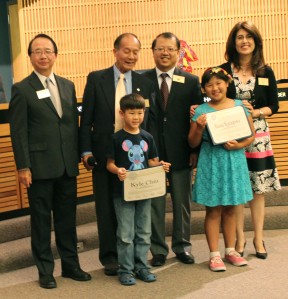 Monterey Park Play Days Contest Certificates of Participations were presented to the following students by the City Council and sponsors (Superco, Mary Wong, Chamber of Commerce and Phil Smith).
Nathaly Ramirez, Matthew Molina, Julia Barrell Apodaca, Nathan An
, Nikki Macias, Andrew Sani, Anna Lin
, Alexis Vargas, Lauren Lu
, Kyle Chiu, 
Karen Grace Shi, Ryan Tieu, Samantha Sou, Savannah Michel, Shan Shan Lu
, Xin Yi Chen, 
Zhuo Zhou, 
Ana Saldana, Andres Dominguez, Anthony Phung, Antonio Torres, Bianca Chairez , Brandon Khuu, Breanna Ramos, Carissa Contreras, Christopher Casarez, Damian Detorta, Diego Mendoza, Elizabeth Espinoza, Emile Tavra, Emily Ramirez, Estrella Amaya, Felicity Felix, Fernando Nemesio, Fernando Querude, Hayley Diaz, James Morales Flores, Jayleen Avila, Jazmine Lopez, Jesus Gonzalez, Jose Ramirez, Julian Polanco, Kalani Valencia Jacobe, Kevin Ruiz
, Kiana Kanagawa, Lily Magdesyan, Luis Nararrete, Marcus Montoya, Marissa Cervantes, Melanie Aguilar, Michael Hairston, Michael Ramos, Michael Young, Natalie Aloerete, Nick Chen, 
Ryas Avila, Vincent Huynh, Yadira Fernandez, Yarely Jurez  and Marisa Del Real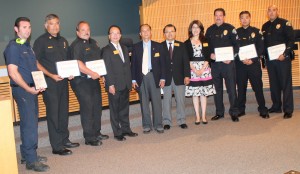 The City Council presented proclamations and praise to Members Of The Task Force Along With Fire And Police Staff Who Assisted In The Fireworks Confiscation Operation:
Fire Staff: Captain Neal Martin,
Captain Neil Lakin
,Chris Gomez, Deputy Fire Marshal/
Engineer Paul Cubak (Task Force Member), Engineer Nick Lima, 
Engineer Scott Kelley, 
Firefighter Jon Gin
, Firefighter Kirk Templeman
, Firefighter Gene Fowler
, Battalion Chief Mark Khail (Task Force Member) and Battalion Chief/Fire Marshal Randy Harper (Task Force Member)
Police Staff: Sgt. Paul Villalobos (Task Force Member) Agent/Detective Bob Hung
, Agent Peter Palomino
 and Officer Russell Salinas
Acting On A Tip From An Anonymous Resident, Fire Crews Performed A Routine Fire Inspection In The 900 Block Of Monterey Pass Road. Upon Entering The Location Crews Found Evidence Of The Illegal Sale Of Fireworks And Noted Several Pallets Of Fireworks Ranging From Party Popper Types To Safe And Sane Types And Also Dangerous Illegal Type Fireworks Being Store In The Warehouse Of The Location. Members Of The Monterey Park Arson Task Force, A Joint Operation Of Fire And Police Personnel, Made Contact With The Employees Representing The Business. Once The Scope Of The Operation At The Site Was Realized, Task Force Members Contacted The Appropriate City Staff To Begin Processing The Contraband With The Primary Objective Of Eliminating The Hazard To The Community, And Properly Cataloging What Turned Out To Be Between 25 And 30 Tons Of Safe And Sane And Illegal Fireworks, All Of Which Was Being Stored Without Permits, Without Proper Building Fire Protection Components, And With Great Potential Risk To The Community As Well As Emergency Personnel.
Over The Course Of A Week, Fire And Police Crews Processed, Cataloged And Then Loaded 184 Pallets Into 7, 53 Foot Semi Tractor Trailers For Removal And Storage Outside The City To An Undisclosed Location For Eventual Resolution. Members Of The State Fire Marshal's Office Reported This As The Largest Firework Seizure In The Last 20 Years.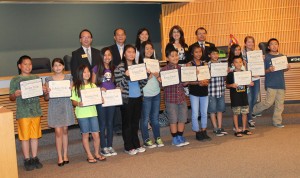 The City Council presented proclamations and praise to Ms. Teresa Chow, Teacher And Coach, at Hillcrest Elementary School and her students for winning the Science Gold Award (Los Angeles County Science Olympiad
 Occidental College
20 challenging events requiring knowledge of science facts, concept processes, skills and science applications): Brianna Avila,  Kevin Chan, Skye Chianchitlert, Tyler Chianchitlert, Nathaniel Chu, Stephanie Cook and Raven Ferrer.
And the Math Field Day (Event held at Garvey Intermediate School 
2nd Place 
Garvey School District students competing against each other on various Math concepts and Math application. Students must work out the problems as a team and all need to be able to present the answer): Eden Gonzalez, Noemi Ho, Nicholas Leigh, Erik Lim, Athena Thai, Hillary Tran and Sabrina Vong
Cooperation Award 
Team: Audrey Lee, Raven Ferrer,
Juliette Stojic, and Rianna Santivong
2nd Place & Cooperation Award Team: Stephanie Cook,
Athena Thai, Jordan Sycip and Nathaniel Ronquillo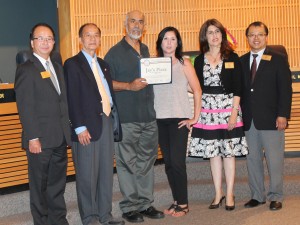 The Council and Chambermember Deana Sewell Recognized A New Business In Town.
Emers Antonio Acevado is the owner of Jay's Pizza located at 2412 S. Garfield Avenue Monterey Park, CA 91754
Leave a Response