Look Alike Contest in Monterey Park
A Look Alike Contest was organized by the Monterey Park Sister Cites Commission. It was held on May 30 at Ocean Star Restaurant. It is both a fun and funding event; its net proceeds will go to the Student Exchange program.
The contest was open to all and there was no age limit. There were cash awards for the first three winners: 1st prize $1,000; 2nd $250 and 3rd $100. So, bring out your Michael Jackson, Elvis, Chaplin, Monroe, Bruce Lee, Panda or Psy.
Each contestant was required for a 2 – 6 minute stage presentation. They were being judged for likeness,  acting, presentation and entertaining value.
Three Judges:
Heather Aubry is a Deputy City Attorney in the Los Angeles City Attorney's Office and is currently assigned to the Police General Counsel Section.
RODNEY KAGEYAMA HAS BEEN AN ACTOR FOR 35YRS. HAVING PERFORMED IN FILM, TV, STAGE, AND COMMERCIALS.
Councilwoman  and Attorney Teresa Real Sebastian.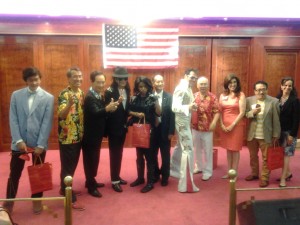 9 Contestants:
1. "Michael Jackson" by Ashton Ruiz
- Performing as the King of Pop
2. Young "Elvis" by George Thomas (1st Place)
- High Energy Recreation of 1950's/60' Elvis with All Dance Moves
3. "Mark Twain" by Brian Regalbuto
- Mark Twain Is Accidently Transported to the 21st Century.
4. "Psy" by Cameron Quon
- Performing a Chinese Yo-Yo act with a Gangnam Style Twist
5. "Christine Chow周美青" First Lady in Taiwan by Stella Kwan
- the Talent of Christine Chow
6. "Michael Jackson" by Rem Garza (3rd Place)
- Impersonator & Tribute Artist
7. "Obama" by Peter Lin
- Give a Warm Welcome to Exchange Students from Sister Cities
8. "Elvis" by John Luh
- Wear Famous Suits and Sing
9. "Janet Jackson" by Ashley Ruiz (2nd Place)
Leave a Response