Assemblymember Chau Honors Outstanding Asian Pacfiic Islander Americans during district ceremony
Assemblymember Ed Chau (D-Monterey Park) presented eight outstanding 49th Assembly District residents with the 2014 Asian Pacific Islander American Month Heritage Award during a ceremony in the City of Monterey Park on May 31.  The awards presented were in recognition of distinguished service in the areas of public safety, business, literature & the arts, the non-profit sector, education, community volunteerism, and social services.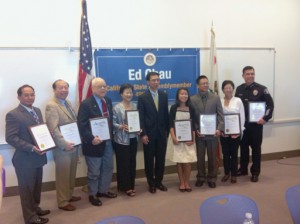 The recipients of the awards were Allyson Wei, Student; Aung M. Naing, President/Co-Founder, Network of Myanmar American Association; Colin Lai, Labor and Civil Rights Activist, Chinese-American Citizens Alliance, Los Angeles Lodge; Naomi Uyeda, Board of Directors, Center for the Pacific Asian Family; Mark Yokoyama, Chief, Alhambra Police Department; David Bow Woo, Corporate Attorney, President/Founder, Asian American Economic Development Enterprises, Inc.; Pongsak William Boonsiriseth, Special Education Teacher, Los Angeles Unified School District/East Los Angeles College; and,  May Chen, Chief Editor of "A Legacy Magnified: A Generation of Chinese-Americans in Southern California, 1980s-2010s".
"I am proud to acknowledge and commend these eight outstanding Asian Pacific Islander Americans whose dedication and commitment to their communities have improved the quality of life for so many people of the 49th Assembly District," said Assemblymember Ed Chau.  "These inspiring men and women are the role models for our future leaders."
Assemblymember Chau serves as Chair of the Standing Committee on Housing and Community Development and Chair of the Select Committee on Privacy and is a member of the Assembly Committees on Banking and Finance; Judiciary, and Labor and Employment; Cities in the 49th Assembly District includes: Alhambra, Arcadia, El Monte, Monterey Park, Rosemead, San Gabriel, San Marino, Temple City, and portions of Montebello and South El Monte.
Leave a Response