Scudder Scholarship Awards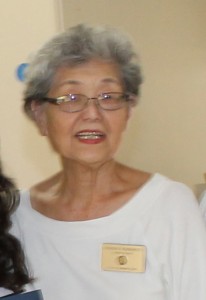 Marion Sumimoto welcomed everyone to this special celebration held on June 8 at Garvey Ranch Park. She introduced John Scudder, Robert Cortez, Natalie Nguyen, Councilmember Peter Chan, his wife, Jenny Chan, the Committee Members: David Barron, Jim Iwaki, Pauline Lemire, Alice Nishimoto, Dolores Seidman and Shufen Sokhom and the 2014 Officers and Boardmembers: Mary Louise Uranga, Shufen Sokhom, Marion Sumimoto, Jim Iwaki, Mara Hernandez, Beryl Williams, Paul Perez and Lilly Lew. Some of these members were not able to attend this event.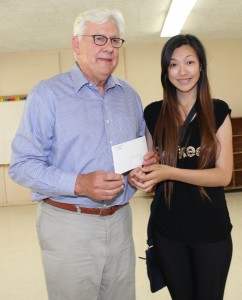 John Scudder awarded Connie Zheng with the Student Volunteer Award from the Historical Society. She was selected from all of the student docents by the committee for donating 56 hours to the Museum located at 781 S. Orange Avenue.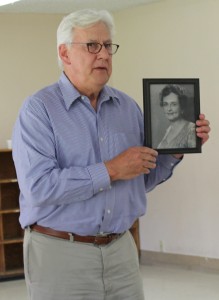 John Scudder held up a picture of his beloved grandmother. Laura Scudder hired women during the Great Depression to iron wax bags for her potato chips. Her wax bags were used in the food industry for 30 years before the industry decided to use cellophane bags. His grandmother was a mother first. She worked hard to send her four children to college.
Laura Scudder was a nurse and a restaurateur before she moved to Monterey Park. She passed the bar to become a lawyer in 1918 before women had the right to vote.
The Scudder family built a gas station at Atlantic and Garvey with steel instead of the traditional wood.
When Mrs. Scudder was widowed she had to support her children so she learned to make potato chips. She created the famous Scudder potato chips and added peanut butter and mayonnaise to her food line.
Laura Scudder also created loyal workforces that were part of the Scudder family.
John Scudder spoke about her sales staff that would walk into a store with a bucket of water and insert the potato chip bag into the bucket. The salesmen then would pull the watertight bag from the bucket, open it and pull out crisp chips to the amazement of all.  It was a great sales tool for Laura Scudder and her staff.
Laura Scudder was a nurse so it was very important to her to deliver her products in safe and sanitary containers.
He recalled that his father wanted to move the business to Orange County near Disneyland in the 1950s. Laura Scudder said not in her lifetime. The residents of Monterey Park built the business so it should stay in town.
John Scudder said his grandmother was only 5 feet two with dimples that you could swim in. She would be please that he is here in Monterey Park today.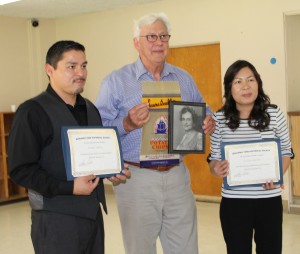 John Scudder, the grandson of Laura Scudder, Monterey Park's Famous Potato Chip Queen, presented scholarships to two nursing students, Robert Cortez and Natalie Nguyen during the ceremony.
Mr. Scudder thanked the Scholarship Committee: David Barron, Jim Iwaki, Pauline Lemire, Alice Nishimoto, Dolores Seidman and Shufen Sokhom for selecting the two hardworking students for this award. He read their submission forms and knew that they would achieve success in life. For the past 20 years he and his family have given scholarships to worthy students.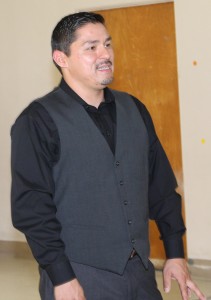 Robert Cortez said he is going into nursing at Cal State Long Beach with a 4.0 average. He thanked the Scudder Family and the committee for this scholarship. He wants to give back to the people.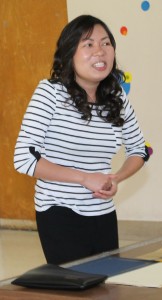 Natalie Nguyen is attending Mt Sac for her nursing degree to help ill people like her mother. She wants to make a difference. She thanked the committee for this scholarship.
A delicious luncheon was served catered by Claro's Italian Market as part of the celebration.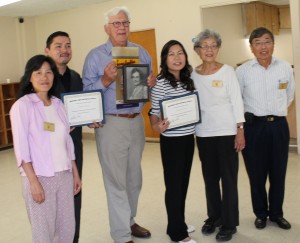 John Scudder, Robert Cortez, Natalie Nguyen, Jim Iwaki, Shufen Sokhom and Marion Sumimoto shared in the celebration.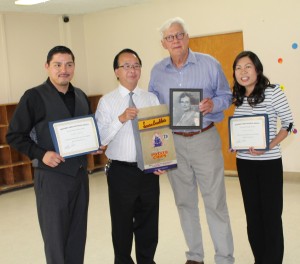 Councilmember Peter Chan joined with John Scudder, Robert Cortez and Natalie Nguyen. He thanked everyone for coming to this special event. He thanked John Scudder for the scholarship awards.  They will do good for the city. He thanked the Society for their hard work. Our city is almost 100 years old. We need the Historical Society and John Scudder to help us celebrate. The new dome will be installed on the Garvey Ranch Observatory before the end of the year. We need to have a grand opening celebration in the park. He thanked John Scudder for his generosity.
Leave a Response