Earthquake Facts and Safety Workshop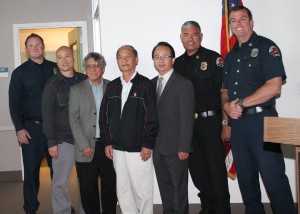 Monterey Park Mayor Anthony Wong, Mayor Pro Tem Hans Liang, Councilmember Peter Chan joined Winston Wu, Fire Captain Matt Hallock, Battalion Chief Randy Harper and Engineer Scott Kelly at a workshop at the Monterey Park Bruggemeyer Library on April 13.
This event was a joint production of the Chinese American Citizens Alliance and the Monterey Park Fire Department.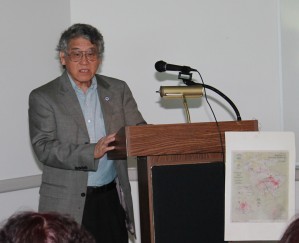 Winston Wu was the guest speaker. He is an engineer and a Youth Council Advisor for the Chinese American Citizens Alliance. He helps students with their career goals.
This meeting was dedicated to Le Val Lund, Jr. his advisor and the students and the adults injured and killed in the tragic bus accident. He requested a moment of silence in their memory.
Le Val Lund, Jr. was a passionate and dedicated champion of lifeline earthquake engineering.
Mr. Wu with the assistance of one of his students presented a Power Point production that highlighted the history of earthquakes. He explained how the continents separated 225 million years ago. Earthquakes are caused by the earth's crust moving.  Several tectonic plates that are always moving make up the earth.
He said that Hawaii was formed by volcanic action and the island is still growing.
Mr. Wu stated that it is a matter of time before we experience a large earthquake. The San Andreas Fault is a place where two tectonic plates touch, the North American and Pacific Plates.  However the Puente Hills Fault line is close to us and could cause more damage then an earthquake at the San Andreas Fault line.  The Whittier Fault line is also close to us and cause a large amount of damage in Monterey Park during that earthquake.
He explained the difference type of earthquakes (strike and slip faults; dip, slip and thrust faults and the oblique slips). He said the type of motions caused by earthquakes (shock waves; pressure waves; shear waves and long waves that cause the most damage).
Mr. Wu stated how scientists determine the size of the earthquake by the amount of energy release by each quake. He spoke about the terms used to determine the type of quake (epicenter; hypocenter; foreshock; aftershock and creep).
He explained liquefaction when the ground becomes fluid in an earthquake. It become like quicksand.  He also spoke about earthquakes that cause tsunamis by ocean waves and seiches that happen in restricted water like a river or lake.
Mr. Wu provided the audience the history of the world's earthquakes from 1817 to 2011. He said that California earthquakes usually happen in the first four months of the year.
The 1933 Long Beach earthquake changed the building codes on brick building in California.
He advised the audience that the type of earth the building is over and the motion of the earth cause earthquake damage.
Japan has an early warning system. They stop the bullet trains before a major hit.
Mr. Wu spoke about all of the new studies and the research being done on earthquakes. They cannot be predicted them but animals and fish can sense them. An early warning system of a few seconds could save lives.
Mayor Wong thanked Mr. Wu and the Fire Department for their participation. Monterey Park is well prepared for the big quake. We built an Emergency Operations Center from a $500,000 federal grant provided by Congressmember Judy Chu. The city will be able to operate from the new center. They will coordinate with the Federal and State governments. Many of our residents are members of CERT that are certified to help save lives in an emergency.
Mayor Wong said to remember in an earthquake to Drop, Hide and Hold under a table or a desk.  Do not touch downed power lines as they maybe hot. Call 911 for help. This Council will help you prepare for the worst. Hope for the best. He asked the residents to please participate in our city. Join Neighborhood Watch to help protect your neighborhood.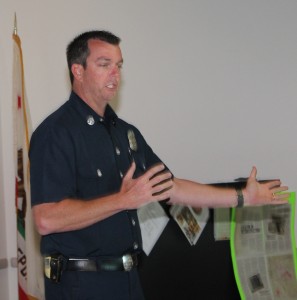 Captain Matt Hallock reminded the audience to be prepared in case of an emergency like earthquakes and water line breaks. Before an earthquake check out your home or office for pictures, TVs, appliances and anything that could tip over.
Battalion Chief Randy Harper said the fire department always pulls out the fire trucks in case of a power failure. They will drive around the city and check for damages.
They suggested that you also look for a safe exit. You need a plan in the event of an earthquake.
They stated that the residents should establish a plan and hold drills. Be sure you have an out of area contact to call since the local lines may be busy. In case of aftershocks get to an inside wall or a safe area of the home. Check for hazards:
If you smell gas turn off your gas at the meter, if you see a broken water line then turn off your water at the source or meter, if you have damage you can turn off your electric power at your electrical box.
Remember the fire and police departments, gas and electric companies will be busy so you will be on your own for seven to ten day.
You should have a kit prepared for emergencies. You should include food, water, medicines, cash, blankets and more.  Please visit the city's website to see the Earthquake Preparedness Guide.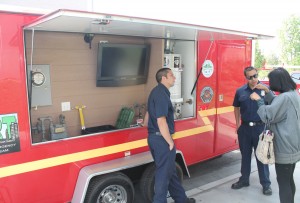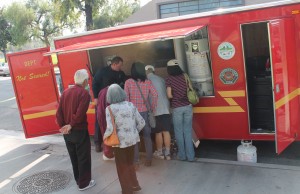 The fire department has a trailer to show the residents how to turn off their gas meter, their electricity at the box, the water at the point of entry and how to drain water from your hot water heater in case of any emergency,
This was a very informative event to help protect people from the dangers of earthquake or other natural disasters.
Leave a Response