WELCOME
DOUITASHIMASHITE
CHERRY BLOSSOM FESTIVAL
by Mona Raskin
Once again, the city of Monterey Park has celebrated their annual 17th Cherry Blossom Festival on April 26th & 27th! In spite of a rain storm the evening of the 25th. We were pleasantly surprised on the 26th to find ourselves suddenly surrounded by an array of sunshine and warmth!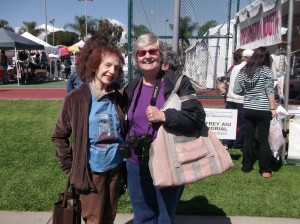 Upon entering the festival, we were pleasantly greeted by our good friend Nancy Arcuri (Publisher and Editor of The Citizens Voice newspaper of Monterey Park throughout San Gabriel valley).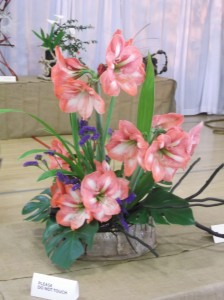 Nancy had just exited the Exhibit Hall and cheerfully mentioned that the flower display was a sight to be sure to view! Since, we were close to the Exhibit Hall, we would begin our tour here! Mr. Raskin and I were impressed by the unique, beautiful flower display and soon would find out why! "IKEBANA" is a decorative form of flower arranging (Japanese style) which includes the vase, stems, branches, leaves, as well as the flowers!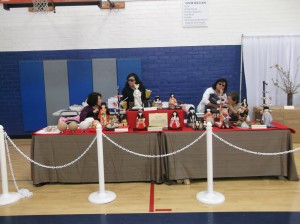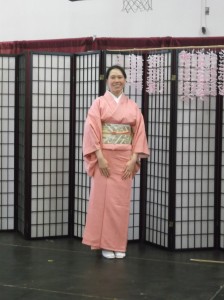 While, in the hall, we couldn't help but notice another display, the Kimikomi ningyo dolls.  Japanese handcrafted from shreds of wood (body) with porcelain painted faces were truly unique lovely creations! Just as we were about to leave, we were able to catch a snapshot of a lovely lady in a kimono standing by a large Rice screen! It completed our Exhibit Hall tour!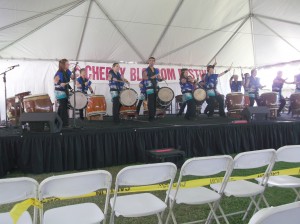 Our next stop, was at the "Field Stage" where we sat fairly close to the stage where we were able to sit quietly and enjoy the Kodama Taiko drummers, performing traditional and contemporary pieces along with old traditional hard pounding with the sounds of TAIKO!
At this point sudden blowing sounds of wind were up & blowing causing many items flying off from several booths!   Well, it brought our festival to a halt and so we say, "farewell & Sayonara!"
Leave a Response