Mission Models Contest
Chuck Lyons from the San Gabriel Mission welcomed students and their families to the 10th year of the Mission Model contest.  This event is sponsored jointed with the Mission and Ramona Museum of California History. $550 in prize money was available to the winners.
He gave a short history of the Mission gardens. There are 160,000 grapevines from the original grapevines still growing in the gardens. Today each family will receive an orange that are descendants from the original orange trees that grew in the gardens.
He advised the students that they should save these orange seeds. He explained how to clean them and save them for a few months. The seeds should be planted to protect the future of these original California oranges.
Mr. Lyons also reminded the families of all of the free museums to visit in are area. Family members should share history. We all have treasures in our hometowns.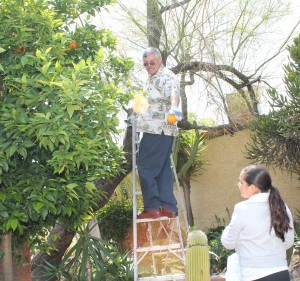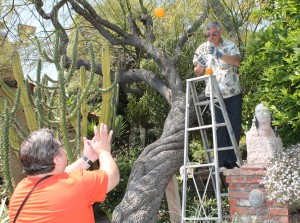 Chuck Lyons cutting some of the historical oranges from the trees in the Mission gardens for the contestants.
Judges Joseph Claro, Teresa Diaz and Julia Henricks from the Native Sons of the Golden West from the Ramona Museum studied each of the 12 models created by students and their families.
The models were built in wood, cardboard and other materials. They included gardens with plastic trees, grapes and vegetables. Some models included little people, bells, statues of saints, wells and a hut made from a coconut shell.  Students used nuts, paper, pasta and other food products to complete their models.
The categories were any age, overall and 4th grade: 1st, 2nd and 3rd places.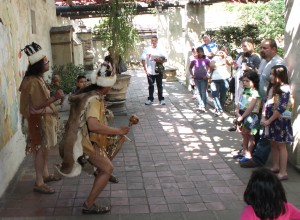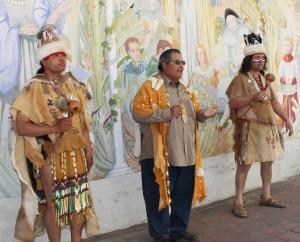 Tongva Indians Anthony Morales, Andy Morales and Matt Lovio spoke about their ancestors and showed the students some of their musical instruments and hunting equipment used by their tribe.
They told a story about how their ancestors kept their history alive by telling stories and in songs. They also sang a song dedicated to children.
Chief Morales reminded the families to share their history with their children so their history and cultural would be handed down to each new generation. He suggested that people hide their culture in your children. Teach the children and grand children to keep your culture alive.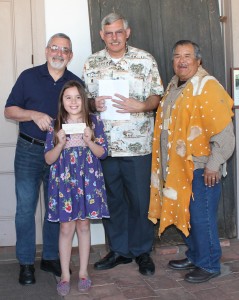 Sophia Sherman received a $100 prize from Joseph Claro and Chief Morales for winning the Overall Category.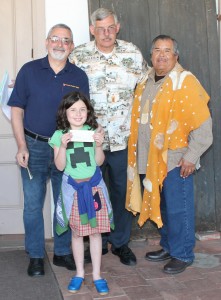 Isabela Salazar won a $75 prize from Joseph Claro, Chuck Lyons and Chief Morales for winning 1st Place.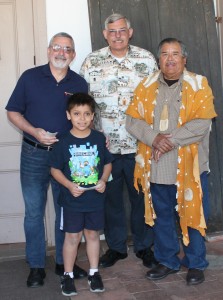 Alex Sandoval won a $50 prize from Joseph Claro, Chuck Lyons and Chief Morales for winning 2nd Place.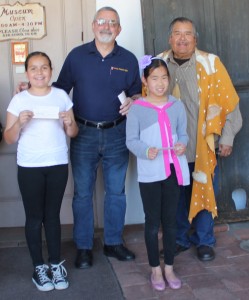 Abigail Chang won a $25 prize and Giamo Franco won a $25 prize from Joseph Claro and Chief Morales for winning 3rd Place.
This year there was a tie for 3rd place.
Luna Nunez won a $75 prize from Joseph Claro, Chuck Lyons and Chief Morales for all ages. The constant was not available for a picture.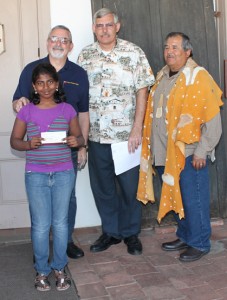 Anita Aranda won a $50 prize from Chuck Lyons for all ages.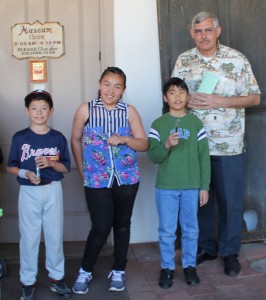 Jose Vicerra, Mark Nunez and Alize Navarrete won the Directors Award from Joseph Claro, Chuck Lyons and Chief Morales.
Chuck Lyons announced that Miraculous Medal School won $100 in gifts from the Mission Gift Shop for their student participation in the contest.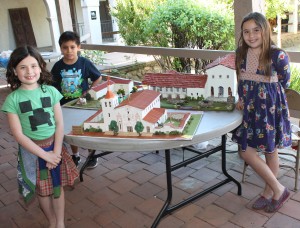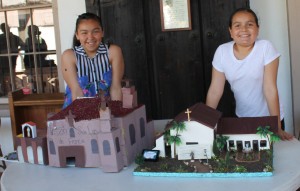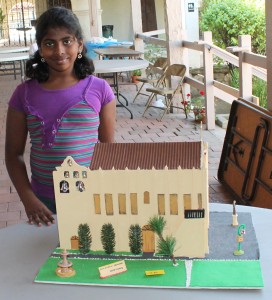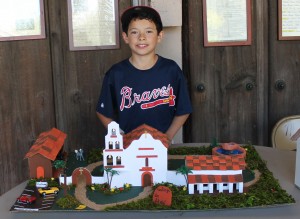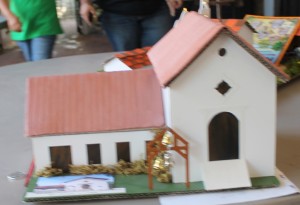 Students shared their creativity on their models with the guests attending this event.
Chuck Lyons thanked the students and their families for their participating in the 10th Annual Mission Model Contest. He noted they helped to pick oranges, dedicated the new De Anza sign and toured the Ramona Museum as part of this special day.
Each year the contest is opened to four grade students and people of all ages who wish to built a mission model.
The students and their families shared a day full of California history at the San Gabriel Mission.
The mission is located at 427 S. Junipero Serra Drive in San Gabriel is opened to the public.  For more information please call 626-457-3035 or www.sangabrielmission.org.
The San Gabriel Mission was founded on September 8, 1771 and is the fourth oldest of the 21 missions in California.
Leave a Response