De Anza Expedition Re-enactment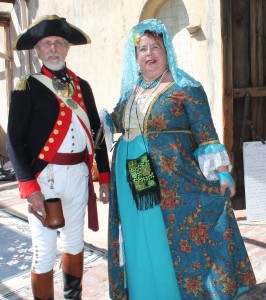 David Weidner and Kathleen Rabago dressed in traditional clothing as part of the De Anza Expedition re-enactment at the San Gabriel Mission on March 16.
Juan Bautista De Anza expedition arrived at the San Gabriel Mission in the 1700s. He led almost 300 people over 1,200 miles to settle Alta California. They stopped and rested at this mission before taking the trail up the coast to Alta California.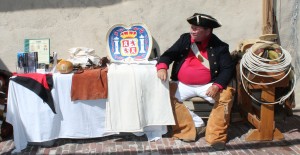 Jon Reed displayed several artifacts from early California history.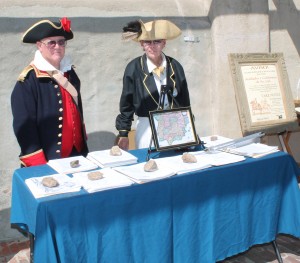 Bob Smith and Denise Murray were dressed as Pobladoers 200. They were the military might that protected the San Gabriel Mission.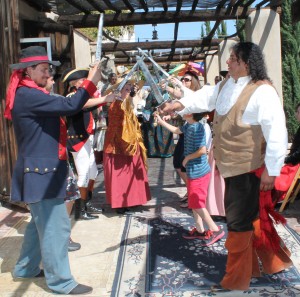 Sword Dances were reenacted to the delight of the guests.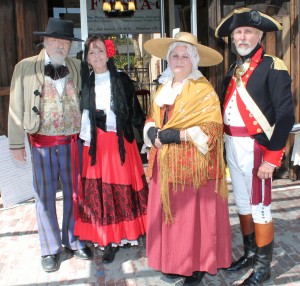 John Simons, Norma Simons, Irene Vjda and David Weidner danced several formal Spanish dances that the Spanish nobles enjoyed in early California.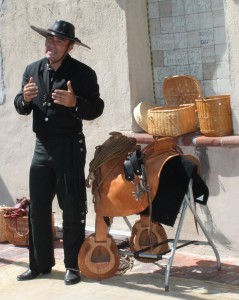 Dominico Sumonte provided a lesson on how Vaqueros (Mexican cowboys) did their jobs. He displayed his saddle, spurs and the rope that were part of a Vaqueros' life.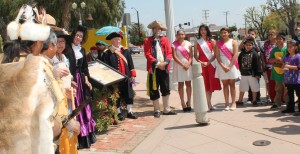 The Mission Royal Court Queen Michelle De Luna, Princess Lilia Valdez and Princess Arianna Puccio joined with re-enactors of the De Anza Expedition, Tongva Indians and residents to rededicate the Old Spanish Trail in front of the San Gabriel Mission.
Hale Sargent from the National Parks Service welcomed everyone to this special event.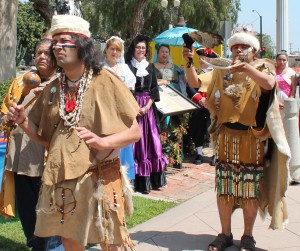 Tongva Indian Chief Anthony Morales, Andy Morales and Matt Lovio dedicated the site with the blessing of White Sage and tribal songs.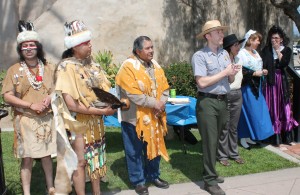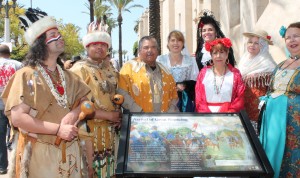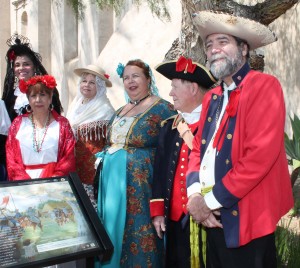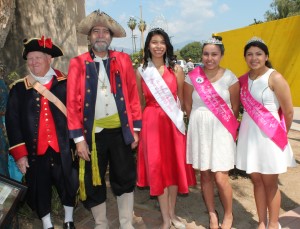 Hale Sargent in the company of the Tongva Indians, re-enactors and the Royal Court spoke about the trail that Juan Bautista de Anza and his expedition took to the San Gabriel Mission and further up the state.
The National Parks Service is 100 years old. They have posted a new sign at this mission to educate the visitors on California history.
Richard Rojas said this mission is an American story. People from all backgrounds followed this trail. He belongs to an organization that supports this history of Juan Bautista De Anza and his expedition.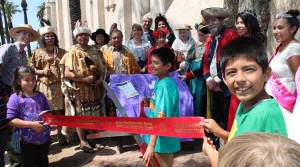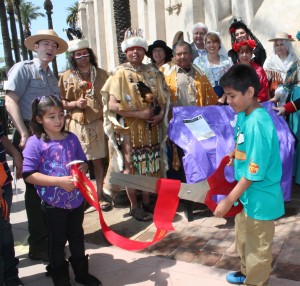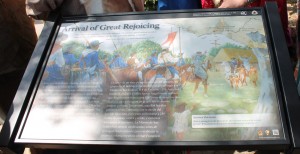 Young students helped with the formal ribbon cutting ceremony. The new sign is located at the San Gabriel Mission.
Chuck Lyons from the Mission stated this is a joint effort with the Park Service. He thanked all of the guests for their participation.
The mission is located at 427 S. Junipero Serra Drive in San Gabriel is opened to the public.  For more information please call 626-457-3035 or www.sangabrielmission.org.
The San Gabriel Mission was founded on September 8, 1771 and is the fourth oldest of the 21 missions in California.
Leave a Response