BBQ Fundraiser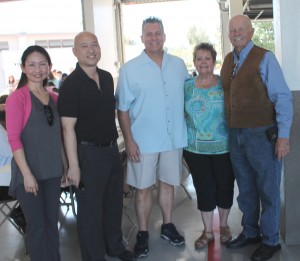 Retired Monterey Park Firefighter Chuck Christiansen and his wife, Alice from Prescott Arizona joined with retired Monterey Park Fire Chief Jim Birrell, Councilmember Hans Liang and his wife, Lani at the Monterey Park Firefighter Association BBQ Fundraiser to honor the Granite Mountain Hotshots on March 15 at Fire Station One.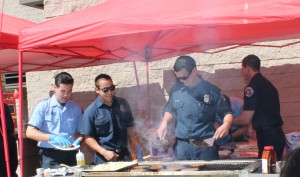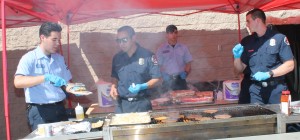 Firefighters manned the fire pit to cook hamburgers, cheeseburgers and hot dogs for the hungry guests.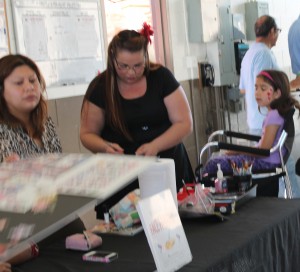 The event included face painting for children of all ages.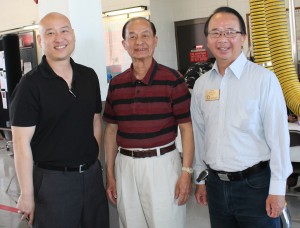 Councilmembers Hans Liang, Anthony Wong and Peter Chan attended this special event.
The firefighters hoped to raise $5,000 to donate towards the monument to be located in Prescott Arizona. Hundreds of local residents stood in long lines to enjoyed the BBQ and donate funds to this worthy cause.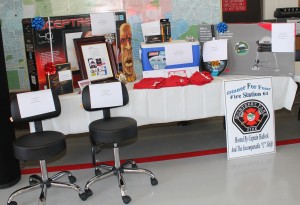 Fire Captain Matt Hallock who chaired this event thanked the generous donors of the food and door prizes that included Del Rosario Meat Company, Coast Produce, Tom's Uniforms, Superco, Action Sales, Bollinis, Staples, Home Depot, Lomeli Photos, Marie Callender's and the residents. Orbit Party Rental provided the tables and chairs at a good price.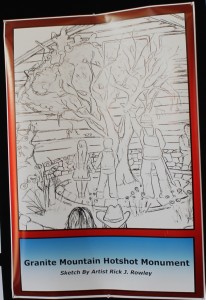 This is a sketch of the Granite Mountain Hotshots Memorial designed by Rick J. Rawley that will be completed in memory of the 19 firefighters who lost their lives on the job.
Fire Captain Matt Hallock reported the final donation tally was $8,000 that will help construct the memorial. He thanked all of the donors for their support.
Leave a Response