Neighborhood Watch Meeting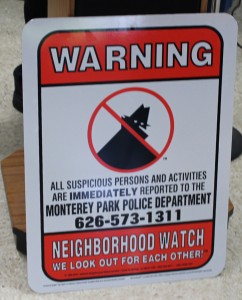 The Monterey Park Neighborhood Watch new signs have added the Police Dispatcher's phone number to aid the residents with quick police responses.
Officer Danny Salazar welcomed the residents and introduced the speakers.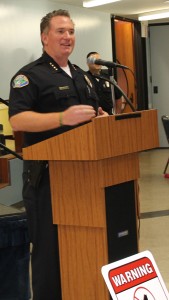 Police Chief Jim Smith welcomed the block captains and residents to the dinner meeting held at Langley Center on March 18.   He thanked them for their relationship with the police department in Monterey Park. You help to keep our city safer. The groups have grown over the last 10 to 15 years. We provide better information and want to get it out to the public. We are speaking about personal safety tonight. If you see something please say something. If you see a problem or suspect a problem please call the police. The police are pro-active in our city. You are our eyes and ears in the community. We need your assistance.
He thanked the residents for coming out tonight. It is our pleasure to serve you. Tonight's' dinner is from Armando's Mexican Restaurant.  Enjoy it!
Monterey Park has several Neighborhood Watch Groups that include 100 residents.
Lt. Carrie Mazelin, Sgt. John Martindale and Officer Danny Salazar welcomed the guests. Police Explorers served the dinner.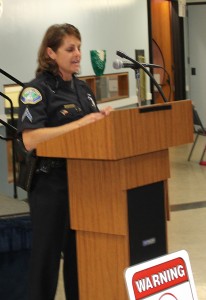 Detective Robin Lopez was the guest speaker. She has served over 20 years in the Monterey Park Police Department. Tonight she is speaking about personal safety and how to avoid being a victim of car burglary. She warned residents not to leave valuables in plain sight in the car. Some people leave their wallets, purses, backpacks, lap tops, etc.  in plain sight so their cars are broken into and their valuable are stolen. She suggested that residents not take valuables to any places like the gym, the stores or movie theatres.
She warned the residents about car theft. Don't leave your car warming up unattended and park it is a well-lit area in parking lots. Park your car in your garage for safety.
Detective Lopez cautioned residents about their personal safety. Be aware of your surroundings. Know your neighbors and your neighborhood. Pay attention and report any problems. Pay attention to your surroundings and who is around you. Look back at anyone who approaches you and show him or her that you are paying attention to them. If necessary cross the street and try to join with other people. Use the partnership system and buddy up. Be careful using the ATM. Try to use the ones located in the banks. Don't put yourself in danger. Walk in the open so the public can see you. She warned the guests about necklace grabs and cell phone grabs that are the most common robberies. She warned against wearing a lot of expensive jewelry. Pay attention when you use your cell phone in public. Don't leave your purse in the grocery cart. Ask the bank tellers to use caution when they are counting out your money. Have them do it quietly.
She suggested that the residents have a plan of action. Think about what to do in many personal situations. Try to vary your routines. If you are about to be a victim give up your purse, laptop and car. Your life is more important
Detective Lopez answered several questions from the floor as part of her presentation.
Officer Danny Salazar thanked every one for attending this important meeting.
Leave a Response