MONTEREY PARK ROTARY DEMOTES PRESIDENT HENRY DIAZ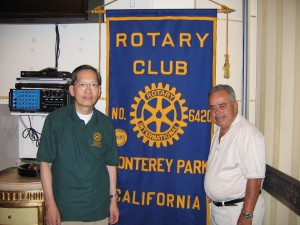 The current and past president of Monterey Park Rotary. The person on the left is Dr. Jonathan Tam, President for 2009-2010, and the person on the right is Henry Diaz, the immediate Past President of Rotary and former Monterey Park Post Master.
July 31st the Monterey Park Rotary demote President Enrique "Henry" Diaz, retired Monterey Park Postmaster, at the Monterey Hill Steakhouse. President Diaz reviewed the accomplishments for his year including a successful Casino Night fundraiser and contributions to the City of Monterey Park's 4th of July celebration, the Boys and Girls Club's Thanksgiving Dinner, the City's Crystal Youth celebration, the Monterey Park Bruggemeyer Library, MERCI and an orphanage in Mexico.
Dr. Jonathan Tam was installed as Monterey Park President for 2009-2010. Other officers installed were Dr. Kathy Walker as President-Elect, Allison Yu as Secretary, Ronald Hedrick as Treasurer and Chairs – Gregory Tse as Rotary Foundation, Bettie Hon as Membership, Ed Wong as Public Relations, Tim Motts as Community Service and Nellson Jong as International Service. President Tam reviewed plans for the year which included another Casino Night Fundraiser and sponsorship of the first place prize for the City of Monterey Park's planned "You've Got Talent" scheduled for August 29th at Barnes Park Amphitheatre. Other plans include continuing the mission of Rotary in serving our local communities with emphasis on basic skills like literacy and health.
Rotary International is the oldest and largest service organization in the world. For information on serving your local community through the Monterey Park Rotary, check http://www.clubrunner.ca/CPrg/home/homeA.asp?cid=4711. Monterey Park Rotary usually meets every Thursday at 12:15 P.M. at Capital Seafood, 755 W. Garvey Avenue, Monterey Park. For more information on Rotary International and clubs in other communities see http://www.rotary.org/EN/ABOUTUS/Pages/ridefault.aspx.
Leave a Response